At Anime Expo CMX announced five new manga series for the first half of 2010 including three from Softbank Creative's Flex Comix and two shojo harem series from Hakusensha. DC's investment in Flex Comix (see "DC Goes Mobile") appears to be paying off as DC's manga imprint CMX acquires more contemporary Flex manga including Yunosuke Yoshinaga's shonen saga Rampage, which is due out in February of 2010 as well as Takanori Yamazaki's shojo sports saga Diamond Girl (set to debut in April) and Ichiro Sakaki and Tomo Hirakawa's Polyphonica: Cardinal Crimson, which is due out in May.
Another Flex release by Yunosuke Yoshinaga, the robot manga Broken Blade, the first volume of which is due out from CMX this month, is being made into an anime TV series. If the alternate world mecha anime (always a popular genre here) gets U.S. distribution, it will certainly help sales of the ongoing Broken Blade manga series, which has already reached five volumes in Japan.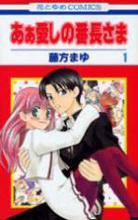 The two
shojo
harem series set for 2009 are
My Darling! Miss Bancho
, a 5-volume ongoing series that began in 2006 about a girl who attends an industrial high school with 850 boys, and
Nadeshiko Club
, a 7-volume completed series that debuted in 2000 and follows the adventures of a girl who is forced to join a "housework" club only to find the other members are all really cute guys.
The first volume of
My Darling! Miss Bancho
is due out in March, while the
Nadeshiko Club
debuts in June.