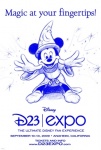 Disney will host the D23 Expo, a "fan experience" centering around D23, "The Official Community for Disney Fans" at the Anaheim Convention Center September 10-13th. The event will bring together guests, speakers, and displays around the Disney Parks (e.g., behind-the-scenes in the creation of park attractions); Disney Channel (including the cast and an advance screening of Wizards of Waverly Place); ABC Television (featuring the casts of ABC's Wednesday night line-up and an exhibit of Lost props, costumes, etc.); and Disney Studios (featuring sneak peeks at Alice in Wonderland, Prince of Persia, Tron: Legacy, and CCO John Lasseter talking about and showing materials from Toy Story 3 and other upcoming Pixar films).
The concept of a convention around a single property is not new. Lucasfilm had its Star Wars Celebration (run by Gen Con, which ended in litigation and a Chapter 11 bankruptcy, see "Gen Con Files Chapter 11"). Creation runs property-based shows, including its recently announced Twilight conventions (see "Creation to Run Twilight Cons").
But this is the first time in our recollection that a major owner of intellectual property has attempted to mount a fan event around such a disparate collection of properties, all from the same corporate umbrella. If it's successful, expect to see more such events from Disney and other major media companies.