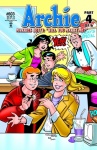 Last May the comic world was shocked by the knowledge that perennial adolescent Archie Andrews would marry snooty rich girl Veronica Lodge in Archie #600. The wedding issue was indeed a major hit with sales of #600 in the direct market (54 K) twenty times higher than previous issues, which had been averaging around 2,400. Now comes word that Archie is going to repeat his nuptials—only this time it will be the blonde middle class girl Betty Cooper who will become Mrs. Archie Andrews.
How does Riverdale's most famous redhead manage to marry both of his sweethearts without becoming a bigamist? The answer lies in that staple of comic book narration, the "what if" subjunctive. In this case writer Michael Uslan's inspiration was Robert Frost's poem, "The Road Not Taken." Prior to marrying Veronica Archie took a stroll in the woods down a path he called "Memory Lane." When the road forked, he turned to the left and the marriage with Veronica ensued. At the end of Archie #602, he goes for a walk in the wood s again, but this time he takes the right fork and in issue #603, the fickle flamehead ties the knot with Betty Cooper, the girl that most fans always assumed he would end up with.
Armed with these visions of his possible marital futures (both of which involve having twin babies), will the Riverdale redhead extend his bachelorhood into an eighth decade? Don't bet against it, since a real marriage would truly mean that this saga of perpetual adolescents has finally "jumped the shark." Meanwhile the Archie Comics empire is in full expansion mode. It is about to make a concerted move to establish itself in Tinseltown (see "Archie Signs With CAA"), while IDW (see "IDW to Publish Archie Collections") and Dark Horse (see "Dark Horse Has Archies Too") are both publishing collections of vintage Archie comic strips and comic books.