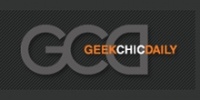 Wizard founder Gareb Shamus and new partners Peter Levin and Peter Guber have launched GeekChicDaily, a new daily e-mail newsletter and Website targeting geek culture aficionados. Categories include videogames, technology and applications, comics, collectibles, gear and TV and film.
Scott Gramling, on the masthead of the last Wizard publication we've seen but now described as "former editor-in-chief of Wizard" in the announcement, is the editor-in-chief of the new publication.
The company best known for success with the newsletter model is Daily Candy, which sold out to Comcast for $125 million in 2008. Levin tied GeekChicDaily to this model in an interview with the L.A. Times. Initial funding for the new company is $1 million, according to the report.
Peter Levin is a long-time Internet entrepreneur, most recently as CEO of GYL, LLC, investor in digital media companies and videogame platforms; and prior to that as President and Co-founder of Bellrock Media, Inc., a broadband and mobile entertainment company. He told the Times that he was a long-time friend of Shamus, and that they'd been looking for a way to collaborate for some time.
Peter Guber is a long-time entertainment executive who was Studio Chief of Columbia, co-founder of Casablanca Record and Filmworks, an independent film producer, founder of Polygram, co-founder of Guber—Peters Entertainment Company, CEO of Sony Pictures, and founder and CEO of Mandalay Pictures. Guber told the Times that he was using "my Rolodex, my wallet, and my own experience in this."