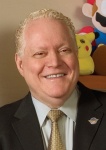 4Kids Entertainment CEO Al Kahn called the past year "the most challenging period of my life" in the conference call following the company's announcement of another quarterly loss. He was referring not only to the difficult conditions at retail, which have made it difficult to get traction for the company's Chaotic TCG, but also the fact that the company's balance sheet was hammered by the global financial crisis last year (it had over $50 million in illiquid auction rate securities at now-bankrupt Lehman).
Sales for the quarter were $7.3 million, down from $17.8 million in the year ago quarter. The loss was $5 million, about the same as last year's $5.3 million in the same period. 4Kids has lost almost $21 million in the first nine months of the year.
Almost all types of licensing revenue were down, with the exception of Yu-Gi-Oh!, which posted a small increase vs. the year ago period.
4Kids booked $1.5 million in Chaotic TCG sales in the quarter, which is net of promotional allowances given to retailers and distributors to encourage sales of the game, and of roughly a 40% reserve for returns (i.e., $2.5 million shipped in, $1 million return reserve booked). It is shipping only 80% of orders to keep returns lower than they have been, which basically netted out to zero TCG sales in Q2 (see "4Kids Reports Loss") after nominal sales in Q1 and in Q4 2008. Sales of the game in Europe have been below plan, due to the inability to get the show on TV in the UK.
The over-all future of the Chaotic TCG will be re-evaluated after the end of the year, according to Kahn in the conference call. TV exposure for the property is great, and the videogame and licensed goods are hitting the market (see "Chaotic Push this Fall"), so if sales don't begin to better reflect the increased exposure, Kahn indicated that cutbacks in investment spending will follow.
"The ability for us to cut expenses, which we have been undertaking, is now going to be accelerated, as I mentioned to make sure that the minimal revenues that we project will be more than the cost that we will assume that includes Chaotic or any other areas of our company," he said.
The company is also eying a sale or other strategic transaction (see "4Kids Looks at a Sale").
The company did note that its ratings for its programming block were up vs. a year ago, a very rare situation for broadcasters this year, and that it had successfully begun re-running earlier Yu-Gi-Oh! episodes on CW (5Ds is running on Cartoon Network) as a way to introduce new viewers to the property and licensed goods.