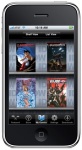 IDW has announced that it is launching storefront apps that will allow it to sell its digital comics in dedicated storefronts, one for all IDW titles and others for Transformers, Star Trek, and G.I. Joe comics. Each app is free, and comes with different free comics. Consumers can then buy other IDW titles from within the apps.
The new apps were developed by iVerse, which also creates individual title apps for its publisher clients.
IDW is the first comic publisher to offer in-app purchases (although several third party companies, including Comixology, Panelfly, and iVerse, all offer in-app purchases of the titles they offer).