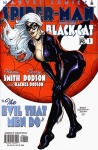 Spidey slipped out of the Top 10 everywhere but comics in June, but Kevin Smith's new book took #1 there. In games, Magic: The Gathering came back strong with four positions, including the #1 slot, while Yu Gi Oh's sales were still hampered by availability.
Comics
Spidey still holds three of the Top 10 Cool Comics in June, with the Kevin Smith-penned Spider-Man/Black Cat #1 in the top slot. Wonder Woman and X-Men each had two slots (Wonder Woman with hardbacks, X-Men with reguler New X-Men issues); the three other characters in the Top 10 each held one slot (Hulk, Green Arrow, and Transormers). Marvel over-all had seven of ten, DC three, and Dreamwave had one. For the Top 10 Cool Comics for June, click here.
Games
Eight of the Top 10 Cool Games were repeats this month, with four Magic products, including MTG: Judgement Booster Packs at #1. Yu Gi Oh Metal Raiders premiered at #2, with the Starter Decks holding in further down the list. Yu Gi Oh is yet to hit #1, presumably because of unavailability of product (although Metal Raiders seems to be more available than previous products). HeroClix is holding in strong, and the venerable Pokemon is still in there with Pokemon Legendary Collection debuting at #10. Click here for the Top 10 Cool Games for June.
Anime
The first volume of Bandai's Silent Mobius took #1 for June, and Bandai took four of the top ten slots over-all. The DVD collection of CPM's popular Slayers series came in at #2, even though it's not going to be on TV (see 'Shinzo Anime on ABC Family'). Pioneer came in second with three slots, led by the Armitage Dual Matrix DVD at #3. Media Blasters and Tokyopop each took one slot. Click here for the Top 10 Cool Anime for June.
Movie/TV Products
TV was on top in the Movie/TV category, with nine of the top ten slots and only one movie product, Inkworks' Scooby Doo Trading Cards, cracking the top ten. The TV products were split nearly evenly between products based on recent shows (five) and those based on more vintage fare (four). The Buffy universe took two positions, with the second series DVD set in first place and an Angel trade in ninth; the other fare was more disparate. For the Movie/TV Top 10 Cool, click here.
Toys
High-priced resin products took seven of the Top 10 list this month, with the exception of two Battle of the Planet figures from Medicom at #6 and #7, and a Blue Beetle figure from DC Direct at #4.

Bowen products took four of the Top 10, with the Storm Statue staying in the Top 10 for a second month, rare for a toy product.

DC came in second with three, Medicom had two, and Gentle Giant's Mace Windu Mini-Bust was its entry.

Click here for the Top 10 Cool Toys for June.