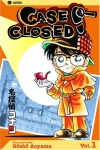 As another measure of the popularity of graphic novels, librarian Robin Brenner talks about graphic novel circulation in her library in "Number crunching: How Looking at Graphic Novel Circulation Statistics from Many Perspectives Help You Know What's Really Flying Off the Shelves," an article at the
School Library Journal's Good Comics for Kids
blog
.
Brenner, Teen Librarian at Brookline (Mass.) Public Library's Main Library, looked at both series and individual graphic novel titles in her library's teen collection as part of an effort to justify budgetary needs. Her article offers another way to gauge popularity of graphic novels, especially when a series like
Case Closed
(VIZ Media) circulates over 1,200 times--an average of 40 checkouts per volume for the thirty volume series.
Brenner's lists contain some series that are standards, such as
Naruto
and
Bleach
(both from VIZ Media), but also some surprise favorites, such as
The Immortal Iron Fist
(Vol. 1) and
Daredevil: The Man Without Fear
(both from Marvel). Titles from smaller graphic novel publishers and graphic novels from mainstream book publishers make a strong standing on her list of top circulating stand-alone titles, with books such as
Voiceful
(Seven Seas Entertainment),
Castle Waiting
(Fantagraphics), and
Satchel Paige: Striking Out Jim Crow
(Jump at the Sun/Hyperion), making the top 30.