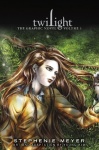 The first printing of Yen Press's Twilight: The Graphic Novel will be 350,000 copies, according to the company. It will street on March 16th in hardcover for $19.99. This first volume will tell the story of the first half of the prose novel; the release date for the second half of the story has not yet been announced.
The graphic novel will use selected text from Stephenie Meyer's original novel, paired with illustrations by Young Kim. The Kim art will be primarily in b/w, with color "interspersed throughout," according to Yen.
Meyer was closely involved in the process and had input on every panel. "Young has done an incredible job transforming the words that I have written into beautiful images," Meyer said. "The characters and settings are very close to what I was imagining while writing this series."
The Twilight novels are the hottest thing in publishing, with over 85 million copies sold worldwide. Yen Press Publishing Director Kurt Hassler noted the potential impact of Twilight: The Graphic Novel on the medium. "Few American publishing properties are better suited to introduce a vast readership to the medium of graphic novel than the phenomenon that is Stephenie Meyer's Twilight," he said.
The size of the first print run is unprecedented for a new graphic novel in the U.S. Watchmen, of course, sold several times that number of copies in 2009, but the initial print run back in the 80s was a fraction of Twilight's.
ICv2 selected the deal to publish Twilight graphic novels as one of the Top 10 Comics Business Events of 2010 (see "Top 10 Comics Business Events of 2010").