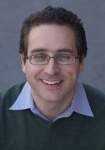 We talked to Gonzalo Ferreyra, Vice President of Sales and Marketing for Viz Media, in our annual interview to review the state of the market, Viz's year, and plans for the future. In Part 3, we talk about finding new consumers with a smaller mall footprint for manga and anime and look forward to 2010 in both manga and anime. In Part 1, we talked about the manga market, the competition for consumers' attention, digital comics, and original material. In Part 2, we talked about the anime market, Viz's plans for Blu-ray, the impact of digital distribution, and the TV market for anime.
This is a question which applies to both manga and anime. From ten years ago the footprint for anime and manga in malls has declined. We say that because of the loss of Suncoast, the continued reduction in the number of Waldenbook stores. Both of those chaines were big champions, in the case of Sun Coast of both anime and manga, in the case of Waldenbooks really important in the formation of the manga market here in the States. Where are the new customers going to come from, the kids, if they're not getting developed in malls?
I'd like to think we're still finding them in malls. I believe that the mass market is there to find the customers as well. I do believe that the book trade is still a major, major part of any manga strategy going forward in terms of market growth and market creation. And the comic market as well. There is no lack of a diverse number of retailers available for us to work with. And then on a very different front, libraries. The librarians continue to be incredibly supportive of manga. I'm seeing for myself a growth in manga shelves in public libraries and school libraries every day. Here in my small East Bay community of Castro Valley we just opened a new library. It has a massive manga section when one, two years ago it was a small kind of dowdy little shelf in the back of the library. They've created a teen room with a wall of manga. They're aware. I'm thrilled to see that, and that the kids are checking it out. Enough of them are becoming devoted fans who will purchase it. There's another market creation opportunity.
We were asking specifically about pre-driving kids. Do you think bookstores or mass merchants are reaching that audience?
I think they are. The fact is they're not going out there on their own. We're dependent on the parents to a great deal. The book stores are still attracting families, they're still considered a third place for many families to visit together. The pre-teens in smaller communities are getting to the smaller comic stores. So I'm not too worried from that perspective.
Finishing up here by looking forward, starting on the manga side looking at this year 2010, how do you see the market and what are you excited about at Viz?
It's going to be an interesting year. There will be a lot to learn from the release of the Twilight manga. It's going to be very exciting to see what's possible when a manga title is directly, quite specifically connected to an American homegrown property that has such success behind it in terms of fan base.
I think there will be a continued rationalization of the list and by that I mean greater focus on fewer, stronger titles. In terms of the release schedules for publishers that's going to have to be the case.
Does that mean you're cutting back?
I'm not ready to say that. We simply need to be smarter and more selective about what we publish and I think you'll see that. What I spoke to about the expansion last year into kids and seinen and younger and older readers I think will continue more aggressively. You're seeing signs of it being embraced. Without exception the year-end best of manga lists included several of our Signature and seinen titles. It's not lost on the market that there's so much more available and an expanded definition of manga is something we will see in this market in the coming year. In terms of my excitement, I think we're going to see the One Piece speed-up which is going to be very interesting to watch. We're extremely excited about that, the speed-up for both the anime from Funimation and then on the manga side we're going to do a catch-up there.
Our 2010 publishing line-up has such an embarrassment of riches, it's very tough for me to choose a few, but if I must narrow it down, here are a few of my favorites. Biomega, leading the pack in February, is a gorgeous, unapologetically dark seinen manga that's unlike anything I've seen before. It includes zombies, walled-off cities, cool motorcycles, and grizzly bear commandoes, but that just scratches the surface.
I have to call out Ultimo, which, dare I say, is nothing less than a historic collaboration, between the incomparable Stan Lee and master manga-ka Hiroyuki Takei, creator of Shaman King (both of whom appeared, of course, at last year's Comic-Con).
We'll also be building on our new Shonen Sunday imprint, celebrating the best of that illustrious line-up with several new titles to join Rumiko Takahashi's Rin-ne, Volume 1 of which came out this past year. And finally, as a life-long book nerd I have to get everyone to read Library Wars: Love and War which indeed lives up to its title (let's just say that fans of Fahrenheit 451 will find a lot to love here).
Anything that's changing on the anime side then that you're looking forward to? How do you think the market's going to change?
You'll see some exciting things in terms of repackaging of some of our classics, also repackaging of the earlier Naruto, Bleach, Death Note. Like I said earlier, price is an issue in this market. There are still opportunities to turn some of those catalog titles into evergreens. We'll be doing that pretty aggressively.
Anything we didn't touch on?
The Beta of Viz anime is out there. In terms of initiatives in 2010 there's probably nothing more exciting than that.
What's that?
It is the anime streaming site for Viz. It's in Beta--it's out there. The official launch should be in the next month or so. It's a partnership with Hulu; it's an opportunity to put our entire category in one place.
Ad-supported?
It's ad-supported--it's the embedding of the Hulu player so of course there's an ad component through Hulu and then obviously we're using it as an opportunity to link pretty aggressively to our store and feature our properties as well.
Click here to go back to Part 1.