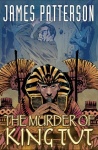 James Patterson, author of numerous bestsellers, has signed a deal with IDW Publishing to create comics and graphic novels. The pact includes comic adaptations of his books, brand new material, and spin-offs from his existing works. The first IDW Patterson-based release will be a five-part comic book series based on the author's bestselling YA novel, Witch and Wizard. Witch and Wizard: Shadowland, which will be written by Dara Naraghi with Patterson handling the plotting, will debut in May (32 pages, full color, $3.99) with art by Victor Santos and a painted cover by J.K. Woodward.
In June IDW will follow up by launching a 4-part adaptation of Patterson's "non-fiction thriller" The Murder of King Tut (32 pages, full color, $3.99) with Alexander Irvine handling the adaptation. Christopher Mitten will provide the art for the sequences set in Ancient Egypt, while Ron Randall will depict the 1920's expedition by the archeologist Howard Carter who discovered the tomb. Darwyn Cooke will create the covers for the series.
Patterson is also penning an original series, Beer Belly and the Fat Boy, for IDW, though no date has been set yet for its release.
Patterson, who has scored a major success in the world of graphic novels with Yen Press' adaptation of his Maximum Ride (see "Book of Genesis Stays at #1"), is very bullish about the potential of comics, which he thinks will be able to expand his audience. He told USA Today: "Comics could reach a much larger audience than they do now. With all of the quality work and talent that's out there, this industry could be so much bigger."