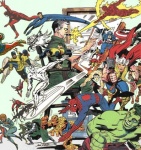 Heirs of legendary comic artist Jack "King" Kirby have filed suit against Marvel over rights to Kirby's work for the company. The suit seeks copyrights to Fantastic Four, Iron Man, Ant-Man, X-Men, Hulk, Avengers, Thor, Nick Fury, Spider-Man, Journey into Mystery, Rawhide Kid, Strange Tales, Tales of Suspense, Amazing Adventures, and Tales to Astonish.
The battle over the rights to Kirby's contribution to the Marvel pantheon began with copyright termination notices sent to Marvel last September (see "Kirby Heirs Seek Copyrights"). Marvel sued the heirs in January, asking a judge to invalidate the copyright termination notices (see "Marvel Sues Kirby Heirs"). The new suit means the battle is now joined in court in what will undoubtedly be a protracted struggle.
The complaint refers to specific issues containing Kirby work published from 1958 to 1963 (noting that Kirby co-owns rights to them due to the shared creative credits), and requests that the copyright terminations take effect and Kirby's rights to the work be put into effect.
The suit also requests the return of Kirby artwork not previously returned.
And the suit alleges that Marvel violated the Lanham Act by not acknowledging Kirby's contributions to the characters when marketing the films The Incredible Hulk and X-Men Origins: Wolverine.
If portions of this litigation sound familiar, it's because the attorney for the Kirby heirs is also handling the litigation between the heirs of Jerry Siegel and DC Comics parent Warner Bros. That litigation is much further along, and Warners has been taking its lumps (see "Siegel Heirs Win another Round").