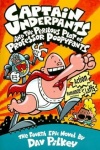 Scholastic Books has announced the August 10th publication of The Adventures of Ook and Gluk, Kung-Fu Cavemen From the Future, the first in a series of four graphic novels. The $9.99 hardcover, which will be written by Captain Underpants author Dav Pilkey, is slated for publication on August 10th.
Never underestimate the power of potty humor to grab the attention of young readers. The eight Captain Underpants volumes published so far, which feature titles like Captain Underpants and the Preposterous Plight of the Purple Potty People, have sold over 45 million copies, and Scholastic is planning a million-copy first printing of the first Captain Underpants graphic novel.
Ook and Gluk are caveboys growing up in prehistoric Cleveland when they and their dinosaur pet Lily are pulled through a time portal from 500,001 BC to 2222 AD. They find the future is even more dangerous than their prehistoric past and have to figure a way to get back home and set things straight.