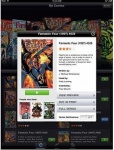 Multiple reviewers of Apple's iPad, which launches this weekend, have noted that a Marvel app is being offered, allowing users to read Marvel comics on the device. The app was designed by ComiXology, according to the reports.
There's no word on what content will be made available at launch.
Marvel had previously made content available through three different iPhone publishers (see "iPhone Marvels"), but had not sold its titles through its own app/storefront.