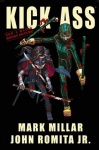 Marvel's hardcover collection of Mark Millar's Kick-Ass series charted at #3 on the adult graphic novel list in bookstores in March, ahead of the movie opening in April. Buffy Season 8, Vol. 6 was the next highest American book at #5, with only one other American title, St. Martin's adaptation of Sherrilyn Kenyon's Dark-Hunters series, cracking the top 10. All the rest were manga, although American titles had a higher percentage of the second ten.



BookScan Top 20 Graphic Novels in March 2010

Rank

Title

Author

Publisher

1

NARUTO VOL. 47

MASASHI KISHIMOTO

VIZ MEDIA

2

BLEACH VOL. 30

TITE KUBO

VIZ MEDIA

3

KICK-ASS HC

MARK MILLAR

MARVEL COMICS

4

VAMPIRE KNIGHT VOL. 9

MATSURI HINO

VIZ MEDIA

5

BUFFY THE VAMPIRE SLAYER SEASON 8 VOL. 8

JANE ESPENSON

DARK HORSE

6

NEGIMA! VOL. 25

KEN AKAMATSU

DEL REY

7

ALICE IN THE COUNTRY OF HEARTS VOL. 2

QUINROSE

TOKYOPOP

8

SOUL EATER VOL. 2

ATSUSHI OHKUBO

YEN PRESS

9

BLACK BUTLER VOL. 1

YANA TOBOSO

YEN PRESS

10

THE DARK HUNTERS VOL. 2

SHERRILYN KENYON

ST. MARTINS

11

ALICE IN THE COUNTRY OF HEARTS VOL. 1

QUINROSE

TOKYOPOP

12

THE BOOK OF GENESIS ILLUS. BY R. CRUMB HC

ROBERT CRUMB

W. W. NORTON

13

DARK TOWER: FALL OF GILEAD HC

ROBIN FURTH

MARVEL COMICS

14

SKIP BEAT! VOL. 20

YOSHIKI NAKAMURA

VIZ MEDIA

15

BLACK BIRD VOL. 3

KANOKO SAKURAKOJI

VIZ MEDIA

16

WATCHMEN TP

ALAN MOORE

DC COMICS

17

MAXIMUM RIDE: THE MANGA VOL. 2

JAMES PATTERSON

YEN PRESS

18

ONE PIECE VOL. 36

EIICHIRO ODA

VIZ MEDIA

19

FABLES VOL. 13: THE GREAT FABLES CROSSOVER

BILL WILLINGHAM

VERTIGO

20

ONE PIECE VOL. 34

EIICHIRO ODA

VIZ MEDIA
Naruto held the #1 spot for the second month in a row, with usual suspects Bleach, Vampire Knight, and Negima following it up. Tokyopop's new Alice in the Country of Hearts placed two volumes in the top 11. Yen's Black Butler stayed in the top ten for the third consecutive month. The end of the One Piece speed-up occurred mostly out of the visibility afforded by the top 20 list, with two non-consecutive volumes at #18 and #20 in March.
Viz had the most titles in the top 20 with seven; Yen was second with three titles; Marvel, DC, and Tokyopop each had two; and Dark Horse, Del Rey, Norton, and St. Martins each had one.
The rankings, provided by Nielsen BookScan, track the bestselling U.S. adult graphic novels in major book chains, mass merchants, online retailers, and some independent retailers using POS data from March 1st to March 28th. Titles racked in the Kids or YA sections do not appear in this list; had they been included, the Twilight graphic novel would definitely have been the top title of the month (see "Twilight GN Sets First Week Record").
For charts from other months, see the "BookScan Top 20 GNs Index."