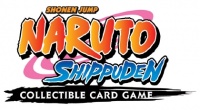 In Q3, Bandai America will release Fangs of the Snake, the 18th release for the Naruto CCG, with a focus on sealed and draft play; and three Naruto Tins. Naruto CCG Series 18: Fangs of the Snake includes 100 new cards which chronicle the formation of Sasuke's new Ninja team, "Team Snake." New Ninja cards of Sasuke, Jugo, Karin and Suigetsu will add strength to players' Water Decks; new versions of other Naruto universe Ninjas are included to offset the power of Team Snake.
Naruto CCG boosters are $3.99 for a 10-card pack.
The three different Naruto Collectible Tins shipping this fall will each include a special promo card, two Series 17: Will of Fire booster packs, and two Series 18: Fangs of the Snake boosters, all at a $14.99 MSRP.