Outpost 2000 is a pop culture store that specializes in both comic and games, located in Minneapolis suburb Brooklyn Park. In operation since 1996, Outpost 2000's layout includes a dedicated 'game room' that is the site of league and tournament play for all of today's popular games. ICv2 talked with Outpost 2000's Jeff Prentiss about the store's highly successful in-store gaming program.
How would you characterize your store?
We are a comic store and a games store. We have about 2,200 square feet and we carry a full line of comics, all the new titles and 300 boxes of back issues. We carry a full line of boardgames. We have all the miniature games from WizKids. We also carry some Ral Partha figures as well as Chainmail and some of the other pewter figures. We've got a full line of fantasy role-playing books, boxes, and modules. We've also got all the collectible card games. We also carry used videos and DVDs, along with some collectibles like statues, etc.
Where is your store located?
We're in a strip mall in Brooklyn Park Minnesota, a suburb of Minneapolis.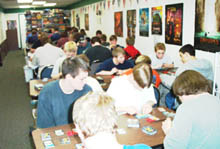 Do you do in-store gaming events?
Yes we have an attached game room and we have leagues and tournaments and demos scheduled all the time (check our Website at outpost2000.com and check under our calendar of events). For example, every Sunday at 1 pm we have a Dragoball Z tournament. As a general rule as soon as a game comes out we set up tournaments. We don't wait for sanctioning, we don't wait for their rules, we just run them because the people who are buying the cards want to immediately play.
What about demos?
We do demos, we haven't always scheduled them on a regular basis just because we have enough kids and adults who play, that at just about any time we can set up a demo or teach somebody how to play.
Who runs your events?
I am the tournament director for Dragonball Z, and we've got a number of assigned volunteers who come in as well. We've never got a shortage of rules judges, per se.
So you have customers who come in and help run events?
You'd be amazed at how many tournament directors will work for boosters. I try not to put the load on just one person, because after all they got in the game to play, not necessarily to judge, and so I try and get two, three, four people and get them to rotate and say who is going to take what night and come up with a schedule. They basically become psuedo-employees in that one respect for lack of a better term, but they enjoy running the games, and somebody else can handle the store while they're handling the tournament in the game room. It really makes it a lot easier.
How do you promote these events?
Basically through the calendar that we use -- instead of business cards we actually use a calendar of events. In addition to that on the Website we have our calendar -- and we're also listed on Score's DBZ website -- and in addition to that we started up Yahoo groups for Minnesota, and we also have a Webmail calendar that we send out to people occasionally.
The Internet is a big part of your promotional program isn't it?
Yeah, we've discovered that the traditional advertising just doesn't pay. Most of our own store advertising is within the schools, whether it be bingos, or PTAs or carnivals or what-have-you, it's just better to do through the schools. We donate all the time, we just donated another dozen games to an elementary school today. That gets us more PR and more advertising where we want it, because kids are driving the business for the collectible card game for the most part and they're the ones bringing the parents down.
What kind of support do you get from the manufacturer?
On the DBZ stuff Score gives great support. They send out promo cards, t-shirts. They send out special anger swords and shooters for the game itself, and they always keep us in the loop as far as upcoming events and changes. They're one of the few that are innovative in so far as they are willing to try new tournament formats, so we've always got a couple of different tournament formats going, whether it be like the 'underdog' that they had or if it's the 'tough enough' format. They also do a good job on prize support.
Is there a relationship between these events and sales?
Absolutely. I mean tournaments are actually forced sales. We have an entry fee of $7, which in Minnesota with the tax is exactly how much it costs for two booster packs -- and we guarantee that everybody who plays in the tournament -- the worst they're going to get is two booster packs. So essentially they are playing for free, but it's forcing a profit margin into the store and then we can donate back an additional 20-25% above the entry fee in the form of prizes, and we usually have extra foil cards set aside in addition to the free prize support that Score provides, and we've found that that actually increases tournament attendance, because that way there is a guaranteed prize fund -- and at the very least it's no worse than buying two booster packs -- but they actually get to sit in there for four rounds and play, and trade with people and have a good time -- so it's a format that's worked out well for all our tournaments.
What are the keys to success to running this kind of event?
You've got to have somebody behind it that actually knows how to play the game, is up to date on the rulings, and make sure that they follow through with making sure that people are registered, have ID numbers -- in short somebody who knows how to run tournaments. It's as simple as that. Tonight we've got a Mage Knight tournament -- I'm a backup warlord, but I'm a serious emergency backup warlord. I can run the tournament, but if it comes right down to it, I may have to look up a rule. So what I do is make sure I have a warlord who is not playing who is current and up to date, and they're responsible for entering the results and making any rules decisions. I'm there in case somebody gets sick or their wife has to go to the hospital, and I try to make sure that I have tournament directors that really know the rules
Since you carry comics you must have done very well with Marvel HeroClix this summer?
Yup, HeroClix has been very good. MechWarrior next month is going to be huge, we've even had more interest in MechWarrior than we had in HeroClix. HeroClix was nice because it brought in a lot of the comic book regulars, who walked right past the Mage Knight displays, and never bothered to look at them except to say 'Those are kinda cool looking,' -all of a sudden they stopped and said 'What's Wolverine or Spider-Man on the cover of this box.' Open it up and show it to them and all of a sudden you've got five or six people hooked. Even the ones who don't play will buy just to have figures on their desk at work or something.
How has Yu-Gi-Oh! done for you?
Yu-Gi-Oh! has gone through the roof, it's both a blessing and a curse. The last two tournaments were 51 and 52 people
Do you think Yu-Gi-Oh! has a chance to get to be as big as Pokemon?
Well, I'll put it this way, I never ran a 51- or 52-person Pokemon tournament, and we've been doing this for six years. The most we ever had in a Pokemon tournament was 32 or 36, so it's already surpassed it as far as tournament players
For previous coverage of successful in-store gaming (and links to even more), see 'Ins and Outs of In-Store Gaming, Part II.'