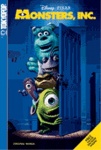 Confirming what we heard in San Diego, the Tokyopop Website contains images and information about the manga version of Monsters, Inc., which was created by Hiromi Yamafuji. Although no official announcement has been made yet, images from the manga that appear on the site are already fitted out with English captions and dialogue, and the book is listed with an October 15 street date and a $7.99 retail price. Contrary to some earlier rumors, the manga version of Monsters, Inc. is not a typical 'anime' comic where color cel art is adorned with dialog balloons to create a sort of anime fumetti -- but a retelling of the Monsters, Inc. story in true manga form. Judging from the sample art on the site, manga fans will love to see the Pixar/Disney animated film get the full manga treatment.
The video release of Monsters, Inc. a month earlier (September 17 street date) is certain to be a major mass-market event.

The continuing Disney/Dreamworks feud means that Disney will go all out to try to outdo the amazing sales of Dreamworks' Shrek, which has already sold over 24 million units (DVD and VHS).

As further incentive, Shrek did bigger numbers in its first weekend on video than Monsters, Inc. did at the box office (see 'Stores Beat Box Office'), so we can be sure that Disney will mount a massive advertising campaign for the video release of Monsters, Inc.

That marketing campaign is undoubtedly why Tokyopop is rushing the manga out for October release, despite missing Diamond's August Previews.