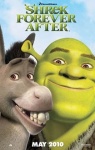 Shrek Forever After took the weekend box office crown for the third weekend in a row. The final film in the animated franchise declined 41.6% to earn an estimated $25.3 million. The Shrek film has now amassed $183 million after 17 days in theaters. In spite of the higher ticket prices for its 3D and IMAX showings it still trails Shrek 2 and Shrek the Third, which had earned $314.5 million and $255.9 million respectively in the same period.
In spite of four new films debuting this weekend, the box office dropped big time for the second week in a row, down 24% from the same frame a year ago when The Hangover opened with $45 million and 29% from 2008 when Kung Fu Panda debuted with $60.2 million. After a very strong start to 2010, Hollywood is now badly in need of a potent summer blockbuster to resuscitate this all-important summer season. Next week we will see if either The A-Team or The Karate Kid can fill the bill.


Weekend Box Office (Studio Estimates): June 4 - 6, 2010

Film

Wknd Gross

Screens

Avg./Screen

Total Gross

1

Shrek Forever After

$25,300,000

4,386

$5,768

$183,043,000

2

Get Him to the Greek

$17,423,000

2,697

$6,460

$17,423,000

3

Killers

$16,100,000

2,859

$5,631

$16,100,000

4

Prince of Persia: The Sands of Time

$13,900,000

3,646

$3,812

$59,452,000

5

Sex and the City 2

$12,650,000

3,445

$3,672

$73,434,000

6

Marmaduke

$11,300,000

3,213

$3,517

$11,300,000

7

Iron Man 2

$7,783,000

3,007

$2,588

$291,294,000

8

Splice

$7,450,000

2,450

$3,041

$7,450,000

9

Robin Hood

$5,133,000

2,599

$1,975

$94,262,000

10

Letters to Juliet

$3,000,000

1,962

$1,529

$43,300,000
The raunchy R-rated comedy Get Him to the Greek, earned an estimated $17.4 million and managed the best per theater average in the top 10, but it clearly was no The Hangover. The rock-themed Greek, which managed a 75% positive rating from Rotten Tomatoes, has room to grow over the coming weeks. Its debut weekend audience skewed slightly male (53%) and older with 45% of the crowd over 30.
Lionsgate didn't let critics see the action comedy Killers, which stars Ashton Kutcher and Katherine Heigl, before it opened, which was probably a good thing since it only managed a 15% positive rating on Rotten Tomatoes. The PG-13 film earned an estimated $16.1 million, and like the heavily-panned Jennifer Anniston/GerardButler vehicle The Bounty Hunter, the star-driven Killers could prove to be more or less critic-proof, though it will lucky indeed to earn back its $75 million cost.
Disney's Prince of Persia, which cost $200 million, is even less likely to break even. Prince declined 53.8% in its second weekend while earning an estimated $13.9 million and bringing its cumulative to $59.4 million.
Sex and the City 2 suffered an even bigger drop, falling 59.2% and finishing in fifth place. Fox's family comedy Marmaduke, which is based on the long-running comic strip, debuted weakly in sixth place with an estimated $11.3 million, while the other newcomer, the cleverly-plotted neo-Frankenstein horror film Splice couldn't buck the conventional wisdom that says summer is a bad season for horror films. Splice, which has the narrative moxie to become a cult hit on DVD, managed to bring in just $7.4 million and finished in eighth place.
The one film that has held up its end of the bargain so far this summer is Iron Man 2, which earned an estimated $7.8 million and brought its cumulative to $291.3 million. Some time this week the Iron Man sequel should pass the $300 million mark. It might be difficult to match the original Iron Man's $318 million total, but Iron Man 2 will definitely be in the neighborhood.