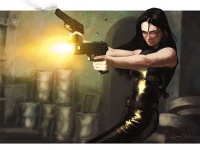 Louis Porter, Jr. based his role-playing game, Haven: City of Violence, on contemporary crime comics like Frank Miller's Sin City and James O'Barr's The Crow, as well as on the Hong Kong action films of John Woo.

With the current vogue for comic-based properties in Hollywood reaching a fever pitch is it any surprise that Brigade Entertainment, headed by Barry Levine, should choose to attempt to make a film based on the Haven RPG?

Of course popular videogames have spawned movies, and there is the example of the Dungeons & Dragons film that was based on the popular RPG, as well as several anime titles that can trace their origins back to RPGs, but the jury is still out on the 'inspired by games' genre, and the odds against any optioned property actually being made into a film are long.

Still, Brigade Entertainment is apparently serious about this space; it has already acquired the rights to Brian Azzarello's Harvey and Eisner Award-winning 100 Bullets as well as Acclaim's Shadowman.