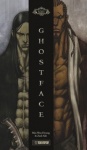 Tokyopop announced at Comic-Con that it will launch Ghostface, the new series by Min-woo Hyung (who created Priest), next spring. The new five-volume series will be released as full color graphic novels, in the creator's visually arresting style.
Although final format has not been determined, volumes are expected to be between 92 and 128 pages, in a larger format than manga (probably 8" x 10") at a price point between $17 and $19.99 per volume.
Priest, which is up to sixteen volumes, is the basis for a major 3D movie which will be released May 13th (and which got tentpole treatment from the studio at Comic-Con, see "Comic-Con Photos—Friday").