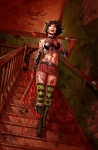 Eden Studios has inked a deal with Tim Seeley to produce roleplaying and card games based on Seeley's Image comic series Hack/Slash (see "Image Gets Hack/Slash"). First up will be the card game, a prototype of which will be demoed at Eden's booth at Gen Con this week and released late this year.
Core design for the card game is by Matt Papa, with M. Alexander Jurkat, Monica Valentinelli, and James Lowder (who's also the current editor for the comics) also part of the game development team.
Players in the card game will take on the roles of Cassie, Vlad, and their allies as they wipe out the slashers from the comic stories, including Lunch Lady, Father Wrath, Grinface.
Eden has produced games based on Buffy: The Vampire Slayer and Army of Darkness, as well as its own properties All Flesh Must be Eaten, CJ Carella's WitchCrasft, and Conspiracy X.