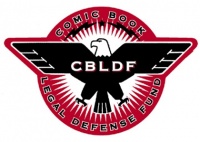 The Comic Book Legal Defense Fund has announced changes to its Board of Directors made at the board's meeting at Comic-Con International. Chris Powell has stepped down as President citing success with the goals he set when he became President in April of 2009. Powell will remain on the Board of Directors while Larry Marder, Creator of Bean World and editor of the CBLDF's Liberty Annual 2010 (see "Liberty Comics 2010"), was chosen to succeed Powell as President.
Dale Cendali, a nationally recognized leader in the field of intellectual property, has joined the Board. Cendali, who has successfully litigated and tried numerous high profile cases and even argued before the United States Supreme Court, is a partner in the law firm of Kirkland and Ellis. Her victory in a case involving J.K. Rowling was named "Copyright Trial of the Year" by Managing Intellectual Property Magazine. Cendali is also an avid comic book collector and believes strongly in comics as an art form.
In addition to Marder, Powell, and Cendali the CBLDF Board of Directors includes Vice President Joe Ferrara, Treasurer Milton Griepp, Secretary Louise Nemschoff, Peter David, Neil Gaiman, Steve Geppi, and Paul Levitz.