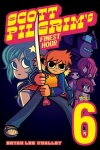 These are estimates of the sales on graphic novels by Diamond U.S. to comic specialty stores during August 2010.
For an overview and analysis of comic sales in August, see "No Comic Over 100K."

For an analysis of the dollar trends in August "Comics and Graphic Novels Plummet in August."
For our estimates of actual sales by Diamond
U.S.
from comic specialty stores on comic books shipped during August, see "
Top 300 Comics Actual--August 2010
."
Top 300 GNs -- August 2010

Rank

Index

Title

Price

Pub

Est.Qty

1

11.02

SCOTT PILGRIM GN VOL 06 FINEST HOUR

$11.99

ONI

8,092

2

7.27

CINDERELLA FROM FABLETOWN WITH LOVE TP (MR)

$14.99

DC

5,340

3

6.79

UNWRITTEN TP VOL 02 INSIDE MAN (MR)

$12.99

DC

4,984

4

6.56

SCOTT PILGRIM GN VOL 01 PRECIOUS LITTLE LIFE

$11.99

ONI

4,818

5

5.22

DARK TOWER PREM HC BATTLE OF JERICHO HILL

$24.99

MAR

3,832

6

5.17

WALKING DEAD TP VOL 01 DAYS GONE BYE

$9.99

IMA

3,793

7

4.70

BONE TALL TALES TP

$10.99

SCH

3,448

8

4.63

WALKING DEAD TP VOL 12 LIFE AMONG THEM

$14.99

IMA

3,398

9

4.59

SCOTT PILGRIM GN VOL 02 VS THE WORLD

$11.99

ONI

3,367

10

4.11

SCOTT PILGRIM GN VOL 03 INFINITE SADNESS

$11.99

ONI

3,019

11

3.70

DAREDEVIL THE DEVILS HAND TP

$19.99

MAR

2,717

12

3.61

BATMAN ARKHAM REBORN TP

$12.99

DC

2,652

13

3.51

LOSERS TP BOOK 02 (MR)

$24.99

DC

2,575

14

3.51

SCOTT PILGRIM GN VOL 05 VS THE UNIVERSE

$11.99

ONI

2,574

15

3.38

SCOTT PILGRIM GN VOL 04 GETS IT TOGETHER

$11.99

ONI

2,482

16

3.37

CHRONICLES OF KING CONAN TP VOL 01

$18.99

DAR

2,471

17

3.18

SONIC THE HEDGEHOG ARCHIVES TP VOL 13

$7.95

ARC

2,333

18

3.11

LOCKE & KEY HC VOL 03 CROWN OF SHADOWS

$24.99

IDW

2,280

19

3.07

WALKING DEAD TP VOL 02 MILES BEHIND US (NEW PTG)

$14.99

IMA

2,253

20

3.06

FOGTOWN HC (MR)

$19.99

DC

2,246

21

2.83

MARVELMAN CLASSIC PREM HC VOL 01

$34.99

MAR

2,080

22

2.73

WALKING DEAD TP VOL 11 FEAR THE HUNTERS (MR)

$14.99

IMA

2,007

23

2.73

PUNISHER MAX NAKED KILLS TP (MR)

$19.99

MAR

2,006

24

2.63

BLACKEST NIGHT HC

$29.99

DC

1,928

25

2.55

WALKING DEAD TP VOL 03 SAFETY BEHIND BARS

$14.99

IMA

1,872

26

2.54

WOLVERINE ORIGINS TP SEVEN HARD WAY

$14.99

MAR

1,864

27

2.53

BATMAN THE BAT AND THE BEAST TP

$12.99

DC

1,856

28

2.50

DARK RAIN A NEW ORLEANS STORY HC (MR)

$24.99

DC

1,833

29

2.47

SHOWCASE PRESENTS THE DOOM PATROL TP VOL 02

$19.99

DC

1,813

30

2.46

SIEGE THOR PREM HC

$19.99

MAR

1,807

31

2.39

AVENGERS INVADERS TP

$34.99

MAR

1,752

32

2.37

HULK FALL OF HULKS TP SAVAGE SHE-HULKS

$14.99

MAR

1,743

33

2.37

WOLVERINE DARK WOLVERINE TP VOL 02 MY HERO

$14.99

MAR

1,738

34

2.33

RUNAWAYS TP VOL 11 HOMESCHOOLING DIGEST

$9.99

MAR

1,710

35

2.32

CHEW OMNIVORE ED HC VOL 01 (MR)

$34.99

IMA

1,704

36

2.32

SECRET INVASION HC

$34.99

MAR

1,701

37

2.23

SUPERMAN BATMAN NIGHT AND DAY HC

$19.99

DC

1,639

38

2.12

WALKING DEAD TP VOL 04 HEARTS DESIRE (NEW PTG)

$14.99

IMA

1,556

39

2.11

FINAL CRISIS REVELATIONS TP

$14.99

DC

1,548

40

2.10

MMW ATLAS ERA TALES OF SUSPENSE HC VOL 03

$59.99

MAR

1,540

41

2.09

WALKING DEAD TP VOL 10 WHAT WE BECOME

$14.99

IMA

1,537

42

2.07

PENNY ARCADE TP VOL 06 HALLS BELOW

$15.00

RAN

1,521

43

2.07

ULTIMATES II ULTIMATE COLLECTION TP

$34.99

MAR

1,516

44

2.04

ADVENTURES OF SUPERBOY HC VOL 01

$39.99

DC

1,496

45

1.99

ESCAPE FROM WONDERLAND HC

$24.99

ZEN

1,463

46

1.99

WALKING DEAD TP VOL 09 HERE WE REMAIN (MR)

$14.99

IMA

1,463

47

1.96

HACK SLASH OMNIBUS TP VOL 01 (IMAGE ED) (MR)

$29.99

IMA

1,441

48

1.94

SIEGE AVENGERS INITIATIVE PREM HC

$19.99

MAR

1,424

49

1.94

HAUNTED TANK TP (MR)

$14.99

DC

1,423

50

1.89

DC LIBRARY BATMAN THE ANNUALS HC VOL 02

$39.99

DC

1,390

51

1.86

STREET FIGHTER TP VOL 06 FINAL ROUND

$13.99

UDO

1,364

52

1.85

MMW SGT FURY HC VOL 03

$54.99

MAR

1,356

53

1.82

TEAM UPS OF THE BRAVE AND THE BOLD HC

$24.99

DC

1,339

54

1.81

SPIDER-MAN GAUNTLET PREM HC VOL 04 JUGGERNAUT

$19.99

MAR

1,327

55

1.80

SIEGE THUNDERBOLTS PREM HC

$19.99

MAR

1,323

56

1.77

MOON KNIGHT COUNTDOWN TO DARK PREM HC

$24.99

MAR

1,303

57

1.77

WALKING DEAD TP VOL 05 BEST DEFENSE (NEW PTG)

$14.99

IMA

1,297

58

1.73

WALKING DEAD TP VOL 06 SORROWFUL LIFE (NEW PTG)

$14.99

IMA

1,269

59

1.71

GARTH ENNIS BATTLEFIELDS TP VOL 05 THE FIREFLY & HIS MAJESTY

$12.99

DE

1,257

60

1.69

WALKING DEAD TP VOL 07 THE CALM BEFORE (MR)

$12.99

IMA

1,243

61

1.69

X-FACTOR SECOND COMING PREM HC

$19.99

MAR

1,243

62

1.69

CYBERFORCE HUNTER KILLER TP VOL 01

$14.99

IMA

1,241

63

1.69

ESSENTIAL HULK TP VOL 06

$19.99

MAR

1,239

64

1.68

WALKING DEAD TP VOL 08 MADE TO SUFFER (MR)

$14.99

IMA

1,234

65

1.67

CAPTAIN AMERICA THEATER OF WAR TP

$16.99

MAR

1,228

66

1.67

X-MEN FOREVER TP VOL 04 DEVIL IN A WHITE DRESS

$16.99

MAR

1,226

67

1.65

INU YASHA TP VOL 51

$9.99

VIZ

1,214

68

1.64

FILTHY RICH TP (MR)

$12.99

DC

1,203

69

1.63

THOR SON OF ASGARD TP

$34.99

MAR

1,200

70

1.58

MMW SILVER SURFER TP VOL 02

$24.99

MAR

1,161

71

1.55

KICK ASS PREM HC (MR)

$24.99

MAR

1,140

72

1.54

DARK ENTRIES TP (MR)

$12.99

DC

1,127

73

1.52

THOR WARRIORS THREE PREM HC

$19.99

MAR

1,115

74

1.50

RETURN TO LABYRINTH GN VOL 04

$12.99

TOK

1,100

75

1.48

REBELS TP VOL 02 STRANGE COMPANIONS

$14.99

DC

1,089

76

1.48

NAOKI URASAWA 20TH CENTURY BOYS GN VOL 10

$12.99

VIZ

1,087

77

1.46

AMORY WARS ULTIMATE ED HC (MR)

$29.99

BOO

1,070

78

1.41

INVADERS TP EVE OF DESTRUCTION

$19.99

MAR

1,037

79

1.39

STRANGE TALES TP

$24.99

MAR

1,024

80

1.39

LITTLE LULU TP VOL 24 SPACE DOLLY & OTHER STORIES

$14.99

DAR

1,023

81

1.38

FABLES TP VOL 01 LEGENDS IN EXILE

$9.99

DC

1,016

82

1.32

SERENITY BETTER DAYS TP

$9.99

DAR

972

83

1.32

MS MARVEL TP VOL 09 BEST YOU CAN BE

$14.99

MAR

970

84

1.31

LEGENDS OF THE DARK CRYSTAL GN VOL 02

$12.99

TOK

964

85

1.27

SERENITY THOSE LEFT BEHIND TP

$9.99

DAR

931

86

1.26

ARCHIE & FRIENDS TP VOL 05 ARCHIES HAUNTED HOUSE

$9.95

ARC

926

87

1.26

ULTIMATE SPIDER-MAN ULTIMATE COLLECTION TP VOL 03

$29.99

MAR

922

88

1.24

MIGHTY TP VOL 02

$17.99

DC

913

89

1.24

LITTLE LULU PAL TUBBY VOL 01 CASTAWAY OTHER STORIES

$15.99

DAR

912

90

1.24

CODE GEASS QUEEN GN VOL 01

$10.99

BAN

909

91

1.23

KODT BAG WARS SAGA GN

$14.99

KEN

906

92

1.23

GIRL GENIUS TP VOL 01 AGATHA & BEETLEBURG CLANK COLOR ED

$22.95

STU

904

93

1.22

GURREN LAGANN GN VOL 05

$10.99

BAN

897

94

1.22

IRON SAINT TP VOL 01

$14.99

IMA

895

95

1.21

SPIDER-WOMAN PREM HC AGENT OF SWORD

$24.99

MAR

891

96

1.20

BIOMEGA GN VOL 03 (MR)

$12.99

VIZ

881

97

1.20

NEGIMA GN VOL 27 (MR)

$10.99

RAN

881

98

1.20

WALKING DEAD HC VOL 05

$34.99

IMA

879

99

1.17

MICE TEMPLAR TP VOL 02 .1 DESTINY PT 1

$17.99

IMA

860

100

1.17

BLACKEST NIGHT GREEN LANTERN HC

$24.99

DC

856

101

1.16

GI JOE ORIGINS TP VOL 03

$19.99

IDW

851

102

1.16

MIDNIGHT NATION TP

$24.99

IMA

851

103

1.16

HELLSPAWN COMPLETE COLL HC

$39.99

IMA

848

104

1.14

CHEW TP VOL 01 (MR)

$9.99

IMA

839

105

1.14

EXCALIBUR VISIONARIES WARREN ELLIS TP VOL 02

$24.99

MAR

835

106

1.13

COMPLETE PEANUTS HC VOL 14 1977-1978

$28.99

FAN

830

107

1.13

STARCRAFT GHOST ACADEMY GN VOL 02 (MR)

$12.99

TOK

830

108

1.12

STAR TREK ORIGINAL SERIES OMNIBUS TP

$24.99

IDW

825

109

1.12

AL WILLIAMSON ARCHIVES SC VOL 01

$19.95

FLE

821

110

1.12

ARCHIE CLASSIC NEWSPAPER COMICS HC VOL 01

$39.99

IDW

820

111

1.11

COLOR BLEACH + OFFICIAL BOOTLEG SC

$14.99

VIZ

817

112

1.10

ANGEL HOLE IN THE WORLD TP

$19.99

IDW

808

113

1.10

FLASH GORDON COMIC BOOK ARCHIVES HC VOL 01

$49.99

DAR

804

114

1.09

IRREDEEMABLE TP VOL 01

$9.99

BOO

798

115

1.08

BRIDE OF THE WATER GOD TP VOL 06

$9.99

DAR

795

116

1.08

FELIX THE CATS GREATEST COMIC BOOK TAILS HC

$34.99

IDW

792

117

1.07

THIEF OF ALWAYS TP

$12.99

IDW

787

118

1.07

WALKING DEAD HC VOL 01 (MR)

$29.99

IMA

783

119

1.07

HACK SLASH VOL 03 FRIDAY THE 31ST TP (IMAGE ED) (MR)

$18.99

IMA

782

120

1.06

Y THE LAST MAN TP VOL 01 UNMANNED

$12.99

DC

777

121

1.05

BATMAN AND ROBIN DELUXE HC VOL 01 BATMAN REBORN

$24.99

DC

771

122

1.04

LUKE CAGE NOIR TP GN

$14.99

MAR

767

123

1.04

THE ART OF RESIDENT EVIL 5 SC

$39.99

UDO

764

124

1.04

BONE TALL TALES HC

$22.99

SCH

763

125

1.03

DANGER GIRL DLX ED HC

$50.00

IDW

754

126

1.01

CHEW TP VOL 02 INTERNATIONAL FLAVOR (MR)

$12.99

IMA

744

127

1.01

SIEGE PREM HC

$24.99

MAR

740

128

1.01

UNCLE SCROOGE AROUND THE WORLD IN 80 BUCKS TP

$9.99

BOO

740

129

0.99

ALADDIN LEGACY OF THE LOST TP

$14.95

RAN

729

130

0.98

LOST AT SEA GN NEW ED

$11.95

ONI

718

131

0.97

BATMAN HUSH COMPLETE TP

$24.99

DC

710

132

0.96

TRANSFORMERS ARMADA OMNIBUS TP

$24.99

IDW

707

133

0.96

TSUBASA GN VOL 27

$10.99

RAN

705

134

0.94

AVENGERS INITIATIVE TP DREAMS AND NIGHTMARES

$14.99

MAR

691

135

0.92

MAGOG LETHAL FORCE TP

$14.99

DC

678

136

0.92

BATMAN DARK KNIGHT RETURNS TP

$14.99

DC

676

137

0.92

SECRET WARRIORS PREM HC VOL 03 WAKE BEAST

$19.99

MAR

672

138

0.90

ESSENTIAL CAPTAIN AMERICA TP VOL 01

$19.99

MAR

658

139

0.89

MUPPET SHOW TP VOL 04 FAMILY REUNION

$9.99

BOO

656

140

0.89

IMPALER TP VOL 02 (MR)

$14.99

IMA

655

141

0.88

ESSENTIAL CAPTAIN AMERICA TP VOL 02

$19.99

MAR

648

142

0.88

FABLES TP VOL 02 ANIMAL FARM

$12.99

DC

647

143

0.87

CLASSIC TRANSFORMERS TP VOL 06

$19.99

IDW

637

144

0.86

SEEDLESS OGN (MR)

$12.99

IMA

634

145

0.86

UMBRELLA ACADEMY TP VOL 01 APOCALYPSE SUITE

$17.95

DAR

634

146

0.86

COMPLETE DRACULA TP

$19.99

DE

630

147

0.86

BATMAN RIP TP

$14.99

DC

629

148

0.86

VAGABOND TP VOL 32 (MR)

$9.95

VIZ

628

149

0.85

DEADWORLD CLASSIC TP VOL 01

$24.99

IDW

627

150

0.84

BATMAN THE LONG HALLOWEEN TP

$19.99

DC

614

151

0.84

BLACKEST NIGHT BLACK LANTERN CORPS HC VOL 01

$24.99

DC

614

152

0.83

METABARONS TP VOL 04 AGHORA & LAST METABARON (MR)

$19.95

HUM

613

153

0.83

DEATHLOK DEMOLISHER PREM HC

$24.99

MAR

610

154

0.82

FINAL CRISIS TP

$19.99

DC

601

155

0.81

PREACHER TP VOL 01 GONE TO TEXAS NEW EDITION (MR)

$14.99

DC

598

156

0.81

LACKADAISY GN VOL 01

$19.95

4TH

591

157

0.81

ROBOCOP TP VOL 01 REVOLUTION

$14.99

DE

591

158

0.80

WALL-E TP VOL 02 OUT THERE

$9.99

BOO

590

159

0.80

READING WITH PICTURES GN

$17.99

REA

587

160

0.80

HIGURASHI WHEN THEY CRY GN VOL 08 TIME KILLING PT 2 (MR)

$11.99

HAC

584

161

0.79

SANDMAN TP VOL 01 PRELUDES & NOCTURNES

$19.99

DC

583

162

0.79

MMW INCREDIBLE HULK TP VOL 01

$24.99

MAR

578

163

0.78

QWASER OF STIGMATA VOL 01 HOLY WARS IGNITE (MR)

$12.99

TOK

575

164

0.77

BATMAN YEAR ONE DELUXE SC

$14.99

DC

564

165

0.77

CRUSADES HC VOL 01 KNIGHT (MR)

$29.99

IMA

563

166

0.76

UMBRELLA ACADEMY TP VOL 02 DALLAS

$17.99

DAR

560

167

0.76

GI JOE BEST OF SCARLETT TP

$19.99

IDW

558

168

0.75

TALES OF DRAGON GUARD PREM HC (MR)

$24.99

MAR

547

169

0.74

BORIS KARLOFF TALES OF MYSTERY ARCHIVES HC VOL 03

$49.99

DAR

546

170

0.74

TARZAN THE JESSE MARSH YEARS HC VOL 06

$49.99

DAR

544

171

0.74

X-MEN LONGSHOT PREM HC

$24.99

MAR

540

172

0.73

INFINITY GAUNTLET PREM HC

$29.99

MAR

538

173

0.73

MILO VENTIMIGLIA PRESENTS BERSERKER TP VOL 01

$14.99

IMA

538

174

0.73

GAKUEN ALICE GN VOL 12

$10.99

TOK

537

175

0.73

BATMAN THE KILLING JOKE SPECIAL ED HC

$17.99

DC

535

176

0.73

BLACKEST NIGHT GREEN LANTERN CORPS HC

$24.99

DC

534

177

0.73

EXISTENCE 2.0/3.0 TP (MR)

$14.99

IMA

533

178

0.72

UGLY YET BEAUTIFUL WORLD GN VOL 03 (MR)

$12.99

TOK

532

179

0.72

DAVE STEVENS THE ROCKETEER ARTISTS ED HC (NET)

$75.00

IDW

531

180

0.72

OOKU INNER CHAMBERS GN VOL 04 (MR)

$12.99

VIZ

529

181

0.72

ROSARIO VAMPIRE SEASON II TP VOL 02

$9.99

VIZ

527

182

0.71

BUCK ROGERS TP VOL 01 FUTURE SHOCK

$16.99

DE

523

183

0.71

SUNDOME GN VOL 07 (MR)

$12.99

HAC

520

184

0.71

Y THE LAST MAN TP VOL 02 CYCLES (MR)

$12.99

DC

520

185

0.71

WALKING DEAD HC VOL 02 (MR)

$29.99

IMA

519

186

0.71

X-MEN INFERNO CROSSOVERS HC

$75.00

MAR

519

187

0.71

INCORRUPTIBLE TP VOL 01 (MR)

$16.99

BOO

518

188

0.70

MMW AVENGERS TP VOL 01 VAR ED 4

$24.99

MAR

516

189

0.70

SPIDER-MAN PREM HC TORMENT

$19.99

MAR

513

190

0.69

YOUR AND MY SECRET GN VOL 06

$10.99

TOK

508

191

0.69

BATMAN UNDER THE HOOD TP VOL 01

$9.99

DC

504

192

0.68

KILLAPALOOZA TP

$19.99

DC

498

193

0.68

BLACKEST NIGHT BLACK LANTERN CORPS HC VOL 02

$24.99

DC

497

194

0.68

BATMAN DARK VICTORY TP

$19.99

DC

496

195

0.67

JOHN STANLEY LIBRARY NANCY HC VOL 02

$29.95

DRA

494

196

0.67

MAMIYA DOLL HOUSE GN (MR)

$12.95

DIG

493

197

0.67

BLACKEST NIGHT TALES OF THE CORPS HC

$24.99

DC

491

198

0.67

BOYS TP VOL 01 NAME OF THE GAME (MR)

$16.99

DE

491

199

0.67

FABLES TP VOL 03 STORYBOOK LOVE (MR)

$14.99

DC

491

200

0.67

BATMAN WHATEVER HAPPENED TO THE CAPED CRUSADER TP

$14.99

DC

489

201

0.67

PS238 TP VOL 08 WHEN WORLDS GO SPLAT

$15.99

DO

489

202

0.66

GREEN LANTERN REBIRTH TP

$14.99

DC

486

203

0.66

KIMIKISS GN VOL 05 (MR)

$10.99

TOK

485

204

0.66

ARKHAM ASYLUM ANNIVERSARY ED SC (MR)

$17.99

DC

484

205

0.66

HELLCITY THE WHOLE DAMN THING TP (MR)

$24.99

IMA

482

206

0.65

SUPREME POWER CONTACT TP (MR)

$19.99

MAR

480

207

0.65

BLACKEST NIGHT RISE OF THE BLACK LANTERNS HC

$24.99

DC

476

208

0.65

D GRAY MAN GN VOL 18 (MR)

$9.99

VIZ

476

209

0.65

WATCHMEN TP

$19.99

DC

475

210

0.65

CIVIL WAR TP

$24.99

MAR

474

211

0.64

FABLES TP VOL 13 THE GREAT FABLES CROSSOVER (MR)

$17.99

DC

473

212

0.64

MMW UNCANNY X-MEN TP VOL 01

$24.99

MAR

473

213

0.64

NOBLE CAUSES TP VOL 10 EVER AFTER

$12.99

IMA

471

214

0.63

TRANSMETROPOLITAN TP VOL 01 BACK ON THE STREET (MR)

$14.99

DC

466

215

0.63

BOYS TP VOL 06 SELF-PRESERVATION SOCIETY (MR)

$19.99

DE

463

216

0.63

MMW AVENGERS TP VOL 02

$24.99

MAR

459

217

0.62

UNWRITTEN TP VOL 01 TOMMY TAYLOR BOGUS IDENTITY TP (MR)

$9.99

DC

457

218

0.62

IKIGAMI ULTIMATE LIMIT GN VOL 06 (MR)

$12.99

VIZ

454

219

0.61

BATMAN UNDER THE HOOD TP VOL 02

$14.99

DC

450

220

0.61

V FOR VENDETTA TP

$19.99

DC

447

221

0.61

CROSSED TP VOL 01 (MR)

$24.99

AVA

445

222

0.60

GREEN LANTERN RAGE OF THE RED LANTERNS TP

$14.99

DC

437

223

0.59

KINGDOM COME TP NEW EDITION

$17.99

DC

436

224

0.59

TANK GIRL TP SKIDMARKS

$16.95

TIT

434

225

0.59

CLOAK & DAGGER PREM HC CHILD OF DARKNESS

$19.99

MAR

432

226

0.59

MOME GN VOL 19

$14.99

FAN

432

227

0.59

FABLES TP VOL 04 MARCH OF THE WOODEN SOLDIERS (MR)

$17.99

DC

431

228

0.59

RED TP NEW EDITION

$14.99

DC

431

229

0.59

SAVAGE DRAGON UNITED WE STAND TP

$16.99

IMA

431

230

0.58

METABARONS TP VOL 01 OTHON & HONORATA (NEW PTG)

$19.95

HUM

429

231

0.58

WALKING DEAD HC VOL 03 (MR)

$29.99

IMA

429

232

0.58

100 BULLETS TP VOL 01 FIRST SHOT LAST CALL

$9.99

DC

427

233

0.58

NIGHT BOOKMOBILE GN

$19.95

ABR

426

234

0.58

BRAIN CAMP GN

$16.99

ST.

424

235

0.57

GUARDIANS OF GALAXY PREM HC POWER STARHAWK

$24.99

MAR

419

236

0.57

INVINCIBLE TP VOL 12 STILL STANDING

$16.99

IMA

418

237

0.56

ALL STAR SUPERMAN TP VOL 02

$12.99

DC

414

238

0.56

MASS EFFECT REDEMPTION TP

$16.99

DAR

414

239

0.56

ADVENTURES IN CARTOONING ACTIVITY BOOK

$7.99

ST.

413

240

0.56

IRREDEEMABLE TP VOL 03

$16.99

BOO

412

241

0.56

CREATURE TECH GN (IMAGE ED)

$17.99

IMA

411

242

0.56

FABLES TP VOL 05 THE MEAN SEASONS (MR)

$14.99

DC

410

243

0.56

GODLAND CELESTIAL ED HC VOL 02

$34.99

IMA

410

244

0.56

SCALPED TP VOL 01 INDIAN COUNTRY (MR)

$14.99

DC

410

245

0.55

SIMPSONS FUTURAMA CROSSOVER CRISIS SLIPCASE HC

$24.95

ABR

407

246

0.55

JOKER HC

$19.99

DC

401

247

0.54

MMW MIGHTY THOR TP VOL 01

$24.99

MAR

397

248

0.54

BENNY AND PENNY TOY BREAKER HC

$12.95

RAW

395

249

0.54

BTVS SEASON 8 TP VOL 06 RETREAT

$15.99

DAR

395

250

0.53

VB ROSE GN VOL 09

$10.99

TOK

392

251

0.53

PREACHER TP VOL 02 UNTIL THE END OF THE WORLD NEW EDITION (M

$14.99

DC

391

252

0.53

JOHNNY HOMICIDAL MANIAC DIRECTORS CUT SC

$21.95

SLA

389

253

0.53

BOYS TP VOL 05 HEROGASM (MR)

$19.99

DE

388

254

0.52

BTVS SEASON 8 TP VOL 01 LONG WAY HOME

$15.99

DAR

385

255

0.52

FABLES TP VOL 06 HOMELANDS (MR)

$14.99

DC

384

256

0.52

SUPERMAN RED SON TP

$17.99

DC

383

257

0.52

ALL STAR SUPERMAN TP VOL 01

$12.99

DC

382

258

0.52

AVENGERS CONTEST PREM HC VAR DM ED 45

$24.99

MAR

380

259

0.51

WALKING DEAD HC VOL 04

$34.99

IMA

378

260

0.51

PRIDE OF BAGHDAD SC (MR)

$12.99

DC

377

261

0.51

BEN TEN ALIEN FORCE DOOM DIMENSION GN VOL 02

$7.99

RAN

374