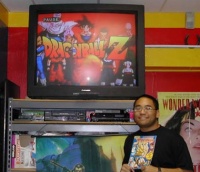 Samurai Comics of Phoenix, Arizona incorporated multiple product categories into its display, and used a Shonen Jump poster as the large graphic element. It also tied in its display to in-store events and to a promotion with a local library. And it used the TV in the store to remind consumers that the DBZ cartoon is tied to the products on sale there.
The Store
Everybody here at Samurai Comics loves anime and Dragonball Z, so creating a fun, vibrant display proved to be an easy task.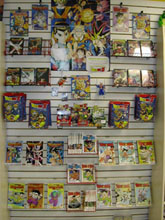 The Display
We quickly pulled together our large selection of DBZ merchandise-toys, CCG's, comics, TPB's, and DVD's were all pulled from other areas to form one cohesive display. While we had a large selection, we discovered that we needed more! Fortunately Diamond Comics helped us out with a great back stock of merchandise to choose from.
We wanted to encourage customers to look at the items in the display so we (gasp) opened up a couple of the action figures and placed them in the center of the display. Open packs of the DBZ card game were on hand, and we played DBZ videos on our big screen TV adjacent to the display. Racking the TPB's spine out allowed customers to see the picture that forms when you collect the whole set.
While having an attractive, well-stocked display works great for a push such as this, we wanted to do more to encourage people to check out all of the awesome DBZ stuff we had in stock.
The Results
We contacted the good folks as VIZ and arranged to get copies of the preview copy of Shonen Jump. We had DBZ day in our store on Saturday September 21-popular card games such as DBZ and Yu-Gi-Oh! were demoed and played, DBZ was played throughout the day on the TV, and everyone who came into the store got a free copy of Shonen Jump.
Most exciting of all was our arrangement with the local library. Samurai Comics is going to provide DBZ DVD's for the library to play in their Teen section. In return the library is going to hand out copies of Shonen Jump (each bearing the Samurai Comics stamp) to interested kids.

Click here to see the First Place Winner -- Redrum Comics in Scottsdale, Arizona.
ICv2 would like to thank all of our entrants and our sponsors, Score, Diamond Comic Distributors, and Viz Communications. This display contest is part of our DBZ Dollars promotion.
For more info on the DBZ Dollars promotion, see 'Retailers--It's DBZ Dollars!'.
For info on the DBZ Dollars Display contest, click here.
Click here for the DBZ Dollars Display Contest prize listing.
We've also done a number of articles on the Dragon Ball phenomenon as part of this promotion.
For an overview of Dragon Ball, see 'Dragonball Z--Still on Top'.
For news on what's coming next for the Dragon Ball anime, see 'The Future of Dragon Ball'.
For conversations with game retailers that run Dragonball Z and other gaming events, see 'Interview with Tom Ray of Ground Zero'.
For an interview with an anime specialist on cross merchandising Dragon Ball, see 'Cross-Merchandising Dragonball Z'.
Diamond Comics, one of the sponsors of our DBZ Dollars promotion has an extensive inventory of DBZ merchandise. For a complete listing, see 'Diamond Has Great DBZ Merchandise!'.