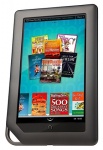 Barnes & Noble is launching NOOKcolor, a color, enhanced version of its Nook e-reader, on November 19th. The new device is powered by Android and features a 7" color touchscreen, Wi-Fi access, a Web browser, and 8GB of memory (expandable with microSD cards). The device allows transfer of ePub and PDF files, images, music, and can view Microsoft Office files with Quickoffice software. It will weigh under one pound (vs the iPad's 1.5 pounds).
The retail price will be $249. The price puts it roughly midway between the entry level Kindle and Nook readers and Apple's iPad.
Over 2 million book titles, a magazine selection (which will allow subscriptions), and 12,000 kids chapter books will be available at launch. The magazine selection will use a B&N software, ArticleView, to navigate through the pages. Over 130 digital picture books for kids will also be available, with extra features such as audio tracks included in some.
The new color Nook will also include social features such as the ability to lend books to friends (this was also available on the b/w Nook), and the ability to recommend a title, share reading status, or quote via Facebook, Twitter, and e-mail.
Developer software is being made available, allowing independent development of apps for the device (although Apple has a huge lead in the number of apps available for its iOS devices).
Both the b/w and color Nook will be sold at Best Buy, Walmart, and Books a Million, in addition to the increasing space devoted to Nooks at Barnes & Noble's brick and mortar stores.
Our take on the important elements of this announcement:
1.The range of features of the color Nook was something of a surprise for us. B&N is obviously serious about its device and is going to compete aggressively with both Amazon and Apple.
2.The screen size puts it between the iPhone/iPod and iPad (which has a 9.5" screen). Apple's Jobs recently argued that the public would not adopt a 7" screen for tablet devices. Time to see if he's right.
3.With the smaller screen size, to be usable for comics the color Nook is going to require a panel-by-panel navigation option similar to what's used to read comics on the iPhone and iPad. B&N has its own software which may offer some competition for apps from companies such as Comixology and iVerse. The smaller screen size also makes it less useful than the iPad for RPG PDFs.