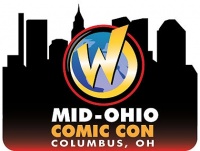 Wizard has acquired Mid-Ohio-Con, a convention of 30 years vintage held annually in Columbus, Ohio. Rumors of the acquisition had been floating since the show was held a couple of weeks ago, but the transaction was not confirmed until Friday. The first show under Wizard management will be held October 22-23, 2011 in Columbus.
Mid-Ohio-Con joins Wizard's Chicago show as the longest-running shows on the company's circuit (Chicago still wins, with a lineage that dates to 1972).
Mid-Ohio-Con and Big Apple Con (see "Wizard CEO Acquires Big Apple Con") are the most significant acquisitions made by Wizard since it began its current run of acquiring and starting shows.
Wizard also announced that it recently acquired shows in New Orleans and Winnipeg (see "Wizard World Buys Two Shows").