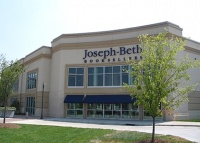 "I think in the next three to five years, you'll see half the bookstores in this country close," Joseph-Beth Booksellers President Neil Van Uum told the Lexington Herald-Leader.
The chain, which operated seven Joseph-Beth Booksellers and two Davis-Kidd Booksellers stores, filed for chapter 11 bankruptcy protection last week, and plans to close four of its nine locations. The weak economy and increased online competition were cited as reasons for the bankruptcy. Uum told the Herald-Leader that the chain had seen declining sales for the last five years.
Monday's news included two other reports that indicated trouble for book retailing. Multi-media chain Hastings reported that its new book sales dropped 9.3% for the quarter ending October 31st, although it did say that its expanded new and used comic area (see "Hastings Entertainment Adds Comics") showed strong results (as part of Trends, not books).
And Publishers Weekly reports that book sales were down 7.7% in September after a 6.5% drop in August, according to a U.S. Census Bureau report. Year to date book sales were down 2.6%, according to the report.