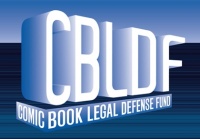 The Comic Book Legal Defense Fund has been awarded the 2010 Robert B. Downs Intellectual Freedom Award, given annual since 1969 by the faculty of the Graduate School of Library and Information Science at the University of Illinois at Urbana-Champaign. The award will be presented in a ceremony at the American Library Association Midwinter Meeting at the San Diego Convention Center on January 8th.
The Downs Award is given to recognize "individuals or groups who have furthered the cause of intellectual freedom, particularly as it impacts libraries and information centers and the dissemination of ideas." It's "granted to those who have resisted censorship or efforts to abridge the freedom of individuals to read or view materials of their choice…."
The award can be given either for a specific act or a long-term dedication to the cause. In this case, CBLDF is being recognized for its long record of defending First Amendment rights.