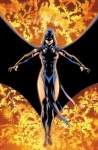 With Smallville in the midst of its tenth and final season, the CW is looking to develop another TV series based on a DC Comics character. Diego Gutierrez, who was a producer on the revived science fiction series V, is writing the pilot for a new series based on Raven, the half-demon, teleporting empath who was created by George Perez and Marv Wolfman and who first appeared in DC Comics Presents #26 in 1980 and was a founding member of the Teen Titans.
Raven's struggles with her dark side (and with her demonic father Trigon) were a key part of numerous Titans storylines. Variety, which broke the news about the Raven series, barely mentioned the Titans, except to note that the Raven character (aka Rachel Roth) was featured prominently in the Teen Titans animated series that was a key part of the Kids' WB Saturday Morning lineup (the WB network was combined with the UPN to form the CW).
It is unlikely that the new live-action Raven character will resemble the anime-influenced Goth Girl sprite "Raven" from the Teen Titans animated series. Variety described the heroine of the new Raven series as being able "to teleport herself and enter the minds of others, using her skills to fight crime while trying to keep her dark internal elements in check."
Other DC properties heading for the small screen include Wonder Woman, which David E. Kelley is developing, though that project has yet to secure a committment from a network (see "Wonder Woman on TV").