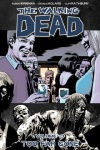 These are estimates of the sales on graphic novels by Diamond U.S. to comic specialty stores during November 2010.
For an overview and analysis of comic sales in November, see "
Hat Trick--Top Comic Under 100K
."
For an analysis of the dollar trends in November, see "
2010 Comic Sales Down 5.79%
."
For our estimates of actual sales by Diamond
U.S.
from comic specialty stores on comic books shipped during November, see "
Top 300 Comics Actual--November 2010
."
Top 300 GNs -- November 2010

Rank

Index

Title

Price

Pub

Est.Qty

1

29.63

WALKING DEAD TP VOL 13 TOO FAR GONE (MR)

$14.99

IMA

19,324

2

21.93

SERENITY SHEPHERDS TALE HC

$14.99

DAR

14,299

3

12.29

SUPERMAN EARTH ONE HC

$19.99

DC

8,014

4

9.40

BOYS TP VOL 07 THE INNOCENTS (MR)

$19.99

DE

6,130

5

8.52

BATMAN AND ROBIN DELUXE HC VOL 02 BATMAN VS ROBIN

$24.99

DC

5,556

6

8.50

CHEW TP VOL 03 JUST DESSERTS (MR)

$12.99

IMA

5,543

7

7.42

EX MACHINA TP VOL 10 TERM LIMITS (MR)

$14.99

DC

4,841

8

6.78

SIEGE TP

$19.99

MAR

4,420

9

6.63

WALKING DEAD TP VOL 01 DAYS GONE BYE

$9.99

IMA

4,324

10

6.16

GREEN LANTERN AGENT ORANGE TP

$14.99

DC

4,018

11

6.15

BPRD TP VOL 14 KING OF FEAR

$17.99

DAR

4,012

12

6.11

SUPERMAN VS MUHAMMAD ALI DELUXE HC

$19.99

DC

3,983

13

5.48

BATMAN BATTLE FOR THE COWL TP

$14.99

DC

3,573

14

5.16

GRANT MORRISON 18 DAYS (MR)

$24.99

DE

3,367

15

4.93

MOUSE GUARD LEGENDS O/T GUARD HC

$19.95

ARA

3,215

16

4.89

POWERS TP VOL 13 Z (MR)

$24.99

MAR

3,192

17

4.42

GREEN LANTERN CORPS EMERALD ECLIPSE TP

$14.99

DC

2,884

18

4.33

WITCHBLADE REDEMPTION TP VOL 01 (DIRECT MARKET ED)

$4.99

IMA

2,826

19

4.26

ACME NOVELTY LIBRARY HC #20 (MR)

$23.95

DRA

2,779

20

3.93

DEADPOOL TP VOL 04 MONKEY BUSINESS

$15.99

MAR

2,566

21

3.73

FABLES DELUXE EDITION HC VOL 02 (MR)

$29.99

DC

2,435

22

3.56

PUNISHER MAX KINGPIN TP (MR)

$19.99

MAR

2,323

23

3.46

WALKING DEAD TP VOL 02 MILES BEHIND US

$14.99

IMA

2,254

24

3.36

LEGION OF SUPER-HEROES GREAT DARKNESS SAGA DLX HC

$39.99

DC

2,194

25

3.31

CAPTAIN AMERICA TWO AMERICAS TP

$14.99

MAR

2,156

26

3.29

ABSOLUTE ALL STAR SUPERMAN HC

$99.99

DC

2,146

27

3.15

THOR SIEGE AFTERMATH TP

$15.99

MAR

2,054

28

3.10

GREEK STREET TP VOL 02 CASSANDRA COMPLEX (MR)

$14.99

DC

2,021

29

3.08

SAVAGE SWORD OF KULL TP VOL 01

$19.99

DAR

2,011

30

3.08

UNKNOWN SOLDIER TP VOL 03 DRY SEASON (MR)

$14.99

DC

2,007

31

3.06

LAST DAYS OF AMERICAN CRIME TP

$14.95

RAN

1,998

32

2.93

SUPERMAN VS MUHAMMAD ALI FACSIMILE EDITION HC

$39.99

DC

1,912

33

2.90

HOW TO UNDERSTAND ISRAEL IN 60 DAYS OR LESS HC (MR)

$24.99

DC

1,890

34

2.81

GOTHAM CITY SIRENS SONG OF THE SIRENS HC

$19.99

DC

1,832

35

2.80

GUILD TP VOL 01

$12.99

DAR

1,828

36

2.78

TRON BETRAYAL GN

$9.99

HAR

1,813

37

2.69

WALKING DEAD TP VOL 12 LIFE AMONG THEM

$14.99

IMA

1,752

38

2.64

SIEGE TP X-MEN

$15.99

MAR

1,721

39

2.63

THOR BY MICHAEL STRACZYNSKI OMNIBUS HC

$64.99

MAR

1,716

40

2.61

SPIDER-MAN ONE MOMENT TIME PREM HC

$24.99

MAR

1,703

41

2.61

WALKING DEAD TP VOL 03 SAFETY BEHIND BARS

$14.99

IMA

1,702

42

2.56

FANTASTIC FOUR BY JONATHAN HICKMAN TP VOL 02

$15.99

MAR

1,670

43

2.56

DARKWING DUCK TP VOL 01 DUCK KNIGHT RETURNS

$14.99

BOO

1,669

44

2.51

SUPERMAN LAST STAND OF NEW KRYPTON HC VOL 01

$24.99

DC

1,640

45

2.49

JLA DELUXE EDITION HC VOL 04

$34.99

DC

1,626

46

2.48

RED MASS FOR MARS TP VOL 01

$14.99

IMA

1,614

47

2.47

GANTZ TP VOL 14 (MR)

$12.99

DAR

1,613

48

2.45

DEADPOOL HC WADE WILSONS WAR

$19.99

MAR

1,596

49

2.42

REALM OF KINGS TP

$34.99

MAR

1,576

50

2.40

KILL SHAKESPEARE TP VOL 01

$19.99

IDW

1,564

51

2.34

STAR WARS DARK TIMES TP VOL 04 BLUE HARVEST

$17.99

DAR

1,524

52

2.31

SCOTT PILGRIM GN VOL 01 PRECIOUS LITTLE LIFE

$11.99

ONI

1,508

53

2.30

SGT ROCK THE LOST BATTALION TP

$17.99

DC

1,502

54

2.28

SIEGE TP BATTLEFIELD

$19.99

MAR

1,488

55

2.28

SIEGE TP EMBEDDED

$14.99

MAR

1,488

56

2.28

NORTH 40 TP

$17.99

DC

1,485

57

2.28

LADY DEATH ORIGINS TP VOL 01

$19.99

AVA

1,484

58

2.23

SPIDER-MAN COMPLETE CLONE SAGA EPIC TP BOOK 04

$39.99

MAR

1,453

59

2.21

EX MACHINA DELUXE EDITION HC VOL 04 (MR)

$29.99

DC

1,444

60

2.19

GRANDVILLE MON AMOUR HC

$19.99

DAR

1,425

61

2.18

GUARDIANS OF GALAXY TP VOL 04 REALM OF KINGS

$19.99

MAR

1,424

62

2.17

WALKING DEAD TP VOL 05 BEST DEFENSE

$14.99

IMA

1,414

63

2.14

BATMAN BRAVE AND BOLD FEARSOME FANG STRIKES TP

$12.99

DC

1,393

64

2.13

JANET EVANOVICH TROUBLEMAKER HC BOOK 02

$17.99

DAR

1,390

65

2.13

ARCHIE FIRSTS HC VOL 01

$24.99

DAR

1,386

66

2.11

ULTIMATUM HC

$34.99

MAR

1,376

67

2.09

GREEN LANTERN OMNIBUS HC VOL 01

$75.00

DC

1,363

68

2.05

VAMPIRELLA MASTERS SERIES TP VOL 01 GRANT MORRISON SC

$24.99

DE

1,338

69

2.05

WALKING DEAD TP VOL 11 FEAR THE HUNTERS (MR)

$14.99

IMA

1,335

70

2.02

WALKING DEAD TP VOL 04 HEARTS DESIRE

$14.99

IMA

1,320

71

1.98

WALKING DEAD TP VOL 06 SORROWFUL LIFE (MR)

$14.99

IMA

1,292

72

1.98

MMW DOCTOR STRANGE TP VOL 01

$24.99

MAR

1,288

73

1.97

LUCKY STAR GN VOL 07

$10.99

BAN

1,285

74

1.96

DARKNESS PITT TP VOL 01 (MR)

$14.99

IMA

1,281

75

1.95

WALKING DEAD TP VOL 09 HERE WE REMAIN (MR)

$14.99

IMA

1,269

76

1.94

XENOZOIC COMPLETE COLL TP

$39.95

FLE

1,262

77

1.93

HACK SLASH TP VOL 08 SUPER SIDEKICK SLEEPOVER SLAUGHTER (MR)

$18.99

IMA

1,261

78

1.90

LUNA PARK TP (MR)

$14.99

DC

1,236

79

1.89

LITTLE LULU TP VOL 25 BURGLAR PROOF CLUBHOUSE

$14.99

DAR

1,230

80

1.88

WALKING DEAD TP VOL 07 THE CALM BEFORE

$14.99

IMA

1,223

81

1.84

GREEN ARROW BLACK CANARY FIVE STAGES TP

$17.99

DC

1,203

82

1.84

PUNISHER HC FRANKEN-CASTLE

$39.99

MAR

1,199

83

1.84

WALKING DEAD TP VOL 10 WHAT WE BECOME

$14.99

IMA

1,199

84

1.82

TERRY MOORES ECHO TP VOL 05

$15.95

ABS

1,186

85

1.81

HEROIC AGE TP

$24.99

MAR

1,179

86

1.80

SMURFS GN VOL 03 SMURF KING

$5.99

NBM

1,174

87

1.80

DEAD SPACE SALVAGE TP

$17.99

IDW

1,173

88

1.78

SPAWN ORIGINS TP VOL 08

$14.99

IMA

1,161

89

1.78

DAREDEVIL BENDIS AND MALEEV ULTIMATE COLL TP BK 03

$34.99

MAR

1,158

90

1.75

BOY COMMANDOS BY JOE SIMON AND JACK KIRBY HC

$49.99

DC

1,140

91

1.72

SAVAGE SWORD OF CONAN TP VOL 08

$19.99

DAR

1,120

92

1.70

GRAVEL TP VOL 03 LAST KING OF ENGLAND (MR)

$19.99

AVA

1,106

93

1.69

ELMER GN (MR)

$12.95

SLA

1,104

94

1.69

GRIMMS FAIRY TALES HC VOL 01

$16.99

IDW

1,104

95

1.69

ULTIMATE COMICS SPIDER-MAN CHAMELEONS PREM HC VOL 02

$24.99

MAR

1,103

96

1.69

CASTLE WAITING HC VOL 02

$29.99

FAN

1,102

97

1.69

SIN CITY NEW MILLER CVR TP VOL 04 THAT YELLOW BASTARD (MR)

$21.00

DAR

1,100

98

1.67

D GRAY MAN GN VOL 19 (MR)

$9.99

VIZ

1,088

99

1.66

WALKING DEAD TP VOL 08 MADE TO SUFFER (MR)

$14.99

IMA

1,085

100

1.66

EERIE ARCHIVES HC VOL 05

$49.99

DAR

1,084

101

1.66

SCOTT PILGRIM PRECIOUS LITTLE BOX SET

$72.00

ONI

1,084

102

1.62

BATMAN HUSH COMPLETE TP

$24.99

DC

1,059

103

1.62

GREEN HORNET YEAR ONE TP VOL 01

$19.99

DE

1,059

104

1.62

POKEMON DIAMOND & PEARL ADVENTURE GN VOL 08

$7.99

VIZ

1,054

105

1.61

INU YASHA TP VOL 54

$9.99

VIZ

1,053

106

1.60

LENORE COOTIES PX HC COLOR ED

$24.95

TIT

1,045

107

1.59

GHOSTBUSTERS HAUNTED HOLIDAYS TP

$17.99

IDW

1,040

108

1.59

THOR BY DAN JURGENS AND JOHN ROMITA JR TP VOL 04

$29.99

MAR

1,040

109

1.56

SPIDER-MAN OSBORN IDENTITY TP

$14.99

MAR

1,017

110

1.54

ARCHIE AMERICANA SER TP VOL 11 BEST OF 80S BOOK 2

$11.95

ARC

1,002

111

1.53

GI JOE HEARTS AND MINDS HC VOL 01

$24.99

IDW

1,001

112

1.53

AVENGERS ORIGIN HC

$24.99

MAR

997

113

1.51

BAKUMAN TP VOL 02

$9.99

VIZ

987

114

1.51

SENSE & SENSIBILITY PREM HC

$19.99

MAR

985

115

1.51

SIN CITY NEW MILLER CVR TP VOL 05 FAMILY VALUES (MR)

$14.00

DAR

985

116

1.49

WALKING DEAD COMPENDIUM TP VOL 01 (MR)

$59.99

IMA

972

117

1.48

HUMAN TARGET TP

$17.99

DC

964

118

1.48

AMAZING SPIDER-MAN BY JMS ULT COLL TP BOOK 05

$34.99

MAR

963

119

1.46

OUTSIDERS THE ROAD TO HELL TP

$14.99

DC

955

120

1.45

AVENGERS X-MEN TP MAXIMUM SECURITY

$39.99

MAR

946

121

1.43

SPECTACULAR SPIDER-GIRL TP LAST STAND GN

$19.99

MAR

932

122

1.40

PAX ROMANA TP VOL 01

$14.99

IMA

912

123

1.40

DAN BRERETON THE GODDESS & THE MONSTER HC

$29.99

IMA

911

124

1.39

TRANSFORMERS SPOTLIGHT NEFARIOUS TP VOL 01

$19.99

IDW

909

125

1.38

BIOMEGA GN VOL 04 (MR)

$12.99

VIZ

902

126

1.38

GI JOE COBRA TP VOL 02

$19.99

IDW

901

127

1.36

CARTOON NETWORK 2 IN 1 BEN 10 ALIEN FORCE SAT TP

$12.99

DC

890

128

1.36

CLASSIC JURASSIC PARK TP VOL 01

$17.99

IDW

888

129

1.36

HATTER M TP VOL 03 THE NATURE OF WONDER

$14.95

AUT

887

130

1.36

AGENTS OF ATLAS VS TP

$19.99

MAR

886

131

1.36

LITTLE PRINCE GN

$19.99

HOU

885

132

1.33

THOR ACROSS ALL WORLDS TP NEW PTG

$29.99

MAR

866

133

1.30

NARUTO ILLUSTRATION BOOK SC

$19.99

VIZ

848

134

1.30

KICK ASS PREM HC (MR)

$24.99

MAR

845

135

1.28

MICE TEMPLAR TP VOL 02 .2 DESTINY PT 2

$17.99

IMA

833

136

1.27

CAPTAIN AMERICA BLOODSTONE HUNT TP

$19.99

MAR

827

137

1.25

BLACKEST NIGHT HC

$29.99

DC

816

138

1.24

K ON GN VOL 01

$10.99

HAC

810

139

1.23

28 DAYS LATER TP VOL 02 BEND IN THE ROAD

$12.99

BOO

805

140

1.23

BEST AMERICAN COMICS HC 2010

$23.00

HOU

804

141

1.23

SHOWCASE PRESENTS GREEN LANTERN TP VOL 01

$19.99

DC

799

142

1.22

MARVEL 1602 TP SPIDER-MAN

$16.99

MAR

798

143

1.22

SCOTT PILGRIM GN VOL 02 VS THE WORLD

$11.99

ONI

795

144

1.21

CAPTAIN AMERICA 1940S NEWSPAPER STRIP TP

$14.99

MAR

789

145

1.21

CAPTAIN AMERICA NEW DEAL PREMIERE HC

$24.99

MAR

789

146

1.21

TRANSFORMERS BEST OF GRIMLOCK TP

$19.99

IDW

789

147

1.19

SPICE AND WOLF GN VOL 03

$12.99

HAC

777

148

1.19

SRG PRESENTS ZOMBIE TRAMP TP

$11.99

SUP

776

149

1.18

CHEW TP VOL 01 (MR)

$9.99

IMA

771

150

1.17

HIKARU NO GO TP VOL 21

$9.99

VIZ

766

151

1.17

WALKING DEAD HC VOL 01 (MR)

$34.99

IMA

762

152

1.16

JAMES PATTERSONS MURDER OF KING TUT TP

$24.99

IDW

755

153

1.16

TSUBASA GN VOL 28

$10.99

RAN

754

154

1.15

SIN CITY NEW MILLER CVR TP VOL 03 BIG FAT KILL (MR)

$19.00

DAR

750

155

1.15

UNCANNY X-MEN OFF INDEX MARVEL UNIVERSE GN TP

$19.99

MAR

748

156

1.14

ARCHIE BEST OF STAN GOLDBERG HC VOL 01

$24.99

IDW

745

157

1.13

MEGA MAN MEGAMIX VOL 03

$12.95

UDO

739

158

1.12

EXTRAORDINARY ADVENTURES OF ADELE BLANC SEC HC VOL 01

$24.99

FAN

728

159

1.10

KEVIN SMITH KATO TP VOL 01 NOT MY FATHERS DAUGHTER

$19.99

DE

718

160

1.10

WHAT I DID HC

$24.99

FAN

716

161

1.09

FRANKLIN RICHARDS TP SON GENIUS ULT COLL GN BK 02

$19.99

MAR

712

162

1.08

SHAMAN KING TP VOL 31

$9.99

VIZ

704

163

1.08

ROCKETEER COMPLETE COLLECTION DLX ED HC VOL 01

$75.00

IDW

703

164

1.07

FORGETLESS TP (MR)

$14.99

IMA

697

165

1.06

EEEK TP VOL 01 (MR)

$14.95

ASY

693

166

1.06

KABUKI HC VOL 01 (MR)

$29.99

MAR

688

167

1.05

SQUADRON SUPREME BY MARK GRUENWALD OMNIBUS HC

$74.99

MAR

683

168

1.04

LENORE COOTIES HC COLOR ED

$17.95

TIT

681

169

1.04

LITTLE MAAKIES PRAIRIE HC

$19.99

FAN

675

170

1.03

CBGB TP

$14.99

BOO

672

171

1.03

MAGE HC VOL 01 THE HERO DISCOVERED

$39.99

IMA

670

172

1.02

FABLES TP VOL 01 LEGENDS IN EXILE

$12.99

DC

664

173

1.01

MAID SAMA GN VOL 07

$10.99

TOK

661

174

1.01

PHILIP K DICKS ELECTRIC ANT PREM HC (MR)

$24.99

MAR

661

175

1.01

COFFIN HC 10TH ANN ED

$21.99

IDW

660

176

0.99

DO ANDROIDS DREAM DUST TO DUST TP VOL 01

$9.99

BOO

647

177

0.98

BLACK BIRD GN VOL 06

$9.99

VIZ

639

178

0.97

XXXHOLIC GN VOL 16

$10.99

RAN

630

179

0.95

SCOTT PILGRIM GN VOL 03 INFINITE SADNESS

$11.99

ONI

622

180

0.94

GOON TP VOL 04 VIRTUE & GRIM CONSEQUENCES (MR)

$16.99

DAR

612

181

0.93

ANITA BLAKE TP BOOK 03 LC EXECUTIONER

$16.99

MAR

609

182

0.92

BLOODY KISS TONIGHT GN (MR)

$12.95

DIG

603

183

0.92

PREACHER TP VOL 01 GONE TO TEXAS NEW EDITION (MR)

$17.99

DC

597

184

0.91

SCOTT PILGRIM GN VOL 04 GETS IT TOGETHER

$11.99

ONI

591

185

0.91

WATCHMEN TP

$19.99

DC

591

186

0.90

BATMAN DARK KNIGHT RETURNS TP

$14.99

DC

589

187

0.89

DOT HACK CELL GN VOL 02 (MR)

$10.99

TOK

583

188

0.89

AMAZING SPIDER-MAN TP VOL 10 NEW AVENGERS

$14.99

MAR

580

189

0.89

SUPREME POWER HYPERION TP

$19.99

MAR

578

190

0.88

MARVEL WEDDINGS TP

$19.99

MAR

575

191

0.88

TUROK SON OF STONE ARCHIVES HC VOL 07

$49.99

DAR

575

192

0.88

GIANT SIZE MARVEL TP

$24.99

MAR

573

193

0.88

BATMAN THE LONG HALLOWEEN TP

$19.99

DC

571

194

0.87

NEWUNIVERSAL TP EVERYTHING WENT WHITE

$14.99

MAR

570

195

0.87

NEW EXCALIBUR TP VOL 02 LAST DAYS OF CAMELOT

$19.99

MAR

569

196

0.87

TERRY MOORES COMPLETE PARADISE TOO TP

$29.95

ABS

569

197

0.87

KATO ORIGINS TP VOL 01 WAY O/T NINJA

$19.99

DE

568

198

0.87

NINJA GIRLS GN VOL 04 (MR)

$10.99

RAN

567

199

0.87

Y THE LAST MAN TP VOL 01 UNMANNED

$12.99

DC

566

200

0.86

WALKING DEAD HC VOL 06 (MR)

$34.99

IMA

564

201

0.86

CHEW TP VOL 02 INTERNATIONAL FLAVOR (MR)

$12.99

IMA

563

202

0.86

MARVEL TEAM-UP TP VOL 04 FREEDOM RING

$17.99

MAR

561

203

0.86

IRREDEEMABLE TP VOL 01

$9.99

BOO

558

204

0.86

V FOR VENDETTA TP (MR)

$19.99

DC

558

205

0.85

ASTONISHING X-MEN HC VOL 01

$29.99

MAR

556

206

0.85

ELEPHANTMEN TP VOL 01 WOUNDED ANIMALS REVISED ED

$19.99

IMA

556

207

0.85

HERCULES NEW LABORS OF HERCULES TP

$13.99

MAR

554

208

0.85

REST TP VOL 01 (TOP COW ED)

$14.99

IMA

553

209

0.85

SCOTT PILGRIM GN VOL 05 VS THE UNIVERSE

$11.99

ONI

552

210

0.85

SHOCKROCKETS HC

$24.99

IDW

552

211

0.84

FRIENDLY NEIGHBORHOOD SPIDER-MAN TP VOL 01 DERAILED

$14.99

MAR

548

212

0.84

HOWARD THE DUCK TP MEDIA DUCKLING

$11.99

MAR

546

213

0.83

DIARY OF A WIMPY KID HC VOL 05

$13.95

ABR

542

214

0.83

SCOTT PILGRIM GN VOL 06 FINEST HOUR

$11.99

ONI

541

215

0.81

VAGABOND VIZBIG ED GN VOL 09 (MR)

$19.99

VIZ

530

216

0.80

VASSALORD GN VOL 04 (MR)

$10.99

TOK

524

217

0.80

LUTHOR HC

$19.99

DC

520

218

0.80

GREEN HORNET PARALLEL LIVES TP

$19.99

DE

519

219

0.80

IRREDEEMABLE TP VOL 03

$16.99

BOO

519

220

0.79

FINAL CRISIS TP

$19.99

DC

515

221

0.79

LIL ABNER HC VOL 02

$49.99

IDW

515

222

0.79

ALL STAR SUPERMAN TP VOL 01

$12.99

DC

514

223

0.78

BATMAN THE KILLING JOKE SPECIAL ED HC

$17.99

DC

510

224

0.78

ASTONISHING X-MEN HC VOL 02

$34.99

MAR

506

225

0.77

STORM TP

$14.99

MAR

505

226

0.77

WOLVERINE TP FIRST CLASS VOL 02 TO RUSSIA WITH LOVE

$15.99

MAR

505

227

0.77

MICKEY MOUSE ON QUANDOMAI ISLAND TP

$9.99

BOO

504

228

0.77

OTOMEN GN VOL 08

$9.99

VIZ

504

229

0.77

UNCANNY X-MEN NEW AGE TP VOL 02 CRUELEST CUT

$11.99

MAR

504

230

0.77

SUPREME POWER NIGHTHAWK TP

$16.99

MAR

501

231

0.77

TREASURE GN VOL 01 (MR)

$12.95

DIG

501

232

0.77

DRAGONBALL Z VIZBIG ED GN VOL 09

$17.99

VIZ

500

233

0.76

NEW EXCALIBUR TP VOL 01 DEFENDERS OF THE REALM

$17.99

MAR

496

234

0.76

DARKSTAR AND WINTER GUARD TP

$19.99

MAR

495

235

0.76

DONALD DUCK AND FRIENDS DOUBLE DUCK SC VOL 03

$9.99

BOO

495

236

0.76

GREAT TREASURY OF CHRISTMAS COMIC BOOK STORIES HC

$34.99

IDW

494

237

0.76

FANTASTIC FOUR FOES TP

$16.99

MAR

493

238

0.76

TARZAN THE JESSE MARSH YEARS HC VOL 07

$49.99

DAR

493

239

0.75

DEATHS HEAD 3.0 UNNATURAL SELECTION TP

$13.99

MAR

492

240

0.75

ALPHA FLIGHT TP VOL 02 WAXING POETIC

$14.99

MAR

491

241

0.75

HELLBOY TP VOL 11 MASKS AND MONSTERS

$17.99

DAR

491

242

0.75

ALIAS TP VOL 03 THE UNDERNEATH

$16.99

MAR

490

243

0.75

WALKING DEAD HC VOL 02 (MR)

$34.99

IMA

489

244

0.75

SPECTACULAR SPIDER-MAN TP VOL 06 FINAL CURTAIN

$14.99

MAR

488

245

0.74

ROCK N ROLL COMICS TP LED ZEPPELIN

$17.99

BLU

483

246

0.74

SA GN VOL 17

$9.99

VIZ

483

247

0.74

SGT FROG GN VOL 20

$10.99

TOK

483

248

0.74

DOCTOR WHO ONLY GOOD DALEK GN

$20.99

RAN

480

249

0.73

BLOOM COUNTY COMPLETE LIBRARY HC VOL 03

$39.99

IDW

479

250

0.73

UNCANNY X-MEN NEW AGE TP VOL 05 FIRST FOURSAKEN

$11.99

MAR

478

251

0.73

WOLVERINE OLD MAN LOGAN TP

$29.99

MAR

478

252

0.73

LONERS TP SECRET LIVES OF SUPER HEROES

$14.99

MAR

477

253

0.73

PENANCE RELENTLESS TP

$13.99

MAR

477

254

0.73

SENSATIONAL SPIDER-MAN FERAL TP

$13.99

MAR

476

255

0.73

ALCHEMIST HC

$22.99

HAR

475

256

0.73