Marvel will launch a new Crossgen imprint in March 2011, reviving two properties originally published by the shuttered publisher, Ruse and Sigil, with four-issue miniseries.
Sigil #1 will be written by longtime comic writer Mike Crey, with pencils by Leonard Kirk. The cover will be by Jelena Kevic-Djurjevic, with a variant cover by Ed McGuinness. The T+ time travel epic will sell for $2.99.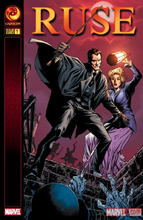 Ruse #1 will be written by Mark Waid, who recently went freelance after leaving his post as Chief Creative Officer for Boom! Studios (see "Waid Out as Boom! CCO"), with art by Mirco Pierfederici.

The cover is by Butch Guice and Mike Perkins, with a variant cover by Mitch Breitweiser.

The T+ mystery series will also sell for $2.99.

Marvel has access to the CrossGen properties because new parent Disney acquired them for $972,233 in 2005 (see "CrossGen Sets Reorganization Plan"). Disney used a couple of them for Hyperion releases (see "Disney Outlines Abadazad Marketing Campaign," and "El Cazador Coming this Fall").

Disney also licensed Checker to collect comics previously released only as periodicals (see "Checker to Publish CrossGen Collections"), including two Sigil volumes.