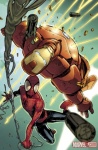 Marvel has announced that every issue of the highly-anticipated Death of Spider-Man crossover event will be available "day and date" on the Marvel Comics app via iTunes for the iPad, iPhone, and iPod touch. Marvel's announcement marks a new high water mark in timely accessibility for digital comics when it comes to a major comic book crossover event.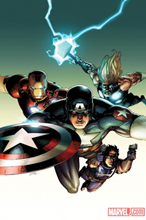 The Death of Spider-Man
event, which will transform the Ultimate Universe, and which involves top shelf creators Brian Michael Bendis, Mark Millar, Leinil Yu, and Mark Bagley, launches in February and runs through issues of both
Ultimate Spider-Man
and
Ultimate Avengers vs. New Ultimates
.
The Ultimate line, which Marvel created to widen its appeal to non-traditional comic book readers by creating streamlined continuities for its leading heroes, would appear to be a natural for the expansion of "day and date" access for digital comics. The current Ultimate Comics Thor mini-series is available digitally day and date as will be the upcoming Ultimate Comics Captain America mini-series.