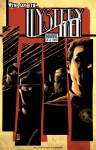 Marvel Comics' teaser graphic for a new series apparently titled, The Mystery Men is raising a few eyebrows. The cover image by Patrick Zircher is a dark, expressive piece that apparently depicts a number of 1940s superheroes. One of the figures appears to be The Fin and another one looks like The Thunderer, which makes sense since they both appeared in Daring Mystery Comics, which was published in the 1940s by Marvel parent Timely.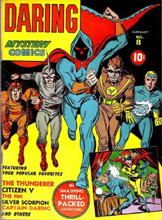 So what's the problem with Marvel mining its rich past to come up with a new series? Well, the title would be a good place to start. Universal produced a
Mystery Men
movie in 1999 based on characters introduced by Bob Burden in his
Flaming Carrot
comic book in 1987 (and published in the 1990s by Dark Horse). When questioned by ICv2 about the reasons behind Marvel's appropriation of his title, Burden quipped, "It's a mystery to me," before clarifying by saying, "I'm astounded by it."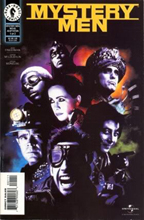 Universal has acquired the rights to all the Burden
Mystery Men
characters used in the movie, while he retained the rights to all the
Mystery Men
characters that didn't appear in the 1999 movie.
When asked if Universal had contacted him about Marvel's use of the Mystery Men title, Burden told ICv2, "I have not heard from Universal, but I am sure Universal will proceed in an orderly and propitious manner."
Burden's Mystery Men characters had no relation to the Golden Age Timely characters. Any dispute between Marvel and Burden/Universal/Dark Horse would be over the title itself, and could likely be avoided by a title change.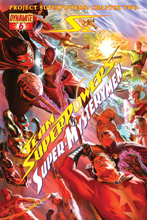 But there is also at least the possibility of another conflict. Dynamite's
Project
Superpowers
series, written by Alex Ross and Jim Krueger, has revived a number of Golden Age superheroes who had fallen into the public domain (see "
Interview With Alex Ross
"). Among the many nearly forgotten heroes reintroduced by
Project Superpowers
was a team of Golden Age heroes from Ace Comics that was re-christened
The Super-Mysterymen
. When asked for his reaction to the Marvel
Mystery Men
comic, Dynamite's Nick Barrucci told ICv2: "Unfortunately, I cannot comment at this time."