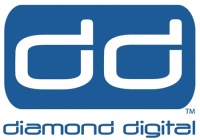 Diamond Comic Distributors has teamed up with iVerse to offer digital comic book content via direct market retailers. Day-and-date digital editions of comic books will be available through comic shops for an exclusive 30-day window at the now "standard" digital price of $1.99 per issue.

Customers who buy a "hard" copy of the comic at participating retail stores will also have the option to also purchase a digital version of the same material for ninety-nine cents. The Diamond Digital initiative will use a code redemption system and retailers will only need an internet connection and a printer to participate in the program.
Publishers participating in the Diamond Digital program are Ape Entertainment, Archie Comics, Aspen Comics, Bluewater Productions, Broadsword Comics, Hermes Press, IDW Publishing, Moonstone Comics, NBM Publishing, Papercutz, Red 5 Comics, Studio Foglio, Titan Books, Tokyopop, Top Cow Productions, and Top Shelf Productions. The first Diamond Digital comic editions are slated to go on sale in July of 2011.
Noticeably absent from the list of publishers, at least so far, are Marvel, DC, Dark Horse, Image, Boom Studios and Dynamite Entertainment. Dark Horse has already announced a program that includes a sales-through-retailers component (see "
Dark Horse Goes Its Own Way on Digital
") and Comixology had previously announced a Digital Storefront Affiliate Program that will allow retailers to sell digital comics by integrating comiXology's reader and affiliate store into their websites (see "
Digital Storefronts for Retailers
").