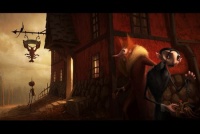 Guillermo del Toro is proceeding with a 3D stop-motion animated feature film based on illustrator Gris Grimly's version of Carlo Collodi's classic children's tale Pinocchio. Del Toro is joining forces with the Jim Henson Company and Pathe to bring a new edgier version of Pinocchio to life. Grimly and Mark Gustafson will co-direct the film, which is based on a screenplay by Matthew Robbins written in consultation with del Toro.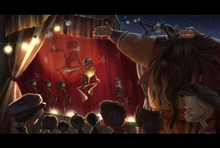 According to
Deadline,
Nick Cave will supervise the music for the new film, which will be animated by MacKinnon and Saunders, the U.K. company behind
The Fantastic Mr. Fox
and
Tim Burton's Corpse Bride
.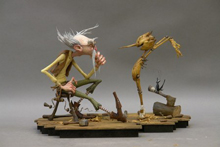 Del Toro wants this film to get back to the dark fantasy of Collodi's tale and he notes that Disney's1940 animated
Pinocchio
was a very disturbing film: "We tend to call something Disney-fied, but a lot of people forget how powerfully disturbing the best animated Disney movies are, including those kids being turned into donkeys in
Pinocchio
. What we're trying to do is present a
Pinocchio
that is more faithful to the take that Collodi wrote. That is more surreal and slightly darker than what we've seen before."