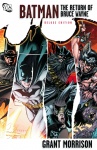 These are estimates of the sales on graphic novels by Diamond U.S. to comic specialty stores during February 2011.
For an overview and analysis of comic sales in February, see "
Top Tier Titles Weak in February
."
For an analysis of the dollar trends in February, see "
The Long Tail Wags the Comics Dog in Feb.
"
For our estimates of actual sales by Diamond
U.S.
from comic specialty stores on comic books shipped during February, see "
Top 300 Comics Actual--February 2011
."
TOP 300 GNs -- February 2011

Rank

Index

Title

Price

Pub

Est.Qty

1

9.03

BATMAN THE RETURN OF BRUCE WAYNE DELUXE ED HC

$29.99

DC

5,310

2

8.61

MORNING GLORIES TP VOL 01 FOR A BETTER FUTURE

$9.99

IMA

5,063

3

7.72

NARUTO TP VOL 50

$9.99

VIZ

4,538

4

7.03

DMZ TP VOL 09 MIA (MR)

$14.99

DC

4,133

5

6.82

NEMESIS PREM HC (MR)

$19.99

MAR

4,009

6

6.51

DAYTRIPPER TP (MR)

$19.99

DC

3,830

7

6.17

SCALPED TP VOL 07 REZ BLUES (MR)

$17.99

DC

3,628

8

5.02

SAVAGE SWORD OF CONAN TP VOL 09

$19.99

DAR

2,953

9

4.71

STAR WARS OLD REPUBLIC TP VOL 01 BLOOD OF EMPIRE

$15.99

DAR

2,767

10

4.60

WALKING DEAD TP VOL 01 DAYS GONE BYE

$9.99

IMA

2,706

11

4.46

HAUNT TP VOL 02

$16.99

IMA

2,622

12

4.33

SHADOWLAND PREM HC

$24.99

MAR

2,549

13

4.32

BLADE OF THE IMMORTAL TP VOL 23 SCARLET SWORDS

$19.99

DAR

2,539

14

4.13

FLASH DASTARDLY DEATH OF THE ROGUES HC

$19.99

DC

2,427

15

3.88

TRUE BLOOD HC VOL 01 ALL TOGETHER NOW (MR)

$24.99

IDW

2,284

16

3.85

FREAKANGELS TP VOL 05 (MR)

$19.99

AVA

2,262

17

3.69

SUPERMAN WAR OF THE SUPERMEN HC

$19.99

DC

2,169

18

3.67

HELLBLAZER PANDEMONIUM TP (MR)

$17.99

DC

2,156

19

3.59

ASTONISHING X-MEN TP VOL 06 EXOGENETIC

$14.99

MAR

2,109

20

3.41

INVINCIBLE IRON MAN TP VOL 05 STARK RESILIENT BOOK 01

$15.99

MAR

2,004

21

3.32

STAND HARDCASES PREM HC

$24.99

MAR

1,953

22

3.27

SCENES FROM AN IMPENDING MARRIAGE HC

$9.95

DRA

1,925

23

3.19

SUPERMAN BATMAN TORMENT TP

$14.99

DC

1,875

24

3.04

DEADPOOL MERC WITH A MOUTH TP VOL 01 HEAD TRIP

$34.99

MAR

1,786

25

3.02

AIR TP VOL 04 A HISTORY OF THE FUTURE (MR)

$14.99

DC

1,778

26

2.99

OH MY GODDESS RTL TP VOL 37

$10.99

DAR

1,761

27

2.90

X-MEN CURSE OF MUTANTS PREM HC

$24.99

MAR

1,707

28

2.84

NOCHE ROJA HC (MR)

$19.99

DC

1,670

29

2.82

WOLVERINE RECKONING TP

$19.99

MAR

1,659

30

2.71

SHOWCASE PRESENTS JUSTICE LEAGUE OF AMERICA TP VOL 05

$19.99

DC

1,594

31

2.63

JUSTICE LEAGUE THE RISE AND FALL HC

$24.99

DC

1,545

32

2.60

SUICIDE SQUAD TP VOL 01 TRIAL BY FIRE

$19.99

DC

1,531

33

2.54

WALKING DEAD TP VOL 13 TOO FAR GONE (MR)

$14.99

IMA

1,494

34

2.52

TEEN TITANS HUNT FOR RAVEN TP

$17.99

DC

1,481

35

2.51

SPIDER-MAN BIG TIME PREM HC

$19.99

MAR

1,476

36

2.39

SPIDER-MAN GAUNTLET VOL 05 LIZARD TP

$14.99

MAR

1,407

37

2.38

FINDER GN VOL 01 VOICE

$19.99

DAR

1,397

38

2.35

SONIC THE HEDGEHOG SELECT TP VOL 03

$11.95

ARC

1,383

39

2.30

INVINCIBLE IRON MAN PREM HC VOL 06 STARK RESILIENT BOOK 2

$19.99

MAR

1,351

40

2.25

GRIMM FAIRY TALES TP DIFFERENT SEASONS

$17.99

ZEN

1,326

41

2.25

ONE PIECE TP VOL 56

$9.99

VIZ

1,321

42

2.23

SUPERMAN MON EL TP VOL 01

$17.99

DC

1,313

43

2.21

MMW GOLDEN AGE MYSTIC COMICS HC VOL 01

$59.99

MAR

1,301

44

2.17

MMW SUB-MARINER HC VOL 04

$54.99

MAR

1,275

45

2.15

CHRONICLES OF KULL TP VOL 04 BLOOD OF KINGS OTHER STORIES

$18.99

DAR

1,265

46

2.15

SHADOWLAND DAREDEVIL PREM HC

$19.99

MAR

1,265

47

2.13

VAMPIRELLA ARCHIVES HC VOL 02

$49.99

DE

1,250

48

2.10

THOR WORLDENGINE PREM HC

$19.99

MAR

1,232

49

2.05

DARKWING DUCK CLASSICS TP VOL 01

$12.99

BOO

1,206

50

2.02

MMW ATLAS ERA BATTLEFIELD HC VOL 01

$64.99

MAR

1,189

51

2.02

NAMOR FIRST MUTANT TP VOL 01 CURSE OF MUTANTS

$14.99

MAR

1,187

52

1.99

BLACK BUTLER TP VOL 04

$11.99

HAC

1,171

53

1.97

BLACKEST NIGHT HC

$29.99

DC

1,157

54

1.97

BAKUMAN TP VOL 03

$9.99

VIZ

1,157

55

1.96

FRINGE TALES FROM THE FRINGE TP

$14.99

DC

1,152

56

1.96

SPIDER-WOMAN TP AGENT OF SWORD

$19.99

MAR

1,151

57

1.90

CHARMED TP VOL 01

$12.99

ZEN

1,116

58

1.89

CAPTAIN AMERICA LIVES OMNIBUS HC

$75.00

MAR

1,112

59

1.88

PANDORA EYES HC (MR)

$19.95

HUM

1,108

60

1.88

GI JOE A REAL AMERICAN HERO TP VOL 01

$19.99

IDW

1,106

61

1.87

SOUL EATER TP VOL 05

$11.99

HAC

1,101

62

1.86

HUMAN TARGET SECOND CHANCES TP (MR)

$19.99

DC

1,095

63

1.86

BAYOU TP VOL 02

$14.99

DC

1,094

64

1.86

FABLES TP VOL 14 WITCHES (MR)

$17.99

DC

1,092

65

1.85

MMW FANTASTIC FOUR TP VOL 05

$24.99

MAR

1,088

66

1.85

CHEW TP VOL 01 (MR)

$9.99

IMA

1,086

67

1.84

ANGELUS TP VOL 01

$14.99

IMA

1,081

68

1.83

WALKING DEAD TP VOL 02 MILES BEHIND US (NEW PTG)

$14.99

IMA

1,077

69

1.81

D GRAY MAN GN VOL 20 (MR)

$9.99

VIZ

1,064

70

1.77

HIGH SCHOOL OF DEAD GN VOL 01 (MR)

$13.99

HAC

1,041

71

1.74

X-FORCE PREM HC FORCE TO BE RECKONED WITH

$29.99

MAR

1,023

72

1.73

GEARS OF WAR HC BOOK 02 (MR)

$24.99

DC

1,018

73

1.70

JIM BUTCHER DRESDEN FILES STORM FRONT HC

$24.99

DE

999

74

1.70

THOR QUEST FOR ODIN PREM HC

$29.99

MAR

998

75

1.69

CREEPY ARCHIVES HC VOL 09

$49.99

DAR

994

76

1.69

AVENGERS & INFINITY GAUNTLET GN TP

$14.99

MAR

993

77

1.66

LITTLE LULU TP VOL 26 FEUD & OTHER STORIES

$14.99

DAR

979

78

1.65

SCOTT PILGRIM GN VOL 01 PRECIOUS LITTLE LIFE

$11.99

ONI

973

79

1.65

REBELS TP VOL 04 SONS OF BRAINIAC

$14.99

DC

968

80

1.64

SERENITY SHEPHERDS TALE HC

$14.99

DAR

964

81

1.63

THOR DEATH OF ODIN TP NEW ED

$26.99

MAR

961

82

1.62

THOR GODSTORM HC

$19.99

MAR

951

83

1.60

SEVEN SOLDIERS OF VICTORY HC VOL 02

$39.99

DC

942

84

1.60

GI JOE SPECIAL MISSIONS TP VOL 03

$19.99

IDW

940

85

1.60

WALKING DEAD TP VOL 12 LIFE AMONG THEM

$14.99

IMA

938

86

1.58

NEW MUTANTS FOREVER TP

$19.99

MAR

930

87

1.57

CAPTAIN AMERICA PATRIOT TP

$16.99

MAR

921

88

1.56

X-MEN CURSE OF MUTANTS PREM HC MUTANTS VS. VAMPIRES

$24.99

MAR

919

89

1.55

KEVIN SMITH GREEN HORNET TP VOL 02 WEARING GREEN

$19.99

DE

911

90

1.53

DAKEN DARK WOLVERINE PREM HC EMPIRE

$24.99

MAR

900

91

1.53

NAMOR VISIONARIES TP JOHN BYRNE VOL 01

$24.99

MAR

900

92

1.53

WALKING DEAD TP VOL 09 HERE WE REMAIN (MR)

$14.99

IMA

899

93

1.53

BIOMEGA GN VOL 05 (MR)

$12.99

VIZ

899

94

1.52

IRON MAN NOIR GN TP

$14.99

MAR

893

95

1.49

X-MEN LEGACY PREM HC COLLISION

$19.99

MAR

877

96

1.47

WALKING DEAD TP VOL 05 BEST DEFENSE (NEW PTG)

$14.99

IMA

862

97

1.46

POKEMON ARCEUS AND THE JEWEL OF LIFE GN

$7.99

VIZ

861

98

1.46

SUPERMAN EARTH ONE HC

$19.99

DC

860

99

1.45

SHADOWLAND THUNDERBOLTS PREM HC

$19.99

MAR

855

100

1.45

CODE GEASS LELOUCH OF THE REBELLION GN VOL 08

$10.99

BAN

852

101

1.44

CAPTAIN AMERICA BY JACK KIRBY OMNIBUS HC

$74.99

MAR

849

102

1.44

SUPER FRIENDS MYSTERY IN SPACE TP

$12.99

DC

849

103

1.44

CHEW TP VOL 03 JUST DESSERTS (MR)

$12.99

IMA

846

104

1.44

GREEN LANTERN REBIRTH TP NEW EDITION

$14.99

DC

845

105

1.42

POKEMON ADVENTURES TP VOL 11

$7.99

VIZ

836

106

1.42

FROM HELL TP

$35.00

TOP

833

107

1.40

GHOST TALKERS DAYDREAM TP VOL 05 (MR)

$10.99

DAR

824

108

1.40

YOUNG ALLIES TP

$24.99

MAR

821

109

1.39

BATMAN DARK KNIGHT RETURNS TP

$14.99

DC

817

110

1.38

WALKING DEAD TP VOL 10 WHAT WE BECOME

$14.99

IMA

809

111

1.37

WALKING DEAD TP VOL 11 FEAR THE HUNTERS (MR)

$14.99

IMA

808

112

1.36

WALKING DEAD COMPENDIUM TP VOL 01 (MR)

$59.99

IMA

802

113

1.36

WALKING DEAD TP VOL 06 SORROWFUL LIFE (MR)

$14.99

IMA

799

114

1.34

COMPLETE CHESTER GOULDS DICK TRACY HC VOL 11

$39.99

IDW

788

115

1.34

SHADOWLAND STREET HEROES PREM HC

$24.99

MAR

787

116

1.31

VAMPIRE TALES GN TP VOL 02

$19.99

MAR

773

117

1.31

CHEW TP VOL 02 INTERNATIONAL FLAVOR (MR)

$12.99

IMA

771

118

1.29

JOHN CARTER OF MARS WARLORD OF MARS TP

$29.99

DAR

756

119

1.28

FALL OUT TOY WORKS VOL 01 TIFFANY BLUES TP

$16.99

IMA

754

120

1.28

HIKARU NO GO TP VOL 22

$9.99

VIZ

751

121

1.27

FABLES TP VOL 01 LEGENDS IN EXILE

$12.99

DC

747

122

1.27

CAPTAIN AMERICA SCOURGE OF UNDERWORLD TP

$34.99

MAR

744

123

1.26

TERM LIFE GN (MR)

$16.99

IMA

739

124

1.23

WALKING DEAD TP VOL 07 THE CALM BEFORE

$14.99

IMA

726

125

1.23

X-FACTOR HAPPENINGS IN VEGAS PREM HC

$19.99

MAR

723

126

1.23

28 DAYS LATER TP VOL 03 HOTZONE

$12.99

BOO

723

127

1.22

CIVIL WAR X-MEN HC

$39.99

MAR

719

128

1.21

BATMAN HUSH COMPLETE TP

$24.99

DC

714

129

1.21

UMBRELLA ACADEMY TP VOL 01 APOCALYPSE SUITE

$17.99

DAR

713

130

1.21

SERENITY BETTER DAYS TP

$9.99

DAR

712

131

1.20

NAOKI URASAWA 20TH CENTURY BOYS GN VOL 13

$12.99

VIZ

703

132

1.19

ACTS OF VENGEANCE OMNIBUS HC

$99.99

MAR

702

133

1.19

SCOTT PILGRIM GN VOL 02 VS THE WORLD

$11.99

ONI

702

134

1.18

TEZUKA BLACK JACK TP VOL 13

$16.95

RAN

692

135

1.17

WALKING DEAD TP VOL 08 MADE TO SUFFER (MR)

$14.99

IMA

688

136

1.15

X-MEN FIRST CLASS GN TP VOL 01

$14.99

MAR

679

137

1.14

GREEN LANTERN SINESTRO CORPS WAR TP VOL 01

$14.99

DC

673

138

1.14

INCREDIBLES TP VOL 05 TRUTH & CONSEQUENCES

$9.99

BOO

672

139

1.14

Y THE LAST MAN TP VOL 01 UNMANNED

$12.99

DC

670

140

1.12

ESSENTIAL THOR TP VOL 01 NEW ED

$19.99

MAR

658

141

1.12

CAPTAIN AMERICA SENTINEL OF LIBERTY HC

$34.99

MAR

657

142

1.11

GREEN LANTERN SINESTRO CORPS WAR TP VOL 02

$14.99

DC

655

143

1.11

KODT BUNDLE OF TROUBLE TP VOL 31

$12.99

KEN

653

144

1.10

ATLANTIS ATTACKS OMNIBUS HC

$75.00

MAR

645

145

1.10

WOLVERINE OLD MAN LOGAN TP

$29.99

MAR

645

146

1.07

BRIGHTEST DAY HC VOL 01

$29.99

DC

629

147

1.07

MUPPET SHOW TP VOL 05 MUPPET MASH

$9.99

BOO

629

148

1.07

BLACK BIRD GN VOL 07

$9.99

VIZ

627

149

1.06

NURA RISE O/T YOKAI CLAN GN VOL 01

$9.99

VIZ

624

150

1.05

HIGURASHI WHEN THEY CRY GN VOL 11 EYE OPENING ARC PT 1 (MR)

$11.99

HAC

620

151

1.05

ANITA BLAKE PREM HC CIRCUS OF DAMNED CHARMER BOOK 01 (MR)

$19.99

MAR

619

152

1.05

MUPPET SHERLOCK HOLMES TP

$9.99

BOO

619

153

1.03

PHINEAS & FERB EARLY COMIC READER #4 ITS ABOUT TIME

$4.99

HAR

605

154

1.01

WALKING DEAD TP VOL 03 SAFETY BEHIND BARS

$14.99

IMA

593

155

1.00

GI JOE FUTURE NOIR TP VOL 01

$12.99

IDW

590

156

1.00

GREEN LANTERN NO FEAR TP

$12.99

DC

588

157

0.98

BATMAN YEAR ONE DELUXE SC

$14.99

DC

575

158

0.97

ARCHIE NEW LOOK SERIES TP VOL 05 GOODBYE FOREVER

$10.95

ARC

573

159

0.96

SECRET HISTORY OMNIBUS HC VOL 02 (MR)

$34.95

ARA

563

160

0.95

SPIDER-MAN ANIMAL MAGNETISM TP

$14.99

MAR

559

161

0.94

FABLES TP VOL 02 ANIMAL FARM

$12.99

DC

553

162

0.94

FATE STAY NIGHT GN VOL 10

$10.99

TOK

553

163

0.94

BATMAN THE LONG HALLOWEEN TP

$19.99

DC

550

164

0.93

INCREDIBLE HULKS DARK SON PREM HC

$24.99

MAR

549

165

0.93

IVY HC

$19.99

ONI

545

166

0.93

JESUS HATES ZOMBIES LINCOLN HATES WEREWOLVES TP COLL ED

$10.95

215

544

167

0.91

GREEN LANTERN RAGE OF THE RED LANTERNS TP

$14.99

DC

538

168

0.91

PREACHER TP VOL 01 GONE TO TEXAS NEW EDITION (MR)

$17.99

DC

537

169

0.91

PATRICIA BRIGGS MERCY THOMPSON MOON CALLED TP VOL 01

$16.99

DE

534

170

0.90

AMERICAN VAMPIRE HC VOL 01 (MR)

$24.99

DC

532

171

0.90

THOR AND LOKI HC BLOOD BROTHERS

$24.99

MAR

529

172

0.90

SANDMAN TP VOL 01 PRELUDES & NOCTURNES (MR)

$19.99

DC

529

173

0.88

FINAL CRISIS TP

$19.99

DC

520

174

0.88

CURSED PIRATE GIRL TP

$20.00

OLY

519

175

0.88

BATMAN THE KILLING JOKE SPECIAL ED HC

$17.99

DC

519

176

0.88

SCOTT PILGRIM GN VOL 03 INFINITE SADNESS

$11.99

ONI

519

177

0.88

GUNSLINGER GIRL OMNIBUS TP VOL 01

$15.99

ST.

518

178

0.88

PANDORA HEARTS GN VOL 04

$11.99

HAC

515

179

0.87

V FOR VENDETTA TP (MR)

$19.99

DC

514

180

0.87

EERIE ARCHIVES HC VOL 06

$49.99

DAR

510

181

0.86

X-MEN FOREVER 2 TP VOL 02 SCREAM A LITTLE SCREAM

$16.99

MAR

508

182

0.86

GREEN LANTERN REVENGE OF THE GREEN LANTERNS TP

$14.99

DC

507

183

0.86

GREEN LANTERN AGENT ORANGE TP

$14.99

DC

505

184

0.85

ALL STAR SUPERMAN TP VOL 01

$12.99

DC

502

185

0.85

ZITA THE SPACE GIRL GN

$10.99

ST.

501

186

0.85

WATCHMEN TP

$19.99

DC

500

187

0.85

INCREDIBLE HULKS TP DARK SON ENIGMA FORCE

$19.99

MAR

498

188

0.84

INCOGNITO TP (MR)

$18.99

MAR

495

189

0.84

CIVIL WAR TP

$24.99

MAR

492

190

0.83

SPAWN ORIGINS HC VOL 03

$29.99

IMA

489

191

0.83

BLACKEST NIGHT GREEN LANTERN HC

$24.99

DC

488

192

0.83

ARKHAM ASYLUM ANNIVERSARY ED SC (MR)

$17.99

DC

488

193

0.83

VAMPIRES WORLD OF SHADOWS ILLUS HC (MR)

$18.95

HEA

487

194

0.82

MAUS SURVIVORS TALE COMPLETE HC

$35.00

RAW

484

195

0.82

OTOMEN GN VOL 09

$9.99

VIZ

482

196

0.82

FARSCAPE TP VOL 03 GONE & BACK

$12.99

BOO

481

197

0.80

GHOST PROJEKT HC VOL 01

$19.99

ONI

472

198

0.80

BTVS SEASON 8 TP VOL 07 TWILIGHT (MR)

$16.99

DAR

471

199

0.80

AMNESIA LABYRINTH GN VOL 01

$10.99

ST.

471

200

0.80

ALL STAR SUPERMAN TP VOL 02

$12.99

DC

471

201

0.80

WALKING DEAD HC VOL 01 (MR)

$34.99

IMA

469

202

0.79

BLACKSAD HC VOL 01

$29.99

DAR

465

203

0.78

Y THE LAST MAN TP VOL 02 CYCLES (MR)

$12.99

DC

460

204

0.78

MICKEY MOUSE & FRIENDS TP 300 MICKEYS

$9.99

BOO

459

205

0.78

KINGDOM COME TP NEW EDITION

$17.99

DC

457

206

0.78

KIMI NI TODOKE GN VOL 07 FROM ME TO YOU

$9.99

VIZ

456

207

0.77

VIETNAMERICA GN

$30.00

RAN

454

208

0.77

OUTLAW TERRITORY GN VOL 02 (MR)

$19.99

IMA

454

209

0.76

1001 ARABIAN NIGHTS ADV OF SINBAD TP VOL 02

$15.99

ZEN

446

210

0.75

GEORGE RR MARTIN WILD CARDS HARD CALL HC (MR)

$24.99

DE

441

211

0.74

BOYS TP VOL 07 THE INNOCENTS (MR)

$19.99

DE

437

212

0.74

PET SHOP OF HORRORS TOKYO GN VOL 08 (MR)

$10.99

TOK

436

213

0.74

TARZAN THE JESSE MARSH YEARS HC VOL 08

$49.99

DAR

435

214

0.74

CAPTAIN AMERICA REBORN PREM HC

$24.99

MAR

435

215

0.74

MID-LIFE GN (MR)

$19.95

DRA

434

216

0.74

FARSCAPE SCORPIUS TP VOL 02

$12.99

BOO

433

217

0.73

GREEN LANTERN WANTED HAL JORDAN TP

$14.99

DC

431

218

0.73

NEMESIS PREM HC (TITAN ED) (MR)

$19.99

TIT

430

219

0.73

TEGAMI BACHI GN VOL 04

$9.99

VIZ

429

220

0.71

WALKING DEAD TP VOL 04 HEARTS DESIRE (NEW PTG)

$14.99

IMA

419

221

0.70

TRANSMETROPOLITAN TP VOL 01 BACK ON THE STREET (MR)

$14.99

DC

413

222

0.69

BATMAN AND ROBIN DELUXE HC VOL 02 BATMAN VS ROBIN

$24.99

DC

405

223

0.69

HETALIA AXIS POWERS GN VOL 01 (MR)

$10.99

TOK

405

224

0.69

SIXTH GUN TP VOL 01

$19.99

ONI

404

225

0.69

GREEN LANTERN SECRET ORIGIN TP

$14.99

DC

403

226

0.68

STAR WARS FORCE UNLEASHED GN VOL 01

$15.95

DAR

402

227

0.68

SCOTT PILGRIM GN VOL 04 GETS IT TOGETHER

$11.99

ONI

402

228

0.68

X-MEN TP MESSIAH COMPLEX

$29.99

MAR

401

229

0.68

TELARA CHRONICLES TP

$17.99

DC

401

230

0.68

BATMAN RIP TP

$14.99

DC

401

231

0.68

SCOTT PILGRIM GN VOL 06 FINEST HOUR

$11.99

ONI

400

232

0.68

THOR BY J MICHAEL STRACZYNSKI TP VOL 02

$19.99

MAR

397

233

0.68

FABLES TP VOL 03 STORYBOOK LOVE (MR)

$14.99

DC

397

234

0.67

JOSS WHEDONS FRAY FUTURE SLAYER TP

$19.99

DAR

392

235

0.66

PLANE STORY TP

$19.99

IDW

391

236

0.66

SCOTT PILGRIM GN VOL 05 VS THE UNIVERSE

$11.99

ONI

391

237

0.66

100 BULLETS TP VOL 01 FIRST SHOT LAST CALL

$9.99

DC

389

238

0.65

OCCULT FILES DOCTOR SPEKTOR ARCHIVES HC VOL 02

$49.99

DAR

384

239

0.65

BATMAN KNIGHTFALL TP PART 01 BROKEN BAT

$17.99

DC

383

240

0.65

HELLBOY TP VOL 01 SEED OF DESTRUCTION

$17.95

DAR

380

241

0.64

LOCKE & KEY TP VOL 01 WELCOME TO LOVECRAFT

$19.99

IDW

378

242

0.64

JOKER HC

$19.99

DC

374

243

0.64

BTVS SEASON 8 TP VOL 06 RETREAT

$15.99

DAR

374

244

0.63

MARVEL ZOMBIES TP SPIDER-MAN COVER

$15.99

MAR

373

245

0.63

PLANETARY TP BOOK 04 SPACETIME ARCHAEOLOGY

$17.99

DC

368

246

0.62

BTVS SEASON 8 TP VOL 02 NO FUTURE FOR YOU

$15.99

DAR

365

247

0.62

DMZ TP VOL 01 ON THE GROUND (MR)

$9.99

DC

365

248

0.62

BOYS TP VOL 01 NAME OF THE GAME (MR)

$16.99

DE

362

249

0.61

UNWRITTEN TP 01 TOMMY TAYLOR AND BOGUS IDENTITY (MR)

$12.99

DC

360

250

0.61

SANDMAN TP VOL 02 THE DOLLS HOUSE (MR)

$19.99

DC

356

251

0.61

PREACHER TP VOL 02 UNTIL THE END OF THE WORLD NEW EDITION (M

$14.99

DC

356

252

0.60

ESSENTIAL THOR TP VOL 03 NEW ED

$19.99

MAR

354

253

0.60

HAUNT TP VOL 01

$9.99

IMA

353

254

0.60

FABLES TP VOL 04 MARCH OF THE WOODEN SOLDIERS (MR)

$17.99

DC

351

255

0.60

LAST UNICORN HC

$24.99

IDW

350

256

0.59

CAPTAIN AMERICA PREM HC TWO AMERICAS

$19.99

MAR

349

257

0.59

SWEET TOOTH TP VOL 01 OUT OF THE WOODS (MR)

$12.99

DC

347

258

0.59

GIN TAMA TP VOL 21

$9.99

VIZ

347

259

0.59

NEMI HC VOL 04

$14.95

TIT

345

260