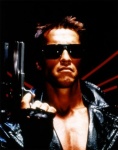 Powerhouse talent agency CAA is shopping a new Terminator project to studios with Arnold Schwarzenegger attached to star and Justin Lin, who's Fast Five is tearing up the international markets, as the director. This is the first movement on a Terminator project since the property was acquired by the hedge fund Pacificor in February.
While the price tag for a new Terminator project will be high, the prospect of having Arnold return to the property that made him a worldwide box office champ working with Lin, who has quickly established himself as a top-tier action director, will be very alluring, especially to studios like Paramount that are having trouble developing their own summer tentpoles.
As
Deadline
, which broke the story that CAA is shopping a new Terminator project, points out, the rights to the
Terminator
property will revert to James Cameron in 2018, which means that if any studio wants to get the most out of the property, they will need to get started quickly in order to get at least two films made before they would have to cut Cameron in on the profits. So if anything is to come of this latest attempt to resurrect the
Terminator
franchise, it will likely happen in the next few months.