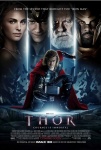 Marvel Studios'
Thor
dominated the weekend box office with an estimated $66 million at 3,955 venues including a record 2,737 3-D locations. Dollarwise it was the third best opening ever for a new Marvel superhero franchise trailing only
Spider-Man
and
Iron Man
.
3-D locations accounted for 60% of
Thor's
debut total, and the higher ticket prices meant that in terms of attendance
Thor
ranked behind the opening weekends of the first films in the
Hulk, X-Men
, and
Fantastic Four
franchises, but ahead of
Daredevil
and
Ghost Rider
.
Weekend Box Office (Studio Estimates): May 6 - 8, 2011

Film

Weekend Gross

Screens

Avg./

Screen

Total Gross

Wk#

1

Thor

$66,000,000

3,955

$16,688

$66,000,000

1

2

Fast Five

$32,519,000

3,662

$8,880

$139,853,000

2

3

Jumping the Broom

$13,700,000

2,035

$6,732

$13,700,000

1

4

Something Borrowed

$13,155,000

2,904

$4,530

$13,155,000

1

5

Rio

$8,200,000

3,258

$2,517

$114,902,000

4

6

Water for Elephants

$5,600,000

2,614

$2,142

$41,614,000

3

7

Tyler Perry's Madea's Big Happy Family

$3,900,000

1,881

$2,073

$46,806,000

3

8

Prom

$2,425,000

2,730

$888

$7,800,000

2

9

Soul Surfer

$2,100,000

1,781

$1,179

$36,679,000

5

10

Hoodwinked Too! Hood vs. Evil

$1,880,000

2,505

$750

$6,714,000

2
Thor's debut wasn't a home run, it was more of solid double that rolled to the wall in left centerfield. It finished well behind summer box office kick-off films like X-Men Origins: Wolverine ($85.1 million), Iron Man ($98.6 million) and Iron Man 2 ($128.1 million). In dollar terms Thor posted the 11th best superhero opening of all time. Thor's audience skewed heavily male (63%) and older (72% over 25). The overall audience was down 10% from the same weekend in 2010 when Iron Man 2's debut attracted an audience that was twice as big as Thor's.
Thor, which cost an estimated $150 million to make, has earned $176 million overseas, which gives it a worldwide total of $242 million. It is likely that the film will at least be modestly profitable for Marvel Studios based on box office returns alone. Thor lurched out of the gate with $25.7 million on Friday and dropped just 8.5% on Saturday. The Kenneth Branagh-directed film received solid notices from mainstream critics (78% positive on Rotten Tomatoes). Audiences gave Thor a solid, but unspectacular "B+" CinemaScore, which could help the movie avoid a huge decline in its second weekend in theaters.
Fast Five, whose $86.2 million opening last weekend put Thor's to shame, faded quickly as Thor gobbled up most of its IMAX runs, which went from 244 to 20. In the face of strong competition from Thor for its core audience, Fast Five's second weekend gross tumbled 62% to an estimated $32.5 million. Still Fast Five has now amassed domestic earnings of $139.8 million making it 2011's highest-grossing film to date (the top movie in what is still a disappointing year).
Given Fast Five's solid "A" CinemaScore last weekend many observers thought it would hold up better than it did—but with stiff competition slated for almost every weekend this summer, large first-to-second weekend declines will increasingly be the new "normal" for heavily hyped action movies. Fast Five and Thor will receive a little bit of a respite from competition next weekend with only the 3-D manhwa-based Priest opening in the action category, but on May 20th the new Pirates of the Caribbean hits and the pace of competition heats up for the rest of the summer.
Two counter-programmed wedding comedies debuted unspectacularly. Something Borrowed earned an estimated $13.2 million from 2,904 venues, while Jumping the Broom fared better, bringing in $13.7 million from just over 2000 locations. Something Borrowed's audience was predictably 73% female, while Jumping the Broom's was 70% distaff. Both films attracted an older crowd with 65% of Something's audience over 25 and 64% of Jumping's over 35. Jumping received an "A" CinemaScore from its audience, while Something could manage only a mediocre "B."
The other two new films, which opened in limited release, both disappointed. Roland Jaffe's Spanish Civil War epic There Be Dragons averaged just $2660 at 259 theaters, while Jodie Foster's The Beaver starring Mel Gibson could only must a $4,227 average at 22 screens.
The comic book-based Dylan Dog: Dead of Night lost nearly half its theaters and tumbled to #32 with a pitiful average of just $205 per venue. Any damage this film will do will have to be on DVD.