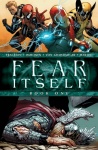 These are estimates of the sales on comic books by Diamond
U.S.
to comic specialty stores during April 2011.

For an overview and analysis of comic sales in April see "'Fear Itself' Debut Boosts Comic Sales."

For an analysis of the dollar trends in April, see "Comic Sales Decline Slows in April."

For our estimates of actual sales by Diamond U.S. from comic specialty stores on graphic novels shipped during April, see "Top 300 Graphic Novels Actual--April 2011."


| | | | | | |
| --- | --- | --- | --- | --- | --- |
| | | TOP 300 COMICS -- April 2011 | | | |
| Rank | Index | Title | Price | Pub | Est.Qty |
| 1 | 227.29 | FEAR ITSELF #1 FEAR | $3.99 | MAR | 128,595 |
| 2 | 145.06 | MIGHTY THOR #1 | $3.99 | MAR | 82,071 |
| 3 | 133.94 | GREEN LANTERN #65 (WAR OF GL) | $2.99 | DC | 75,780 |
| 4 | 124.23 | BRIGHTEST DAY #23 | $2.99 | DC | 70,289 |
| 5 | 123.35 | FF #2 | $2.99 | MAR | 69,790 |
| 6 | 123.27 | BRIGHTEST DAY #24 | $4.99 | DC | 69,742 |
| 7 | 112.13 | AVENGERS #12 | $3.99 | MAR | 63,441 |
| 8 | 109.94 | BATMAN INCORPORATED #5 | $2.99 | DC | 62,204 |
| 9 | 109.19 | NEW AVENGERS #11 | $3.99 | MAR | 61,778 |
| 10 | 109.03 | AMAZING SPIDER-MAN #658 | $3.99 | MAR | 61,687 |
| 11 | 106.85 | AVENGERS #12.1 | $2.99 | MAR | 60,455 |
| 12 | 106.33 | GREEN LANTERN CORPS #59 (WAR OF GL) | $2.99 | DC | 60,162 |
| 13 | 106.32 | ACTION COMICS #900 | $5.99 | DC | 60,152 |
| 14 | 104.42 | BATMAN AND ROBIN #22 | $2.99 | DC | 59,076 |
| 15 | 102.97 | AMAZING SPIDER-MAN #659 | $3.99 | MAR | 58,258 |
| 16 | 100.38 | UNCANNY X-MEN #535 | $3.99 | MAR | 56,795 |
| 17 | 100.00 | BATMAN #709 | $2.99 | DC | 56,578 |
| 18 | 97.13 | FLASH #10 (FLASHPOINT) | $2.99 | DC | 54,953 |
| 19 | 96.56 | FLASH #11 (FLASHPOINT) | $2.99 | DC | 54,633 |
| 20 | 95.96 | UNCANNY X-FORCE #7 | $3.99 | MAR | 54,292 |
| 21 | 94.56 | UNCANNY X-MEN #536 | $3.99 | MAR | 53,502 |
| 22 | 94.51 | UNCANNY X-MEN #534.1 | $2.99 | MAR | 53,473 |
| 23 | 91.86 | X-MEN LEGACY #247 | $2.99 | MAR | 51,970 |
| 24 | 91.53 | GREEN LANTERN EMERALD WARRIORS #9 (WAR OF GL) | $2.99 | DC | 51,784 |
| 25 | 89.98 | UNCANNY X-FORCE #8 | $3.99 | MAR | 50,908 |
| 26 | 89.96 | ULTIMATE COMICS SPIDER-MAN #157 DOSM | $3.99 | MAR | 50,896 |
| 27 | 89.51 | SECRET AVENGERS #12 | $3.99 | MAR | 50,641 |
| 28 | 89.35 | X-MEN #10 | $3.99 | MAR | 50,553 |
| 29 | 83.39 | JUSTICE LEAGUE OF AMERICA #56 | $2.99 | DC | 47,179 |
| 30 | 83.09 | WOLVERINE #8 | $3.99 | MAR | 47,010 |
| 31 | 81.59 | SECRET AVENGERS #12.1 | $2.99 | MAR | 46,161 |
| 32 | 80.24 | CAPTAIN AMERICA #617 | $3.99 | MAR | 45,400 |
| 33 | 80.09 | INVINCIBLE IRON MAN #503 FEAR | $3.99 | MAR | 45,314 |
| 34 | 77.64 | JOURNEY INTO MYSTERY #622 FEAR | $3.99 | MAR | 43,925 |
| 35 | 77.45 | ULTIMATE AVENGERS VS NEW ULTIMATES #3 DOSM | $3.99 | MAR | 43,822 |
| 36 | 74.30 | AMAZING SPIDER-MAN ANNUAL #38 | $3.99 | MAR | 42,040 |
| 37 | 72.48 | VENOM #2 | $2.99 | MAR | 41,006 |
| 38 | 70.93 | DETECTIVE COMICS #876 | $2.99 | DC | 40,133 |
| 39 | 70.07 | SUPERMAN #710 | $2.99 | DC | 39,644 |
| 40 | 68.53 | HERC #1 | $3.99 | MAR | 38,774 |
| 41 | 68.40 | NEW MUTANTS #24 | $2.99 | MAR | 38,701 |
| 42 | 60.03 | SUPERMAN BATMAN ANNUAL #5 (DOOMSDAY) | $4.99 | DC | 33,962 |
| 43 | 59.46 | AGE OF X UNIVERSE #2 | $3.99 | MAR | 33,640 |
| 44 | 57.74 | GREEN ARROW #11 (BRIGHTEST DAY) | $2.99 | DC | 32,669 |
| 45 | 57.62 | FEAR ITSELF HOME FRONT #1 FEAR | $3.99 | MAR | 32,601 |
| 46 | 57.00 | JUSTICE SOCIETY OF AMERICA #50 | $4.99 | DC | 32,251 |
| 47 | 56.46 | AVENGERS CHILDRENS CRUSADE #5 | $3.99 | MAR | 31,945 |
| 48 | 56.44 | WALKING DEAD #84 (MR) | $2.99 | IMA | 31,930 |
| 49 | 56.18 | RED ROBIN #22 | $2.99 | DC | 31,786 |
| 50 | 54.80 | WONDER WOMAN #610 | $2.99 | DC | 31,002 |
| 51 | 54.42 | INCREDIBLE HULKS #627 | $2.99 | MAR | 30,788 |
| 52 | 54.33 | JUSTICE LEAGUE GENERATION LOST #23 (BRIGHTEST DAY) | $2.99 | DC | 30,736 |
| 53 | 54.18 | HULK #32 | $2.99 | MAR | 30,652 |
| 54 | 54.16 | JUSTICE LEAGUE GENERATION LOST #24 (BD) | $4.99 | DC | 30,643 |
| 55 | 53.89 | SUPERBOY #6 (DOOMSDAY) | $2.99 | DC | 30,490 |
| 56 | 53.50 | BIRDS OF PREY #11 | $2.99 | DC | 30,270 |
| 57 | 52.64 | INCREDIBLE HULKS #626 | $2.99 | MAR | 29,782 |
| 58 | 52.08 | CARNAGE #4 | $3.99 | MAR | 29,466 |
| 59 | 50.48 | X-23 #9 | $2.99 | MAR | 28,562 |
| 60 | 50.40 | DEADPOOL #35 | $2.99 | MAR | 28,517 |
| 61 | 50.20 | SUPERMAN BATMAN #83 | $2.99 | DC | 28,403 |
| 62 | 49.79 | DEADPOOL #36 | $2.99 | MAR | 28,173 |
| 63 | 47.59 | DAKEN DARK WOLVERINE #8 | $2.99 | MAR | 26,925 |
| 64 | 47.23 | BATMAN BEYOND #4 | $2.99 | DC | 26,722 |
| 65 | 46.54 | ULTIMATE COMICS CAPTAIN AMERICA #4 | $3.99 | MAR | 26,332 |
| 66 | 44.52 | TEEN TITANS #94 | $2.99 | DC | 25,187 |
| 67 | 44.39 | THUNDERBOLTS #156 | $2.99 | MAR | 25,117 |
| 68 | 43.88 | X-FACTOR #218 | $2.99 | MAR | 24,826 |
| 69 | 43.78 | WOLVERINE BEST THERE IS #5 | $3.99 | MAR | 24,771 |
| 70 | 43.43 | STEVE ROGERS SUPER SOLDIER ANNUAL #1 | $3.99 | MAR | 24,573 |
| 71 | 43.19 | GOTHAM CITY SIRENS #22 | $2.99 | DC | 24,438 |
| 72 | 42.97 | BATGIRL #20 | $2.99 | DC | 24,310 |
| 73 | 42.63 | ANNIHILATORS #2 | $4.99 | MAR | 24,117 |
| 74 | 41.67 | AVENGERS ACADEMY #12 | $2.99 | MAR | 23,578 |
| 75 | 41.39 | LEGION OF SUPER HEROES #12 | $2.99 | DC | 23,419 |
| 76 | 40.86 | BLACK PANTHER MAN WITHOUT FEAR #517 | $2.99 | MAR | 23,120 |
| 77 | 40.64 | JLA 80 PAGE GIANT 2011 #1 | $5.99 | DC | 22,995 |
| 78 | 40.56 | ADVENTURE COMICS #525 | $2.99 | DC | 22,946 |
| 79 | 39.84 | SILVER SURFER #3 | $2.99 | MAR | 22,540 |
| 80 | 39.58 | SECRET WARRIORS #26 | $2.99 | MAR | 22,394 |
| 81 | 39.34 | SHIELD INFINITY | $4.99 | MAR | 22,260 |
| 82 | 38.56 | HEROES FOR HIRE #5 | $2.99 | MAR | 21,815 |
| 83 | 38.17 | SUPERGIRL #63 | $2.99 | DC | 21,598 |
| 84 | 37.87 | DC UNIVERSE ONLINE LEGENDS #5 | $2.99 | DC | 21,427 |
| 85 | 36.95 | IRON MAN 2.0 #3 | $2.99 | MAR | 20,905 |
| 86 | 36.39 | TITANS #34 | $2.99 | DC | 20,590 |
| 87 | 36.16 | DC UNIVERSE ONLINE LEGENDS #6 | $2.99 | DC | 20,461 |
| 88 | 36.01 | GENERATION HOPE #6 | $2.99 | MAR | 20,376 |
| 89 | 35.95 | IRON MAN 2.0 #4 | $2.99 | MAR | 20,342 |
| 90 | 34.84 | SECRET SIX #32 | $2.99 | DC | 19,714 |
| 91 | 33.67 | HELLBOY BUSTER OAKLEY GETS HIS WISH | $3.50 | DAR | 19,049 |
| 92 | 33.25 | FABLES #104 (MR) | $2.99 | DC | 18,811 |
| 93 | 33.12 | PUNISHERMAX #12 (MR) | $3.99 | MAR | 18,740 |
| 94 | 33.04 | BOYS #53 (MR) | $3.99 | DE | 18,692 |
| 95 | 32.58 | ZATANNA #12 | $2.99 | DC | 18,432 |
| 96 | 32.06 | STAR WARS LEGACY WAR #5 | $3.50 | DAR | 18,141 |
| 97 | 32.05 | SPECTACULAR SPIDER-MAN #1000 | $4.99 | MAR | 18,133 |
| 98 | 31.82 | SKAAR KING OF SAVAGE LAND #1 | $2.99 | MAR | 18,002 |
| 99 | 31.38 | TOMB OF DRACULA PRESENTS THRONE OF BLOOD #1 | $3.99 | MAR | 17,754 |
| 100 | 31.35 | STAR WARS DARTH VADER & LOST COMMAND #4 | $3.50 | DAR | 17,740 |
| 101 | 30.74 | DEADPOOL FAMILY #1 | $3.99 | MAR | 17,392 |
| 102 | 30.60 | WOLVERINE & JUBILEE #4 | $2.99 | MAR | 17,315 |
| 103 | 30.55 | DARK TOWER GUNSLINGER LITTLE SISTERS ELURIA #5 | $3.99 | MAR | 17,283 |
| 104 | 30.17 | POWER GIRL #23 | $2.99 | DC | 17,071 |
| 105 | 30.11 | FEAR ITSELF SINS PAST #1 FEAR | $4.99 | MAR | 17,038 |
| 106 | 30.06 | DEADPOOLMAX #7 (MR) | $3.99 | MAR | 17,005 |
| 107 | 29.53 | JSA ALL STARS #17 | $2.99 | DC | 16,706 |
| 108 | 29.12 | MARVEL ZOMBIES SUPREME #3 | $3.99 | MAR | 16,473 |
| 109 | 28.58 | AMERICAN VAMPIRE #14 (MR) | $2.99 | DC | 16,168 |
| 110 | 28.56 | WALKING DEAD SURVIVORS GUIDE #1 (MR) | $2.99 | IMA | 16,158 |
| 111 | 28.31 | BOOSTER GOLD #43 | $2.99 | DC | 16,018 |
| 112 | 28.10 | TRUE BLOOD TAINTED LOVE #3 (MR) | $3.99 | IDW | 15,899 |
| 113 | 27.50 | INVINCIBLE #79 | $2.99 | IMA | 15,558 |
| 114 | 26.79 | SPAWN #206 | $2.99 | IMA | 15,160 |
| 115 | 26.70 | DARK HORSE PRESENTS #1 PAUL CHADWICK CVR | $7.99 | DAR | 15,107 |
| 116 | 26.44 | ONSLAUGHT UNLEASHED #3 | $3.99 | MAR | 14,960 |
| 117 | 26.36 | SKAAR KING OF SAVAGE LAND #2 | $2.99 | MAR | 14,915 |
| 118 | 26.28 | DANGER GIRL ARMY OF DARKNESS #1 | $3.99 | DE | 14,869 |
| 119 | 25.82 | INFESTATION #2 | $3.99 | IDW | 14,606 |
| 120 | 25.61 | GODZILLA KINGDOM OF MONSTERS #2 | $3.99 | IDW | 14,492 |
| 121 | 25.25 | WARLORD OF MARS DEJAH THORIS #2 | $3.99 | DE | 14,286 |
| 122 | 25.24 | HAUNT #15 | $2.99 | IMA | 14,280 |
| 123 | 24.59 | OSBORN #5 BIG | $3.99 | MAR | 13,915 |
| 124 | 24.46 | WARLORD OF MARS #6 | $3.99 | DE | 13,837 |
| 125 | 24.16 | CINDERELLA FABLES ARE FOREVER #3 (MR) | $2.99 | DC | 13,668 |
| 126 | 23.62 | FIRST WAVE SPECIAL #1 | $3.99 | DC | 13,366 |
| 127 | 23.39 | SPIDER-GIRL #6 BIG | $2.99 | MAR | 13,235 |
| 128 | 23.14 | OUTSIDERS #38 | $2.99 | DC | 13,092 |
| 129 | 22.80 | ANGEL #44 | $3.99 | IDW | 12,897 |
| 130 | 22.67 | CONAN ROAD OF KINGS #4 | $3.50 | DAR | 12,827 |
| 131 | 22.67 | BPRD DEAD REMEMBERED #1 JO CHEN CVR | $3.50 | DAR | 12,825 |
| 132 | 22.08 | NAMOR FIRST MUTANT #9 | $2.99 | MAR | 12,493 |
| 133 | 22.07 | CAPTAIN AMERICA FIGHTING AVENGER #1 | $4.99 | MAR | 12,486 |
| 134 | 22.05 | SUPER DINOSAUR #1 | $2.99 | IMA | 12,473 |
| 135 | 21.98 | CHEW #18 (MR) | $2.99 | IMA | 12,438 |
| 136 | 21.83 | GI JOE VOL 2 #0 | $3.99 | IDW | 12,353 |
| 137 | 21.49 | KING CONAN SCARLET CITADEL #3 | $3.50 | DAR | 12,158 |
| 138 | 20.96 | RUSE #2 | $2.99 | MAR | 11,861 |
| 139 | 20.68 | HAWKEYE: BLIND SPOT #3 | $2.99 | MAR | 11,702 |
| 140 | 20.13 | WOLVERINE HERCULES MYTHS MONSTERS AND MUTANTS #2 | $2.99 | MAR | 11,389 |
| 141 | 19.58 | MARVEL BACKLIST READING CHRONOLOGY #1 | $1.99 | MAR | 11,078 |
| 142 | 19.49 | UNWRITTEN #24 (MR) | $2.99 | DC | 11,028 |
| 143 | 19.40 | MORNING GLORIES #9 | $2.99 | IMA | 10,975 |
| 144 | 19.24 | SIGIL #2 | $2.99 | MAR | 10,887 |
| 145 | 19.06 | GODZILLA KINGDOM OF MONSTERS #1 | $3.99 | IDW | 10,783 |
| 146 | 18.96 | IZOMBIE #12 (MR) | $2.99 | DC | 10,727 |
| 147 | 18.93 | GREEN HORNET #15 | $3.99 | DE | 10,708 |
| 148 | 18.76 | SUICIDE GIRLS #1 (MR) | $3.99 | IDW | 10,613 |
| 149 | 18.37 | LADY DEATH (ONGOING) #4 | $3.99 | AVA | 10,391 |
| 150 | 18.27 | JONAH HEX #66 | $2.99 | DC | 10,335 |
| 151 | 18.16 | IRREDEEMABLE #24 | $3.99 | BOO | 10,274 |
| 152 | 18.06 | GI JOE A REAL AMERICAN HERO #165 | $3.99 | IDW | 10,218 |
| 153 | 17.70 | REBELS #27 | $2.99 | DC | 10,014 |
| 154 | 17.39 | CAPTAIN AMERICA HAIL HYDRA #4 | $2.99 | MAR | 9,838 |
| 155 | 17.38 | DUNGEONS AND DRAGONS #5 | $3.99 | IDW | 9,833 |
| 156 | 17.34 | TRANSFORMERS ONGOING #18 | $3.99 | IDW | 9,813 |
| 157 | 17.11 | THUNDER AGENTS #6 | $2.99 | DC | 9,680 |
| 158 | 17.08 | WEIRD WORLDS #4 | $3.99 | DC | 9,665 |
| 159 | 16.83 | DUNGEONS AND DRAGONS #6 | $3.99 | IDW | 9,520 |
| 160 | 16.70 | THUNDERSTRIKE #5 | $3.99 | MAR | 9,446 |
| 161 | 16.68 | DOOM PATROL #21 | $2.99 | DC | 9,435 |
| 162 | 16.64 | HELLBLAZER #278 (MR) | $2.99 | DC | 9,417 |
| 163 | 16.63 | YOUNG JUSTICE #3 | $2.99 | DC | 9,407 |
| 164 | 16.50 | PLANET OF THE APES #1 | $3.99 | BOO | 9,333 |
| 165 | 16.48 | POWER MAN AND IRON FIST #4 | $2.99 | MAR | 9,322 |
| 166 | 16.35 | THOR ASGARDS AVENGER #1 | $4.99 | MAR | 9,251 |
| 167 | 16.35 | WITCHFINDER LOST & GONE FOREVER #3 | $2.99 | DAR | 9,248 |
| 168 | 15.91 | THUNDERBOLTS FROM MARVEL VAULT #1 | $2.99 | MAR | 9,001 |
| 169 | 15.78 | SPONGEBOB COMICS #2 | $2.99 | BON | 8,930 |
| 170 | 15.70 | IMAGE FIRSTS INVINCIBLE #1 (MR) | $1.00 | IMA | 8,882 |
| 171 | 15.68 | NONPLAYER #1 (MR) | $2.99 | IMA | 8,869 |
| 172 | 15.55 | OZMA OF OZ #5 | $3.99 | MAR | 8,797 |
| 173 | 15.24 | STAR WARS DARTH VADER & LOST COMMAND #3 | $3.50 | DAR | 8,624 |
| 174 | 15.20 | FREEDOM FIGHTERS #8 | $2.99 | DC | 8,601 |
| 175 | 15.12 | HACK SLASH #3 CVR A SEELEY (MR) | $3.50 | IMA | 8,554 |
| 176 | 15.07 | JOHN BYRNE NEXT MEN #5 | $3.99 | IDW | 8,525 |
| 177 | 14.78 | SWEET TOOTH #20 (MR) | $2.99 | DC | 8,361 |
| 178 | 14.75 | XOMBI #2 | $2.99 | DC | 8,345 |
| 179 | 14.69 | HALO FALL OF REACH COVENANT #1 (MR) | $3.99 | MAR | 8,313 |
| 180 | 14.59 | INCORRUPTIBLE #17 | $3.99 | BOO | 8,257 |
| 181 | 14.54 | THOR WHOSOEVER WIELDS THIS HAMMER #1 | $4.99 | MAR | 8,225 |
| 182 | 14.17 | TUROK SON OF STONE #2 | $3.50 | DAR | 8,015 |
| 183 | 13.85 | SPIKE #7 | $3.99 | IDW | 7,836 |
| 184 | 13.81 | MASS EFFECT EVOLUTION #4 MASSIMO CARNEVALE CVR | $3.50 | DAR | 7,815 |
| 185 | 13.76 | INFINITE VACATION #2 | $3.50 | IMA | 7,786 |
| 186 | 13.76 | AXE COP BAD GUY EARTH #2 | $3.50 | DAR | 7,783 |
| 187 | 13.22 | DOCTOR WHO ONGOING VOL 2 #4 | $3.99 | IDW | 7,477 |
| 188 | 13.16 | TINY TITANS #39 | $2.99 | DC | 7,445 |
| 189 | 13.13 | DOC SAVAGE #13 | $2.99 | DC | 7,426 |
| 190 | 13.13 | TRANSFORMERS HEART OF DARKNESS #2 | $3.99 | IDW | 7,426 |
| 191 | 12.92 | DEATH OF ZORRO #2 | $3.99 | DE | 7,309 |
| 192 | 12.86 | FEAR ITSELF SPOTLIGHT FEAR | $3.99 | MAR | 7,275 |
| 193 | 12.72 | GRIMM FAIRY TALES #58 | $2.99 | ZEN | 7,198 |
| 194 | 12.54 | HOUSE OF MYSTERY #36 (MR) | $2.99 | DC | 7,096 |
| 195 | 12.45 | DOCTOR SOLAR MAN OF ATOM #6 | $3.50 | DAR | 7,046 |
| 196 | 12.44 | SPIRIT #13 | $2.99 | DC | 7,041 |
| 197 | 12.40 | ANITA BLAKE CIRCUS OF DAMNED INGENUE #3 (MR) | $3.99 | MAR | 7,018 |
| 198 | 12.34 | NORTHLANDERS #39 (MR) | $2.99 | DC | 6,983 |
| 199 | 12.20 | LAST PHANTOM #6 | $3.99 | DE | 6,902 |
| 200 | 12.14 | RASL #10 (MR) | $3.50 | CAR | 6,870 |
| 201 | 12.08 | SIMPSONS COMICS #177 | $2.99 | BON | 6,837 |
| 202 | 11.98 | DOCTOR WHO FAIRYTALE LIFE #1 | $3.99 | IDW | 6,778 |
| 203 | 11.96 | LOCKE & KEY KEYS TO THE KINGDOM #6 | $3.99 | IDW | 6,769 |
| 204 | 11.84 | FF #1 | $3.99 | MAR | 6,700 |
| 205 | 11.75 | SOLOMON KANE RED SHADOWS #1 GUY DAVIS CVR | $3.50 | DAR | 6,647 |
| 206 | 11.73 | SONIC UNIVERSE #27 | $2.99 | ARC | 6,636 |
| 207 | 11.71 | CHARISMAGIC #1 CVR A RANDOLPH | $2.99 | ASP | 6,625 |
| 208 | 11.64 | CARBON GREY #2 (MR) | $2.99 | IMA | 6,584 |
| 209 | 11.18 | ALL NEW BATMAN THE BRAVE AND THE BOLD #6 | $2.99 | DC | 6,324 |
| 210 | 11.17 | RED SONJA REVENGE O/T GODS #2 | $3.99 | DE | 6,322 |
| 211 | 11.09 | SCALPED #48 (MR) | $2.99 | DC | 6,272 |
| 212 | 11.05 | WALKING DEAD #83 (MR) | $2.99 | IMA | 6,252 |
| 213 | 10.87 | 68 (SIXTY EIGHT) #1 CVR B NAT JONES & JAY FOTOS | $3.99 | IMA | 6,149 |
| 214 | 10.83 | GREEN HORNET AFTERMATH #1 | $1.99 | DE | 6,129 |
| 215 | 10.81 | RED SONJA BREAK THE SKIN ONE SHOT | $4.99 | DE | 6,115 |
| 216 | 10.69 | TRANSFORMERS RISING STORM #3 | $3.99 | IDW | 6,050 |
| 217 | 10.52 | THOR MGC #7 | $1.00 | MAR | 5,951 |
| 218 | 10.51 | KEVIN SMITH KATO #9 | $3.99 | DE | 5,944 |
| 219 | 10.47 | BLUE ESTATE #1 (MR) | $2.99 | IMA | 5,926 |
| 220 | 10.42 | DARKWING DUCK #11 | $3.99 | BOO | 5,897 |
| 221 | 10.39 | NIGHT O/T LIVING DEAD #4 (MR) | $3.99 | AVA | 5,879 |
| 222 | 10.36 | TRANSFORMERS 3 MOVIE PREQUEL FOUNDATION #3 | $3.99 | IDW | 5,863 |
| 223 | 10.34 | DMZ #64 (MR) | $2.99 | DC | 5,851 |
| 224 | 10.32 | SPIDER-MAN POWER COMES RESPONSIBILITY #1 | $3.99 | MAR | 5,838 |
| 225 | 10.27 | CASANOVA GULA #4 (MR) | $3.99 | MAR | 5,808 |
| 226 | 10.22 | NEW YORK FIVE #4 (MR) | $2.99 | DC | 5,785 |
| 227 | 10.10 | DUNGEONS & DRAGONS DARK SUN #4 | $3.99 | IDW | 5,717 |
| 228 | 10.09 | STAN LEE SOLDIER ZERO #7 | $3.99 | BOO | 5,706 |
| 229 | 9.83 | STAN LEE TRAVELER #6 | $3.99 | BOO | 5,559 |
| 230 | 9.70 | BART SIMPSON COMICS #59 | $2.99 | BON | 5,490 |
| 231 | 9.58 | NIGHT O/T LIVING DEAD 2011 ANNUAL (MR) | $3.99 | AVA | 5,418 |
| 232 | 9.27 | VELOCITY #4 | $3.99 | IMA | 5,247 |
| 233 | 9.16 | STAN LEE STARBORN #5 | $3.99 | BOO | 5,182 |
| 234 | 9.10 | MADMAN NEW GIANT SIZE SUPER GINCHY SPEC ONE SHOT #0 | $5.99 | IMA | 5,149 |
| 235 | 9.08 | USAGI YOJIMBO #136 | $3.50 | DAR | 5,137 |
| 236 | 9.01 | BUTCHER BAKER RIGHTEOUS MAKER #2 (MR) | $2.99 | IMA | 5,098 |
| 237 | 8.98 | SPIDER-MAN #13 | $2.99 | MAR | 5,083 |
| 238 | 8.84 | WALKING DEAD WEEKLY #14 (MR) | $2.99 | IMA | 5,003 |
| 239 | 8.76 | WALKING DEAD WEEKLY #16 (MR) | $2.99 | IMA | 4,956 |
| 240 | 8.76 | VENOM #1 2ND PTG QUESADA VAR | $3.99 | MAR | 4,955 |
| 241 | 8.70 | WALKING DEAD WEEKLY #15 (MR) | $2.99 | IMA | 4,922 |
| 242 | 8.67 | JIM BUTCHER DRESDEN FILES FOOL MOON #1 | $3.99 | DE | 4,907 |
| 243 | 8.63 | WALKING DEAD WEEKLY #17 (MR) | $2.99 | IMA | 4,884 |
| 244 | 8.43 | JERICHO SEASON 3 #5 | $3.99 | IDW | 4,768 |
| 245 | 8.17 | FANTASTIC FOUR #588 2ND PTG DAVIS VAR | $3.99 | MAR | 4,624 |
| 246 | 8.14 | ZOMBIES VS ROBOTS UNDERCITY #1 | $3.99 | IDW | 4,605 |
| 247 | 8.13 | SCOOBY DOO WHERE ARE YOU #8 | $2.99 | DC | 4,599 |
| 248 | 8.04 | HOUSE OF M MGC #1 | $1.00 | MAR | 4,551 |
| 249 | 7.95 | NEW MUTANTS #22 | $2.99 | MAR | 4,499 |
| 250 | 7.90 | ROBERT JORDAN WHEEL OF TIME EYE O/T WORLD #9 | $3.99 | DE | 4,469 |
| 251 | 7.79 | GREEN HORNET STRIKES #7 | $3.99 | DE | 4,408 |
| 252 | 7.79 | BROKEN TRINITY PANDORAS BOX #6 | $3.99 | IMA | 4,406 |
| 253 | 7.72 | ULTIMATE X-MEN MGC #1 | $1.00 | MAR | 4,368 |
| 254 | 7.47 | KATO ORIGINS #8 THE HELLFIRE CLUB | $3.99 | DE | 4,226 |
| 255 | 7.47 | LET ME IN CROSSROADS #4 SEAN PHILLIPS CVR | $3.99 | DAR | 4,224 |
| 256 | 7.44 | GREEN WAKE #1 (MR) | $3.50 | IMA | 4,209 |
| 257 | 7.32 | DC COMICS PRESENTS BATMAN ARKHAM #1 | $7.99 | DC | 4,143 |
| 258 | 7.23 | WOLVERINE BEST THERE IS CONTAGION #1 | $4.99 | MAR | 4,090 |
| 259 | 7.22 | WHO IS JAKE ELLIS #3 | $2.99 | IMA | 4,087 |
| 260 | 7.20 | ORSON SCOTT CARDS SPEAKER FOR DEAD #4 | $3.99 | MAR | 4,071 |
| 261 | 7.19 | FARSCAPE #18 | $3.99 | BOO | 4,070 |
| 262 | 7.19 | FORMIC WARS BURNING EARTH #4 | $3.99 | MAR | 4,068 |
| 263 | 6.97 | CONAN LEGACY FRAZETTA COVER #7 | $6.99 | DAR | |