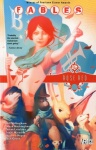 These are estimates of the sales on graphic novels by Diamond U.S. to comic specialty stores during April 2011.
For an overview and analysis of comic sales in April see "
'Fear Itself' Debut Boosts Comic Sales
."
For an analysis of the dollar trends in April, see "
Comic Sales Decline Slows in April
."
For our estimates of actual sales by Diamond
U.S.
from comic specialty stores on comic books shipped during April, see "
Top 300 Comics Actual--March 2011
."
| | | | | | |
| --- | --- | --- | --- | --- | --- |
| | | Top 300 GNs -- April 2011 | | | |
| Rank | Index | Title | Price | Pub | Est.Qty |
| 1 | 20.51 | FABLES TP VOL 15 ROSE RED (MR) | $17.99 | DC | 11,604 |
| 2 | 9.34 | BOYS TP VOL 08 HIGHLAND LADDIE | $19.99 | DE | 5,284 |
| 3 | 9.01 | INVINCIBLE TP VOL 14 VILTRUMITE WAR | $19.99 | IMA | 5,098 |
| 4 | 6.86 | GREEN LANTERN SECRET ORIGIN TP | $14.99 | DC | 3,881 |
| 5 | 5.47 | FLASH REBIRTH TP | $14.99 | DC | 3,096 |
| 6 | 4.71 | DAN CLOWES MISTER WONDERFUL LOVE STORY TP | $19.95 | RAN | 2,664 |
| 7 | 4.53 | ULTIMATE COMICS AVENGERS TP CRIME AND PUNISHMENT | $19.99 | MAR | 2,563 |
| 8 | 4.49 | CHAOS WAR TP | $19.99 | MAR | 2,538 |
| 9 | 4.42 | Y THE LAST MAN DELUXE EDITION HC VOL 05 (MR) | $29.99 | DC | 2,498 |
| 10 | 4.37 | GOTHAM CITY SIRENS TP VOL 01 UNION | $17.99 | DC | 2,475 |
| 11 | 4.34 | STAR WARS INVASION TP VOL 02 RESCUES | $17.99 | DAR | 2,456 |
| 12 | 4.22 | DEADPOOL CORPS TP VOL 01 POOL-POCALYPSE NOW | $16.99 | MAR | 2,386 |
| 13 | 4.22 | RED HULK TP SCORCHED EARTH | $19.99 | MAR | 2,385 |
| 14 | 4.11 | UNCANNY X-FORCE PREM HC APOCALYPSE SOLUTION | $19.99 | MAR | 2,328 |
| 15 | 4.11 | SHIELD HC ARCHITECTS OF FOREVER | $24.99 | MAR | 2,324 |
| 16 | 4.00 | SPIDER-MAN ONE MOMENT IN TIME TP | $19.99 | MAR | 2,264 |
| 17 | 3.97 | SUPERMAN BATMAN WORSHIP TP | $17.99 | DC | 2,247 |
| 18 | 3.79 | STEPHEN KINGS N TP | $19.99 | MAR | 2,142 |
| 19 | 3.74 | WALKING DEAD TP VOL 01 DAYS GONE BYE | $9.99 | IMA | 2,114 |
| 20 | 3.68 | CHAOS WAR AVENGERS TP | $19.99 | MAR | 2,084 |
| 21 | 3.63 | SHOWCASE PRESENTS GREEN LANTERN TP VOL 05 | $19.99 | DC | 2,055 |
| 22 | 3.58 | DOOMWAR TP | $15.99 | MAR | 2,027 |
| 23 | 3.56 | MARVEL ZOMBIES 5 TP | $19.99 | MAR | 2,016 |
| 24 | 3.50 | FANTASTIC FOUR BY JONATHAN HICKMAN PREM HC VOL 04 | $24.99 | MAR | 1,983 |
| 25 | 3.48 | X-MEN GOD LOVES MAN KILLS TP | $14.99 | MAR | 1,968 |
| 26 | 3.31 | GRIMM FAIRY TALES TP VOL 09 | $15.99 | ZEN | 1,871 |
| 27 | 3.26 | TRANSMETROPOLITAN TP VOL 09 THE CURE NEW ED (MR) | $14.99 | DC | 1,846 |
| 28 | 3.26 | TIME MASTERS VANISHING POINT TP | $14.99 | DC | 1,842 |
| 29 | 3.00 | CAPTAIN AMERICA VS RED SKULL TP | $24.99 | MAR | 1,695 |
| 30 | 2.95 | BLACK BUTLER TP VOL 05 | $11.99 | HAC | 1,670 |
| 31 | 2.88 | AVENGERS PRIME PREM HC | $24.99 | MAR | 1,630 |
| 32 | 2.85 | JUSTICE LEAGUE GENERATION LOST HC VOL 01 | $39.99 | DC | 1,613 |
| 33 | 2.85 | THOR BY WALTER SIMONSON OMNIBUS HC | $125.00 | MAR | 1,612 |
| 34 | 2.84 | AARON AND AHMED HC (MR) | $24.99 | DC | 1,608 |
| 35 | 2.82 | SPIDER-MAN NEW YORK STORIES TP | $19.99 | MAR | 1,598 |
| 36 | 2.81 | CLASSIC GI JOE TP VOL 11 | $24.99 | IDW | 1,592 |
| 37 | 2.69 | JONAH HEX TALL TALES TP | $14.99 | DC | 1,524 |
| 38 | 2.60 | CAPTAIN AMERICA TRIAL OF CAPTAIN AMERICA PREM HC | $24.99 | MAR | 1,472 |
| 39 | 2.59 | HALO FALL OF REACH PREM HC BOOT CAMP (MR) | $19.99 | MAR | 1,465 |
| 40 | 2.56 | EX MACHINA DELUXE EDITION HC VOL 05 (MR) | $29.99 | DC | 1,449 |
| 41 | 2.54 | PUNISHER TP FRANKEN-CASTLE | $34.99 | MAR | 1,438 |
| 42 | 2.49 | ROSARIO VAMPIRE SEASON II TP VOL 04 | $9.99 | VIZ | 1,407 |
| 43 | 2.49 | SANDMAN TP VOL 05 A GAME OF YOU NEW ED (MR) | $19.99 | DC | 1,406 |
| 44 | 2.47 | X-23 PREM HC VOL 01 KILLING DREAM | $19.99 | MAR | 1,397 |
| 45 | 2.47 | SUPERMAN CODENAME PATRIOT TP | $14.99 | DC | 1,396 |
| 46 | 2.45 | BLACK DYNAMITE SLAVE ISLAND GN (MR) | $5.95 | APE | 1,388 |
| 47 | 2.45 | ESSENTIAL THOR TP VOL 05 | $19.99 | MAR | 1,387 |
| 48 | 2.43 | HIGH SCHOOL OF DEAD GN VOL 02 (MR) | $13.99 | HAC | 1,376 |
| 49 | 2.42 | MMW DOCTOR STRANGE HC VOL 05 | $54.99 | MAR | 1,370 |
| 50 | 2.41 | MARIJUANAMAN HC | $24.99 | IMA | 1,361 |
| 51 | 2.33 | MMW ATLAS ERA STRANGE TALES HC VOL 04 | $59.99 | MAR | 1,321 |
| 52 | 2.28 | ULTIMATE COMICS AVENGERS PREM HC BLADE VS AVENGERS | $24.99 | MAR | 1,292 |
| 53 | 2.27 | OUR ARMY AT WAR TP | $14.99 | DC | 1,284 |
| 54 | 2.27 | WARCRAFT SHADOW WING GN VOL 02 (OF 2) NEXUS POINT | $12.99 | TOK | 1,282 |
| 55 | 2.25 | WALKING DEAD TP VOL 02 MILES BEHIND US (NEW PTG) | $14.99 | IMA | 1,273 |
| 56 | 2.20 | HITMAN TP VOL 04 ACE OF KILLERS | $17.99 | DC | 1,244 |
| 57 | 2.17 | BOOSTER GOLD PAST IMPERFECT TP | $17.99 | DC | 1,230 |
| 58 | 2.17 | SENSATIONAL SHE-HULK BY JOHN BYRNE TP VOL 01 | $24.99 | MAR | 1,226 |
| 59 | 2.17 | LEGION OF SUPER HEROES HC VOL 01 THE CHOICE | $24.99 | DC | 1,225 |
| 60 | 2.09 | KUNG FU PANDA 2 MOVIE PREQUEL TP | $6.95 | APE | 1,180 |
| 61 | 2.06 | ASTRO CITY SHINING STARS HC | $24.99 | DC | 1,168 |
| 62 | 2.06 | OUTLAW PRINCE TP | $12.99 | DAR | 1,167 |
| 63 | 2.06 | MORNING GLORIES TP VOL 01 FOR A BETTER FUTURE | $9.99 | IMA | 1,163 |
| 64 | 2.02 | DARKWING DUCK TP VOL 02 CRISIS ON INFINITE DARKWINGS | $14.99 | BOO | 1,144 |
| 65 | 2.00 | LOVE FROM THE SHADOWS HC | $19.99 | FAN | 1,134 |
| 66 | 1.95 | BULLETPROOF COFFIN TP (MR) | $17.99 | IMA | 1,106 |
| 67 | 1.95 | WALKING DEAD TP VOL 13 TOO FAR GONE (MR) | $14.99 | IMA | 1,104 |
| 68 | 1.90 | INCREDIBLE CHANGE BOTS TWO GN | $14.95 | TOP | 1,077 |
| 69 | 1.89 | MMW FANTASTIC FOUR TP VOL 06 | $24.99 | MAR | 1,071 |
| 70 | 1.89 | NAOKI URASAWA 20TH CENTURY BOYS GN VOL 14 | $12.99 | VIZ | 1,068 |
| 71 | 1.82 | DOCTOR SOLAR MAN OF THE ATOM TP VOL 01 | $15.99 | DAR | 1,031 |
| 72 | 1.79 | RED BETTER RED THAN DEAD TP | $14.99 | DC | 1,013 |
| 73 | 1.74 | X-MEN OMNIBUS HC VOL 02 | $99.99 | MAR | 987 |
| 74 | 1.74 | VAMPIRELLA ARCHIVES HC VOL 03 | $49.99 | DE | 984 |
| 75 | 1.73 | STAR TREK KHAN RULING IN HELL TP | $17.99 | IDW | 976 |
| 76 | 1.72 | GENIUS ISOLATED LIFE & ART OF ALEX TOTH HC | $49.99 | IDW | 972 |
| 77 | 1.70 | WALKING DEAD TP VOL 03 SAFETY BEHIND BARS | $14.99 | IMA | 959 |
| 78 | 1.69 | AREA 10 TP (MR) | $12.99 | DC | 955 |
| 79 | 1.66 | CAPTAIN AMERICA OPERATION REBIRTH PREM HC | $24.99 | MAR | 940 |
| 80 | 1.65 | CHEW TP VOL 01 (MR) | $9.99 | IMA | 933 |
| 81 | 1.61 | LAST PHANTOM TP VOL 01 | $19.99 | DE | 911 |
| 82 | 1.56 | STARCRAFT GHOST ACADEMY GN VOL 03 (OF 3) (MR) | $12.99 | TOK | 884 |
| 83 | 1.56 | DUNGEONS & DRAGONS CLASSICS TP VOL 01 | $19.99 | IDW | 882 |
| 84 | 1.54 | GREEN LANTERN REBIRTH TP NEW EDITION | $14.99 | DC | 872 |
| 85 | 1.53 | INVADERS NOW HC | $24.99 | MAR | 868 |
| 86 | 1.51 | THUNDERBOLTS CLASSIC TP VOL 01 | $29.99 | MAR | 856 |
| 87 | 1.51 | AKIRA KODANSHA ED GN VOL 06 (MR) | $29.99 | RAN | 854 |
| 88 | 1.51 | POKEMON ADVENTURES TP VOL 12 | $7.99 | VIZ | 853 |
| 89 | 1.50 | X-MEN FIRST CLASS GN TP CLASS PORTRAITS | $14.99 | MAR | 851 |
| 90 | 1.49 | SENSE AND SENSIBILITY GN TP | $14.99 | MAR | 842 |
| 91 | 1.48 | X-MEN VS AVENGERS AND FANTASTIC FOUR TP | $24.99 | MAR | 835 |
| 92 | 1.46 | SPIRIT ANGEL SMERTI TP | $17.99 | DC | 825 |
| 93 | 1.45 | WALKING DEAD TP VOL 04 HEARTS DESIRE (NEW PTG) | $14.99 | IMA | 818 |
| 94 | 1.44 | BLACKEST NIGHT HC | $29.99 | DC | 813 |
| 95 | 1.44 | RUNAWAYS TP VOL 01 PRIDE AND JOY DIGEST | $9.99 | MAR | 812 |
| 96 | 1.42 | MARVEL ADVENTURES SPIDER-MAN TP SENSATIONAL DIGEST | $9.99 | MAR | 803 |
| 97 | 1.41 | SILENT HILL PAST LIFE TP | $17.99 | IDW | 796 |
| 98 | 1.41 | FABLES TP VOL 01 LEGENDS IN EXILE | $12.99 | DC | 795 |
| 99 | 1.40 | BATTLE CHASERS ANTHOLOGY HC | $100.00 | IMA | 793 |
| 100 | 1.40 | FINAL CRISIS TP | $19.99 | DC | 790 |
| 101 | 1.37 | WALKING DEAD TP VOL 12 LIFE AMONG THEM | $14.99 | IMA | 774 |
| 102 | 1.37 | WALKING DEAD TP VOL 09 HERE WE REMAIN (MR) | $14.99 | IMA | 773 |
| 103 | 1.36 | MAN FROM RIVERDALE TP | $9.95 | ARC | 772 |
| 104 | 1.36 | WALKING DEAD TP VOL 05 BEST DEFENSE (NEW PTG) | $14.99 | IMA | 768 |
| 105 | 1.36 | BATMAN DARK VICTORY TP | $19.99 | DC | 767 |
| 106 | 1.35 | PANDORA HEARTS GN VOL 05 | $11.99 | HAC | 765 |
| 107 | 1.35 | BATMAN AND ROBIN BATMAN REBORN TP | $14.99 | DC | 764 |
| 108 | 1.35 | SPIKE HC VOL 01 | $21.99 | IDW | 761 |
| 109 | 1.34 | WALKING DEAD TP VOL 10 WHAT WE BECOME | $14.99 | IMA | 759 |
| 110 | 1.34 | X-FORCE UNDER GUN PREM HC | $34.99 | MAR | 759 |
| 111 | 1.33 | TANK GIRL REMASTERED ED TP (NEW PTG) VOL 01 (MR) | $16.95 | RAN | 751 |
| 112 | 1.32 | EMPIRE STATE A LOVE STORY OR NOT GN | $17.95 | ABR | 749 |
| 113 | 1.32 | CONAN HC VOL 10 IRON SHADOWS IN THE MOON | $24.99 | DAR | 745 |
| 114 | 1.31 | BATMAN THE LONG HALLOWEEN TP | $19.99 | DC | 744 |
| 115 | 1.30 | ONWARD TOWARDS OUR NOBLE DEATHS GN (MR) | $24.95 | DRA | 737 |
| 116 | 1.30 | MAID SAMA GN VOL 08 (OF 10) | $10.99 | TOK | 736 |
| 117 | 1.29 | ARCHIE BEST OF DAN DECARLO HC VOL 02 | $24.99 | IDW | 732 |
| 118 | 1.29 | TRANSFORMERS SECTOR 7 TP | $19.99 | IDW | 730 |
| 119 | 1.28 | THOR BY J MICHAEL STRACZYNSKI TP VOL 01 | $14.99 | MAR | 726 |
| 120 | 1.28 | WALKING DEAD TP VOL 11 FEAR THE HUNTERS (MR) | $14.99 | IMA | 725 |
| 121 | 1.27 | LITTLE LULU PAL TUBBY VOL 03 FROG BOY & OTHER STORIES | $15.99 | DAR | 721 |
| 122 | 1.26 | SCOTT PILGRIM GN VOL 01 PRECIOUS LITTLE LIFE | $11.99 | ONI | 715 |
| 123 | 1.25 | ZOMBIES VS ROBOTS AVENTURE TP | $17.99 | IDW | 710 |
| 124 | 1.25 | THOR WARRIORS THREE UNLEASHED PREM HC | $19.99 | MAR | 705 |
| 125 | 1.24 | BATMAN HUSH COMPLETE TP | $24.99 | DC | 704 |
| 126 | 1.24 | BATMAN DARK KNIGHT RETURNS TP | $14.99 | DC | 702 |
| 127 | 1.24 | SUPERMAN EARTH ONE HC | $19.99 | DC | 700 |
| 128 | 1.22 | FANTASTIC FOUR BY JONATHAN HICKMAN TP VOL 03 | $14.99 | MAR | 693 |
| 129 | 1.22 | PRIEST PURGATORY GN VOL 01 (MR) | $17.99 | TOK | 691 |
| 130 | 1.20 | ARCHIE SEVEN DECADES OF AMERICAS FAVORITE TEENAGERS HC | $49.99 | IDW | 681 |
| 131 | 1.20 | WALKING DEAD TP VOL 06 SORROWFUL LIFE (NEW PTG) | $14.99 | IMA | 678 |
| 132 | 1.19 | RUNAWAYS TP VOL 02 TEENAGE WASTELAND DIGEST | $9.99 | MAR | 671 |
| 133 | 1.19 | SHADOWLAND PREM HC POWER MAN | $19.99 | MAR | 671 |
| 134 | 1.16 | CODE GEASS QUEEN GN VOL 02 (NEW PTG) | $10.99 | BAN | 656 |
| 135 | 1.14 | IRON MAN INDUSTRIAL REVOLUTION PREM HC | $19.99 | MAR | 644 |
| 136 | 1.13 | DAYTRIPPER TP (MR) | $19.99 | DC | 641 |
| 137 | 1.13 | JUGHEAD CROWNING ACHIEVEMENT TP | $9.95 | ARC | 641 |
| 138 | 1.13 | THOR OFFICIAL INDEX TO MARVEL UNIVERSE GN TP | $19.99 | MAR | 641 |
| 139 | 1.12 | HIGURASHI WHEN THEY CRY GN VOL 12 EYE OPENING ARC PT 2 (MR) | $11.99 | HAC | 632 |
| 140 | 1.12 | AXE COP TP VOL 01 | $14.99 | DAR | 631 |
| 141 | 1.11 | LAST ZOMBIE TP | $14.95 | ANT | 627 |
| 142 | 1.11 | GREEN LANTERN SINESTRO CORPS WAR TP VOL 01 | $14.99 | DC | 626 |
| 143 | 1.10 | SANDMAN TP VOL 01 PRELUDES & NOCTURNES NEW ED (MR) | $19.99 | DC | 623 |
| 144 | 1.10 | CODE GEASS KNIGHT GN VOL 03 | $10.99 | BAN | 620 |
| 145 | 1.10 | WATCHMEN TP | $19.99 | DC | 620 |
| 146 | 1.09 | SKIP BEAT TP VOL 23 | $9.99 | VIZ | 617 |
| 147 | 1.08 | SAKURA HIME LEGEND OF PRINCESS SAKURA VOL 01 | $9.99 | VIZ | 612 |
| 148 | 1.07 | WALKING DEAD TP VOL 07 THE CALM BEFORE | $14.99 | IMA | 606 |
| 149 | 1.06 | BATMAN THE KILLING JOKE SPECIAL ED HC | $17.99 | DC | 598 |
| 150 | 1.06 | BLOOD STAINED SWORD TP | $17.99 | IDW | 598 |
| 151 | 1.06 | SERENITY SHEPHERDS TALE HC | $14.99 | DAR | 597 |
| 152 | 1.05 | UNWRITTEN TP VOL 03 DEAD MANS KNOCK (MR) | $14.99 | DC | 596 |
| 153 | 1.05 | CHEW TP VOL 03 JUST DESSERTS (MR) | $12.99 | IMA | 594 |
| 154 | 1.04 | PREACHER TP VOL 01 GONE TO TEXAS NEW EDITION (MR) | $17.99 | DC | 591 |
| 155 | 1.04 | BRIGHTEST DAY HC VOL 01 | $29.99 | DC | 587 |
| 156 | 1.02 | WALKING DEAD TP VOL 08 MADE TO SUFFER (MR) | $14.99 | IMA | 579 |
| 157 | 1.02 | WOLVERINE OLD MAN LOGAN TP | $29.99 | MAR | 578 |
| 158 | 1.01 | PAVANE FOR DEAD GIRL GN VOL 01 (OF 5) | $10.99 | TOK | 569 |
| 159 | 1.00 | CHEW TP VOL 02 INTERNATIONAL FLAVOR (MR) | $12.99 | IMA | 567 |
| 160 | 1.00 | GI JOE DISAVOWED TP VOL 03 | $19.99 | IDW | 563 |
| 161 | 1.00 | SECRET INVASION TP | $29.99 | MAR | 563 |
| 162 | 0.99 | Y THE LAST MAN TP VOL 01 UNMANNED | $14.99 | DC | 558 |
| 163 | 0.98 | SERENITY THOSE LEFT BEHIND TP | $9.99 | DAR | 557 |
| 164 | 0.98 | V FOR VENDETTA TP | $19.99 | DC | 554 |
| 165 | 0.97 | BULLET TO THE HEAD TP (MR) | $19.99 | DE | 551 |
| 166 | 0.97 | AMITY BLAMITY GN BOOK 01 | $10.95 | SLA | 548 |
| 167 | 0.96 | SIXTH GUN TP VOL 01 | $19.99 | ONI | 545 |
| 168 | 0.96 | BLUE EXORCIST VOL 01 | $9.99 | VIZ | 544 |
| 169 | 0.96 | GREEN LANTERN SINESTRO CORPS WAR TP VOL 02 | $14.99 | DC | 544 |
| 170 | 0.96 | ALL STAR SUPERMAN TP VOL 02 | $12.99 | DC | 541 |
| 171 | 0.95 | RED SONJA OMNIBUS VOL 02 | $29.99 | DE | 538 |
| 172 | 0.95 | ALL STAR SUPERMAN TP VOL 01 | $12.99 | DC | 535 |
| 173 | 0.94 | GREEN LANTERN NO FEAR TP | $12.99 | DC | 534 |
| 174 | 0.94 | MISTRESS FORTUNE GN VOL 01 | $9.99 | VIZ | 533 |
| 175 | 0.93 | FABLES TP VOL 14 WITCHES (MR) | $17.99 | DC | 529 |
| 176 | 0.93 | CIVIL WAR TP | $24.99 | MAR | 527 |
| 177 | 0.93 | VANGUARD FRAZETTA CLASSICS SC VOL 01 JOHNNY COMET | $24.95 | VAN | 526 |
| 178 | 0.93 | CAPTAIN AMERICA WINTER SOLDIER ULTIMATE COLLECTION TP | $24.99 | MAR | 525 |
| 179 | 0.92 | TECHNOPRIESTS TP VOL 03 PERFECT GAME (MR) | $18.95 | HUM | 519 |
| 180 | 0.91 | SALT WATER TAFFY GN VOL 04 CALDERAS REVENGE | $5.99 | ONI | 516 |
| 181 | 0.91 | MICKEY MOUSE & ORBITING NIGHTMARE TP | $9.99 | BOO | 514 |
| 182 | 0.91 | TANK GIRL REMASTERED ED GN (NEW PTG) VOL 03 (MR) | $16.95 | RAN | 513 |
| 183 | 0.90 | BATMAN YEAR ONE DELUXE SC | $14.99 | DC | 511 |
| 184 | 0.90 | LEGEND O/T SCARLET BLADES HC | $29.95 | HUM | 511 |
| 185 | 0.90 | FABLES TP VOL 02 ANIMAL FARM | $12.99 | DC | 510 |
| 186 | 0.90 | UNWRITTEN TP 01 TOMMY TAYLOR AND BOGUS IDENTITY NEW ED (MR) | $12.99 | DC | 509 |
| 187 | 0.90 | VANGUARD FRAZETTA CLASSICS SC VOL 02 WHITE INDIAN | $24.95 | VAN | 509 |
| 188 | 0.89 | FLASH GORDON COMIC BOOK ARCHIVES HC VOL 03 | $49.99 | DAR | 501 |
| 189 | 0.88 | OMAMORI HIMARI GN VOL 03 (NOTE PRICE) | $11.99 | HAC | 498 |
| 190 | 0.88 | ULTIMO GN VOL 04 | $9.99 | VIZ | 497 |
| 191 | 0.88 | BAKUMAN TP VOL 04 | $9.99 | VIZ | 496 |
| 192 | 0.87 | FINDER GN VOL 03 ONE WING I/T VIEW FINDER (A) | $13.95 | DIG | 493 |
| 193 | 0.86 | BLACKEST NIGHT GREEN LANTERN HC | $24.99 | DC | 488 |
| 194 | 0.86 | KATE & WILLIAM VERY PUBLIC LOVE STORY TP | $9.99 | DIA | 486 |
| 195 | 0.85 | KLONDIKE GN | $24.95 | DRA | 482 |
| 196 | 0.85 | THOR BY J MICHAEL STRACZYNSKI TP VOL 02 | $19.99 | MAR | 479 |
| 197 | 0.85 | TUROK SON OF STONE ARCHIVES HC VOL 08 | $49.99 | DAR | 479 |
| 198 | 0.84 | YELLOW II GN VOL 02 (OF 3) (RES) (MR) | $6.95 | DIG | 478 |
| 199 | 0.84 | PEANUTS HAPPINESS IS A WARM BLANKET CHARLIE BROWN HC (PP#960 | $19.99 | BOO | 474 |
| 200 | 0.83 | SILENT MOBIUS COMPLETE ED GN VOL 04 | $14.99 | UDO | 472 |
| 201 | 0.83 | BUTTERFLY GN VOL 01 (OF 5) | $10.99 | TOK | 470 |
| 202 | 0.82 | POSEURS GN | $16.99 | IMA | 466 |
| 203 | 0.82 | INTENSE RAIN GN (RES) (MR) | $12.95 | DIG | 464 |
| 204 | 0.82 | ALEX TOTH ADVENTURES JON FURY IN JAPAN SPECIAL ED | $11.00 | PAU | 463 |
| 205 | 0.82 | SCOTT PILGRIM GN VOL 02 VS THE WORLD | $11.99 | ONI | 462 |
| 206 | 0.82 | WARRIORS THREE HC DOG DAY AFTERNOON | $24.99 | MAR | 462 |
| 207 | 0.81 | GREEN HORNET BLOOD TIES TP | $16.99 | DE | 459 |
| 208 | 0.81 | BLACKSAD HC VOL 01 | $29.99 | DAR | 457 |
| 209 | 0.81 | EYESHIELD 21 TP VOL 35 | $9.99 | VIZ | 456 |
| 210 | 0.81 | LOCKE & KEY TP VOL 01 WELCOME TO LOVECRAFT | $19.99 | IDW | 456 |
| 211 | 0.80 | ARKHAM ASYLUM ANNIVERSARY ED SC (MR) | $17.99 | DC | 453 |
| 212 | 0.78 | DENGEKI DAISY GN VOL 04 | $9.99 | VIZ | 441 |
| 213 | 0.77 | REUNION SC (MR) | $19.95 | DRA | 436 |
| 214 | 0.77 | TANK GIRL REMASTERED ED TP (NEW PTG) VOL 02 (MR) | $16.95 | RAN | 435 |
| 215 | 0.77 | IRREDEEMABLE TP VOL 01 | $9.99 | BOO | 434 |
| 216 | 0.76 | EXCEL SAGA TP VOL 22 | $9.99 | VIZ | 432 |
| 217 | 0.76 | SUPERSTAR HC VOL 01 AS SEEN ON TV | $14.99 | IDW | 431 |
| 218 | 0.76 | TREASURE GN VOL 02 (RES) (MR) | $12.95 | DIG | 431 |
| 219 | 0.76 | THOR BY J MICHAEL STRACZYNSKI TP VOL 03 | $14.99 | MAR | 430 |
| 220 | 0.75 | HAPPY CAFE GN VOL 07 (OF 15) | $10.99 | TOK | 427 |
| 221 | 0.75 | DANCE IN THE VAMPIRE BUND GAIDEN GN (MR) | $10.99 | ST. | 425 |
| 222 | 0.75 | COMPLETE CRUMB COMICS TP VOL 13 SNOID (MR) | $19.99 | FAN | 424 |
| 223 | 0.75 | GREEN LANTERN RAGE OF THE RED LANTERNS TP | $14.99 | DC | 423 |
| 224 | 0.75 | KINGDOM COME TP NEW EDITION | $17.99 | DC | 422 |
| 225 | 0.74 | FABLES TP VOL 03 STORYBOOK LOVE (MR) | $14.99 | DC | 420 |
| 226 | 0.74 | THOR TRIALS OF LOKI PREM HC | $19.99 | MAR | 418 |
| 227 | 0.73 | CLEAN FREAK FULLY EQUIPPED GN VOL 01 (OF 2) | $10.99 | TOK | 414 |
| 228 | 0.73 | WALKING DEAD COMPENDIUM TP VOL 01 (MR) | $59.99 | IMA | 414 |
| 229 | 0.73 | FARSCAPE UNCHARTED TALES TP VOL 03 DARGOS QUEST | $12.99 | BOO | 413 |
| 230 | 0.72 | BATMAN THE RETURN OF BRUCE WAYNE DELUXE ED HC | $29.99 | DC | 408 |
| 231 | 0.72 | FUTURE DIARY GN VOL 10 (OF 10) (MR) | $10.99 | TOK | 408 |
| 232 | 0.72 | SUPERMAN RED SON TP | $17.99 | DC | 407 |
| 233 | 0.72 | COMPLETE CRUMB COMICS TP VOL 15 MODE ODAY (MR) | $19.99 | FAN | 406 |
| 234 | 0.72 | IZOMBIE TP VOL 01 DEAD TO THE WORLD (MR) | $14.99 | DC | 406 |
| 235 | 0.72 | NURA RISE O/T YOKAI CLAN GN VOL 02 | $9.99 | VIZ | 405 |
| 236 | 0.71 | SILVER DIAMOND GN VOL 09 (OF 20) | $10.99 | TOK | 403 |
| 237 | 0.71 | IRREDEEMABLE TP VOL 05 | $16.99 | BOO | 401 |
| 238 | 0.71 | NEKO RAMEN GN VOL 04 | $10.99 | TOK | 401 |
| 239 | 0.71 | SAFE AREA GORAZDE HC SPECIAL ED (MR) | $29.99 | FAN | 400 |
| 240 | 0.70 | DIE HARD YEAR ONE TP VOL 02 | $12.99 | BOO | 396 |
| 241 | 0.70 | ARKHAM ASYLUM LIVING HELL TP | $14.99 | DC | 395 |
| 242 | 0.70 | IRREDEEMABLE TP VOL 04 | $16.99 | BOO | 395 |
| 243 | 0.70 | BATMAN BEYOND HUSH BEYOND TP | $14.99 | DC | 394 |
| 244 | 0.70 | DRACULA COMPANY OF MONSTERS TP VOL 02 | $12.99 | BOO | 394 |
| 245 | 0.69 | GREEN LANTERN REVENGE OF THE GREEN LANTERNS TP | $14.99 | DC | 393 |
| 246 | 0.69 | BATMAN RIP TP | $14.99 | DC | 392 |
| 247 | 0.69 | CROSSED TP VOL 01 (MR) | $24.99 | AVA | 391 |
| 248 | 0.69 | ROCKETEER COMPLETE COLLECTION HC VOL 01 | $29.99 | IDW | 388 |
| 249 | 0.68 | BOYS TP VOL 07 THE INNOCENTS (MR) | $19.99 | DE | 384 |
| 250 | 0.68 | TRANSMETROPOLITAN TP VOL 01 BACK ON THE STREET (MR) | $14.99 | DC | 382 |
| 251 | 0.67 | GREEN LANTERN AGENT ORANGE TP | $14.99 | DC | 380 |
| 252 | 0.67 | JAMES BOND OMNIBUS TP VOL 02 (RES) | $19.95 | RAN | 377 |
| 253 | 0.66 | CINDERELLA FROM FABLETOWN WITH LOVE TP (MR) | $14.99 | DC | 376 |
| 254 | 0.66 | UMBRELLA ACADEMY TP VOL 01 APOCALYPSE SUITE | $17.99 | DAR | 376 |
| 255 | 0.66 | SCALPED TP VOL 07 REZ BLUES (MR) | $17.99 | DC | 374 |
| 256 | 0.66 | TORPEDO HC VOL 03 (MR) | $24.99 | IDW | 371 |
| 257 | 0.65 | SCOTT PILGRIM GN VOL 03 INFINITE SADNESS | $11.99 | ONI | 367 |
| 258 | 0.65 | NEXUS ARCHIVES HC VOL 12 | $49.99 | DAR | 366 |
| 259 | 0.65 | BOYS TP VOL 01 NAME OF THE GAME (MR) | $16.99 | DE | 365 |
| 260 | 0.64 | WALKING DEAD HC VOL 01 (MR) | $34.99 | IMA | 364 |
| 261 | 0.64 | WORMWOOD GENTLEMAN CORPSE TP VOL 01 (MR) | $19.99 | IDW | |