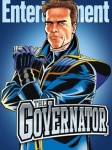 The sex scandals arising from the divorce of former California governor Arnold Schwarzenegger have apparently put an end to Stan Lee's
Governator
project, which involved comics from Archie Comics, an animated TV series, a 3-D movie and an array of consumer products (see "
Here Comes 'The Governator'
").
TMZ
quotes a representative for the parties involved in creating
The Governator
: "In light of recent events, A Squared Entertainment, POW, Stan Lee Comics, and Archie Comics have chosen not to go forward with
The Governator
project."
As originally envisioned, The Governator focused on Arnold fighting crime with the help of Maria and his four children. Perhaps a rewrite could bring the situation up to date, which might give Arnold a few more helpers in his crimefighting endeavors.