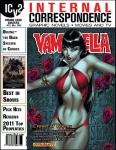 Retailers found strength in non-superhero genres in the generally weak market for graphic novels during the first quarter of 2011, according to market coverage in ICv2's Internal Correspondence #75. The Walking Dead is the top property for many, with Scott Pilgrim also still in the mix. And Image's Chew and Morning Glories, and Oni's The Sixth Gun, all non-superhero titles, are among the new titles doing best, according to the report.
Manga sales had stopped falling in Q1, with some hot-selling Yen Press titles even giving cause for optimism for the category, the report said.
Comic retailers offered mixed reactions to price rollbacks on DC's monthly comics and some Marvel titles. While some felt the rollbacks corrected an error that had cost customers, others are noting the sales decline due to lower prices and not seeing new customers to make up the shortfall.
Internal Correspondence #75 also includes coverage of the retailer reaction to digital, new coverage of Small Screen Sales Drivers to go along with ICv2's review of upcoming geek culture films in Best in Shows, bestsellers, Pick Hits, and reviews.
Here are ICv2's top graphic novel properties across eight categories for:

Top 10 Genre Properties--Q1 2011
Top 10 Fiction & Reality Titles--Q1 2011
Top 10 Superhero Properties--Q1 2011
Top 5 Comic Strip Properties--Q1 2011
Top 10 Kids & Tweens GN Properties--Q1 2011
Top 10 Shojo Properties--Q1 2011
Top 10 Shonen Properties--Q1 2011
Top 10 Manga Properties--Q1 2011

For information on how to get the new issue of Internal Correspondence, see "ICv2 Releases 'internal Correspondence' #75."