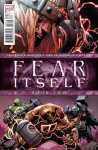 These are estimates of the sales on comic books by Diamond
U.S.
to comic specialty stores during May 2011.

For an overview and analysis of comic sales in May, see "No Titles Over 100K Again."

For an analysis of the dollar trends in May, see "Top 300 Comics Down 17.3% in May."

For our estimates of actual sales by Diamond U.S. from comic specialty stores on graphic novels shipped during May, see "Top 300 Graphic Novels Actual--May 2011."


TOP 300 COMICS -- May 2011

Rank

Index

Title

Price

Pub

Est.Qty

1

174.85

FEAR ITSELF #2

$3.99

MAR

96,318

2

157.90

FLASHPOINT #1

$3.99

DC

86,981

3

136.82

GREEN LANTERN #66

$2.99

DC

75,371

4

123.60

AVENGERS #13 FEAR

$3.99

MAR

68,086

5

121.42

FF #3

$2.99

MAR

66,885

6

110.67

GREEN LANTERN CORPS #60

$2.99

DC

60,964

7

109.96

FF #4

$2.99

MAR

60,571

8

109.79

BATMAN INCORPORATED #6

$2.99

DC

60,480

9

109.52

NEW AVENGERS #12

$3.99

MAR

60,328

10

107.26

AMAZING SPIDER-MAN #661

$3.99

MAR

59,087

11

105.74

AMAZING SPIDER-MAN #660

$3.99

MAR

58,249

12

104.43

BATMAN AND ROBIN #23

$2.99

DC

57,525

13

101.45

AMAZING SPIDER-MAN #662

$3.99

MAR

55,883

14

100.00

BATMAN #710

$2.99

DC

55,086

15

99.69

FLASH #12

$2.99

DC

54,914

16

97.51

UNCANNY X-MEN #537

$3.99

MAR

53,716

17

96.16

GREEN LANTERN EMERALD WARRIORS #10

$2.99

DC

52,971

18

94.58

X-MEN GIANT-SIZE #1

$4.99

MAR

52,103

19

94.28

SECRET AVENGERS #13 FEAR

$3.99

MAR

51,936

20

93.90

UNCANNY X-FORCE #9

$3.99

MAR

51,726

21

91.99

UNCANNY X-FORCE #10

$3.99

MAR

50,676

22

91.63

MIGHTY THOR #2

$3.99

MAR

50,473

23

88.98

MOON KNIGHT #1

$3.99

MAR

49,018

24

87.03

ULTIMATE COMICS SPIDER-MAN #158

$3.99

MAR

47,941

25

84.83

JUSTICE LEAGUE OF AMERICA #57

$2.99

DC

46,729

26

84.45

X-MEN #11

$3.99

MAR

46,519

27

83.66

X-MEN LEGACY #248

$2.99

MAR

46,083

28

81.80

X-MEN LEGACY #249

$2.99

MAR

45,063

29

81.31

INVINCIBLE IRON MAN #504 FEAR

$3.99

MAR

44,791

30

81.23

CAPTAIN AMERICA #618

$3.99

MAR

44,748

31

81.03

WOLVERINE #9

$3.99

MAR

44,635

32

80.13

ACTION COMICS #901

$2.99

DC

44,143

33

79.34

ULTIMATE AVENGERS VS NEW ULTIMATES #4

$3.99

MAR

43,707

34

73.76

VENOM #3

$2.99

MAR

40,634

35

71.90

DETECTIVE COMICS #877

$2.99

DC

39,609

36

70.80

JOURNEY INTO MYSTERY #623 FEAR

$2.99

MAR

39,003

37

69.91

ASTONISHING X-MEN #37

$3.99

MAR

38,513

38

69.84

SUPERMAN #711

$2.99

DC

38,471

39

68.22

ASTONISHING X-MEN #38

$3.99

MAR

37,580

40

68.17

WALKING DEAD #85 (MR)

$2.99

IMA

37,552

41

66.44

BATMAN ARKHAM CITY #1

$2.99

DC

36,597

42

66.13

KIRBY GENESIS #0

$1.00

DYN

36,429

43

63.17

X-MEN PRELUDE TO SCHISM #1

$2.99

MAR

34,796

44

63.04

NEW MUTANTS #25

$3.99

MAR

34,724

45

62.72

FEAR ITSELF SPIDER-MAN #1

$2.99

MAR

34,551

46

58.88

BATMAN GATES OF GOTHAM #1

$2.99

DC

32,432

47

58.59

HULK #33

$2.99

MAR

32,273

48

57.62

GREEN ARROW #12 (BRIGHTEST DAY)

$2.99

DC

31,742

49

56.84

X-MEN PRELUDE TO SCHISM #2

$2.99

MAR

31,311

50

53.90

BIRDS OF PREY #12

$2.99

DC

29,690

51

52.82

RED ROBIN #23

$2.99

DC

29,097

52

52.32

INCREDIBLE HULKS #628

$2.99

MAR

28,822

53

51.93

FEAR ITSELF HOME FRONT #2

$3.99

MAR

28,605

54

51.29

JUSTICE SOCIETY OF AMERICA #51

$2.99

DC

28,256

55

51.02

INCREDIBLE HULKS #629

$2.99

MAR

28,103

56

50.83

DEADPOOL #37

$2.99

MAR

28,002

57

50.81

SUPERMAN BATMAN #84

$2.99

DC

27,991

58

50.09

DEADPOOL ANNUAL #1

$3.99

MAR

27,592

59

47.73

DAKEN DARK WOLVERINE #9

$2.99

MAR

26,294

60

47.52

DAREDEVIL REBORN #4

$3.99

MAR

26,179

61

47.48

X-23 #10

$2.99

MAR

26,157

62

46.79

ALPHA FLIGHT #0.1

$2.99

MAR

25,775

63

46.13

BATMAN BEYOND #5

$2.99

DC

25,413

64

45.50

THUNDERBOLTS #157

$2.99

MAR

25,063

65

45.09

AVENGERS ACADEMY #13

$2.99

MAR

24,840

66

44.96

X-FACTOR #219

$2.99

MAR

24,766

67

44.91

TEEN TITANS #95

$2.99

DC

24,738

68

44.86

FEAR ITSELF YOUTH IN REVOLT #1

$2.99

MAR

24,709

69

44.70

SUPERBOY #7

$2.99

DC

24,622

70

44.66

DAKEN DARK WOLVERINE #9.1

$2.99

MAR

24,599

71

43.65

BATGIRL #21

$2.99

DC

24,043

72

42.85

ASTONISHING SPIDER-MAN WOLVERINE #6

$3.99

MAR

23,603

73

42.73

AVENGERS ACADEMY #14

$2.99

MAR

23,537

74

42.36

BOOSTER GOLD #44

$2.99

DC

23,332

75

42.02

ANNIHILATORS #3

$4.99

MAR

23,145

76

41.94

LEGION OF SUPER HEROES #13

$2.99

DC

23,105

77

41.20

WOLVERINE BEST THERE IS #6

$3.99

MAR

22,695

78

40.43

ADVENTURE COMICS #526

$2.99

DC

22,271

79

40.13

SECRET WARRIORS #27

$2.99

MAR

22,104

80

39.79

SILVER SURFER #4

$2.99

MAR

21,918

81

39.01

GOTHAM CITY SIRENS #23

$2.99

DC

21,488

82

38.87

SUPERGIRL #64

$2.99

DC

21,411

83

37.95

BLACK PANTHER MAN WITHOUT FEAR #518

$2.99

MAR

20,906

84

37.31

TITANS #35

$2.99

DC

20,553

85

36.99

GENERATION HOPE #7

$2.99

MAR

20,375

86

36.89

IRON MAN 2.0 #5 FEAR

$2.99

MAR

20,320

87

36.42

DC UNIVERSE ONLINE LEGENDS #7

$2.99

DC

20,064

88

36.41

HEROES FOR HIRE #6

$2.99

MAR

20,057

89

36.17

ROCKETEER ADVENTURES #1

$3.99

IDW

19,927

90

35.82

SECRET SIX #33

$2.99

DC

19,733

91

35.35

DC UNIVERSE ONLINE LEGENDS #8

$2.99

DC

19,471

92

34.40

STAR WARS JEDI DARK SIDE #1

$2.99

DAR

18,949

93

34.05

HERC #3 FEAR

$2.99

MAR

18,755

94

34.04

FABLES #105 (MR)

$2.99

DC

18,749

95

33.93

HELLBOY BEING HUMAN ONE SHOT

$3.50

DAR

18,688

96

33.89

BOYS #54 (MR)

$3.99

DYN

18,671

97

33.89

HEROES FOR HIRE #7

$2.99

MAR

18,671

98

33.66

AVENGERS ACADEMY GIANT-SIZE #1

$7.99

MAR

18,543

99

33.49

PUNISHERMAX #13 (MR)

$3.99

MAR

18,448

100

33.15

ZATANNA #13

$2.99

DC

18,259

101

32.57

STAR WARS LEGACY WAR #6

$3.50

DAR

17,944

102

31.82

STAR WARS DARTH VADER & LOST COMMAND #5

$3.50

DAR

17,526

103

31.56

HERC #2

$2.99

MAR

17,385

104

31.24

POWER GIRL #24

$2.99

DC

17,208

105

30.88

ASTONISHING THOR #4

$3.99

MAR

17,008

106

29.82

DEADPOOLMAX #8 (MR)

$3.99

MAR

16,428

107

29.74

JSA ALL STARS #18

$2.99

DC

16,384

108

28.82

AMERICAN VAMPIRE #15 (MR)

$2.99

DC

15,876

109

27.70

NAMOR FIRST MUTANT ANNUAL #1

$3.99

MAR

15,259

110

27.58

MARVEL ZOMBIES SUPREME #4

$3.99

MAR

15,191

111

26.86

SPAWN #207

$2.99

IMA

14,796

112

26.69

VAMPIRELLA #5

$3.99

DYN

14,702

113

26.68

STAND NO MANS LAND #4

$3.99

MAR

14,696

114

26.48

GODZILLA KINGDOM OF MONSTERS #3

$3.99

IDW

14,588

115

25.81

WARLORD OF MARS DEJAH THORIS #3

$3.99

DYN

14,215

116

24.88

GI JOE VOL 2 ONGOING #1

$3.99

IDW

13,703

117

24.85

CAPTAIN AMERICA FIRST VENGEANCE #1

$2.99

MAR

13,689

118

24.73

VAMPIRELLA SCARLET LEGION #1

$3.99

DYN

13,625

119

24.72

TRUE BLOOD TAINTED LOVE #4 (MR)

$3.99

IDW

13,617

120

24.51

GARTH ENNIS JENNIFER BLOOD #3 (MR)

$3.99

DYN

13,502

121

24.36

WALKING DEAD SURVIVORS GUIDE #2 (MR)

$2.99

IMA

13,419

122

24.28

CINDERELLA FABLES ARE FOREVER #4 (MR)

$2.99

DC

13,377

123

24.13

ONSLAUGHT UNLEASHED #4

$3.99

MAR

13,295

124

23.33

ACTION COMICS #900

$5.99

DC

12,852

125

23.31

OUTSIDERS #39

$2.99

DC

12,840

126

23.00

CONAN ROAD OF KINGS #5

$3.50

DAR

12,672

127

22.98

SKAAR KING OF SAVAGE LAND #3

$2.99

MAR

12,661

128

22.85

MEGA MAN #1

$2.99

ARC

12,586

129

22.81

SPIDER-GIRL #7

$2.99

MAR

12,563

130

22.80

CHEW #27 (MR)

$2.99

IMA

12,561

131

22.14

SNAKE EYES ONGOING (IDW) #1

$3.99

IDW

12,197

132

21.99

CAPTAIN AMERICA FIRST VENGEANCE #2

$2.99

MAR

12,116

133

21.86

KING CONAN SCARLET CITADEL #4

$3.50

DAR

12,040

134

21.83

NAMOR FIRST MUTANT #10

$2.99

MAR

12,027

135

21.69

COBRA ONGOING #1

$3.99

IDW

11,949

136

21.26

BPRD DEAD REMEMBERED #2

$3.50

DAR

11,714

137

20.22

UNWRITTEN #25 (MR)

$2.99

DC

11,137

138

20.20

HAWKEYE: BLIND SPOT #4

$2.99

MAR

11,126

139

20.16

IMAGE FIRSTS INVINCIBLE #1 (MR)

$1.00

IMA

11,106

140

19.51

RUSE #3

$2.99

MAR

10,749

141

19.36

ARTIFACTS #7

$3.99

IMA

10,667

142

19.36

WITCHBLADE #144

$4.99

IMA

10,662

143

19.18

IZOMBIE #13 (MR)

$2.99

DC

10,567

144

19.02

WOLVERINE HERCULES MYTHS MONSTERS AND MUTANTS #3

$2.99

MAR

10,477

145

18.82

HELLRAISER #2 (MR)

$3.99

BOO

10,366

146

18.68

JONAH HEX #67

$2.99

DC

10,288

147

18.37

GI JOE A REAL AMERICAN HERO #166

$3.99

IDW

10,117

148

18.31

TRANSFORMERS ONGOING #19

$3.99

IDW

10,089

149

18.30

IRREDEEMABLE #25

$3.99

BOO

10,082

150

18.15

REBELS #28

$2.99

DC

10,000

151

18.15

STRANGE ADVENTURES #1 (MR)

$7.99

DC

9,999

152

18.05

SUPER DINOSAUR #2

$2.99

IMA

9,945

153

17.66

YOUNG JUSTICE #4

$2.99

DC

9,729

154

17.59

CROSSED PSYCHOPATH #2 (MR)

$3.99

AVA

9,692

155

17.53

LADY DEATH (ONGOING) #5

$3.99

AVA

9,656

156

17.49

CAPTAIN AMERICA HAIL HYDRA #5

$2.99

MAR

9,637

157

17.42

SIGIL #3

$2.99

MAR

9,595

158

17.16

HELLBLAZER #279 (MR)

$2.99

DC

9,454

159

17.16

THUNDER AGENTS #7

$2.99

DC

9,453

160

17.11

DUNGEONS AND DRAGONS #7

$3.99

IDW

9,427

161

16.89

GFT DREAM EATER CROSSOVER (PT 1) #1

$5.99

ZEN

9,304

162

16.88

DOOM PATROL #22

$2.99

DC

9,299

163

16.74

GFT MYTHS & LEGENDS #4

$2.99

ZEN

9,224

164

16.64

WITCHFINDER LOST & GONE FOREVER #4

$2.99

DAR

9,168

165

16.42

WEIRD WORLDS #5

$3.99

DC

9,043

166

16.14

POWER MAN AND IRON FIST #5

$2.99

MAR

8,892

167

15.90

MOUSE GUARD BLACK AXE #2

$3.50

ARA

8,760

168

15.89

OZMA OF OZ #6

$3.99

MAR

8,753

169

15.57

SUPER DINOSAUR ORIGIN SPECIAL #1

$2.99

IMA

8,575

170

15.54

GFT DREAM EATER SAGA CROSSOVER PRELUDE

$1.99

ZEN

8,558

171

15.38

30 DAYS OF NIGHT NIGHT AGAIN #1

$3.99

IDW

8,472

172

15.34

HACK SLASH #4 (MR)

$3.50

IMA

8,449

173

15.29

FREEDOM FIGHTERS #9

$2.99

DC

8,425

174

15.23

JOHN BYRNE NEXT MEN #6

$3.99

IDW

8,387

175

15.18

SWEET TOOTH #21 (MR)

$2.99

DC

8,360

176

15.17

GRIMM FAIRY TALES #59

$2.99

ZEN

8,356

177

15.10

RED SONJA #56

$3.99

DYN

8,319

178

14.94

TAROT WITCH OF THE BLACK ROSE #68 (MR)

$2.95

BRO

8,229

179

14.94

X-MEN EARTH'S MUTANT HEROES #1

$4.99

MAR

8,228

180

14.72

ANGEL YEARBOOK ONE SHOT

$7.99

IDW

8,111

181

14.60

INCORRUPTIBLE #18

$3.99

BOO

8,044

182

14.56

SONIC THE HEDGEHOG #224

$2.99

ARC

8,023

183

14.48

XOMBI #3

$2.99

DC

7,977

184

14.24

TINY TITANS #40

$2.99

DC

7,847

185

14.15

MAGNUS ROBOT FIGHTER #4

$3.50

DAR

7,795

186

13.89

SPIKE #8

$3.99

IDW

7,652

187

13.70

AXE COP BAD GUY EARTH #3

$3.50

DAR

7,547

188

13.61

DOCTOR WHO ONGOING VOL 2 #5

$3.99

IDW

7,498

189

13.38

PLANET OF THE APES #2

$3.99

BOO

7,369

190

13.35

TRANSFORMERS HEART OF DARKNESS #3

$3.99

IDW

7,356

191

13.23

QUEEN SONJA #16

$3.99

DYN

7,287

192

13.08

DUCKTALES #1

$3.99

BOO

7,208

193

13.07

DOC SAVAGE #14

$2.99

DC

7,201

194

13.05

DEATH OF ZORRO #3

$3.99

DYN

7,187

195

12.98

FEAR ITSELF #1

$3.99

MAR

7,151

196

12.88

LONE RANGER #25

$4.99

DYN

7,094

197

12.87

BREED III #1 (MR)

$2.99

IMA

7,087

198

12.81

GFT PRES TALES FROM NEVERLAND #1

$4.99

ZEN

7,058

199

12.81

NORTHLANDERS #40 (MR)

$2.99

DC

7,055

200

12.69

SIMPSONS COMICS #178

$2.99

BON

6,991

201

12.66

ROCKETEER #1 100 PENNY PRESS

$1.00

IDW

6,975

202

12.55

SPIRIT #14

$2.99

DC

6,911

203

12.54

HOUSE OF MYSTERY #37 (MR)

$2.99

DC

6,909

204

12.51

HACK SLASH EVA MONSTERS BALL #1 (MR)

$3.99

DYN

6,893

205

12.47

ALL NEW BATMAN THE BRAVE AND THE BOLD #7

$2.99

DC

6,869

206

12.44

SUICIDE GIRLS #2 (MR)

$3.99

IDW

6,851

207

12.20

SONIC UNIVERSE #28

$2.99

ARC

6,722

208

12.19

CARBON GREY #3 (MR)

$2.99

IMA

6,717

209

11.99

SPIDEY SUNDAY SPECTACULAR #1

$3.99

MAR

6,604

210

11.61

BUTCHER BAKER RIGHTEOUS MAKER #3 (MR)

$2.99

IMA

6,397

211

11.48

MAGDALENA (ONGOING) #6

$3.99

IMA

6,325

212

11.28

GLADSTONES SCHOOL FOR WORLD CONQUERORS #1

$2.99

IMA

6,214

213

11.21

FUTURAMA COMICS #55

$2.99

BON

6,177

214

11.00

TOTAL RECALL #1

$1.99

DYN

6,059

215

10.99

RED SONJA REVENGE O/T GODS #3

$3.99

DYN

6,053

216

10.92

DOCTOR WHO FAIRYTALE LIFE #2

$3.99

IDW

6,018

217

10.86

SOLOMON KANE RED SHADOWS #2

$3.50

DAR

5,985

218

10.81

NONPLAYER #1 (MR)

$2.99

IMA

5,956

219

10.68

CHARMED #9

$3.50

ZEN

5,883

220

10.65

DMZ #65 (MR)

$2.99

DC

5,865

221

10.56

DARKWING DUCK #12

$3.99

BOO

5,815

222

10.54

SCIENCE DOG SPECIAL #2

$3.50

IMA

5,805

223

10.47

MORIARTY #1

$2.99

IMA

5,768

224

10.34

BLUE ESTATE #2 (MR)

$2.99

IMA

5,694

225

10.25

TRANSFORMERS RISING STORM #4

$3.99

IDW

5,645

226

10.23

DUNGEONS & DRAGONS DARK SUN #5

$3.99

IDW

5,633

227

10.16

NIGHT O/T LIVING DEAD #5 (MR)

$3.99

AVA

5,595

228

10.08

68 (SIXTY EIGHT) #2

$3.99

IMA

5,553

229

9.94

NIGHT O/T LIVING DEAD DEATH VALLEY #2 (MR)

$3.99

AVA

5,476

230

9.81

BRIMSTONE #1 (MR)

$3.25

ZEN

5,404

231

9.75

TRANSFORMERS 3 MOVIE PREQUEL FOUNDATION #4

$3.99

IDW

5,372

232

9.55

RED SPIKE #1

$1.00

IMA

5,259

233

9.48

SPIDER-MAN #14

$2.99

MAR

5,220

234

9.46

STAN LEE SOLDIER ZERO #8

$3.99

BOO

5,211

235

9.35

KICK-ASS 2 #1 (MR)

$2.99

MAR

5,149

236

9.25

STAN LEE TRAVELER #7

$3.99

BOO

5,093

237

9.03

SPIDER-MAN POWER COMES RESPONSIBILITY #2

$3.99

MAR

4,972

238

8.96

DARKNESS FOUR HORSEMEN #4

$3.99

IMA

4,937

239

8.90

CABLE AND DEADPOOL MGC #1

$1.00

MAR

4,903

240

8.82

X-FORCE ANGELS AND DEMONS MGC #1

$1.00

MAR

4,858

241

8.78

SCOOBY DOO WHERE ARE YOU #9

$2.99

DC

4,838

242

8.78

STAN LEE STARBORN #6

$3.99

BOO

4,835

243

8.72

GREEN HORNET AFTERMATH #2

$3.99

DYN

4,804

244

8.72

USAGI YOJIMBO #137

$3.50

DAR

4,803

245

8.55

SHERLOCK HOLMES YEAR ONE #4

$3.99

DYN

4,712

246

8.55

WALKING DEAD WEEKLY #18 (MR)

$2.99

IMA

4,708

247

8.49

RICHIE RICH #1

$3.95

APE

4,679

248

8.39

WALKING DEAD WEEKLY #19 (MR)

$2.99

IMA

4,619

249

8.25

WALKING DEAD WEEKLY #20 (MR)

$2.99

IMA

4,547

250

8.20

CAPTAIN AMERICA SPOTLIGHT

$3.99

MAR

4,518

251

8.18

WALKING DEAD WEEKLY #21 (MR)

$2.99

IMA

4,507

252

8.09

30 DAYS OF NIGHT #1 100 PENNY PRESS

$1.00

IDW

4,459

253

8.06

SIMPSONS SUMMER SHINDIG #5

$4.99

BON

4,438

254

7.98

X-MEN SPOTLIGHT

$3.99

MAR

4,395

255

7.96

GREEN WAKE #2 (MR)

$3.50

IMA

4,384

256

7.91

MIGHTY SAMSON #3

$3.50

DAR

4,359

257

7.85

DO ANDROIDS DREAM OF ELECTRIC SHEEP #22

$3.99

BOO

4,323

258

7.83

TATTERED MAN ONE SHOT (MR)

$4.99

IMA

4,313

259

7.83

KATO ORIGINS #9 THE HELLFIRE CLUB

$3.99

DYN

4,311

260