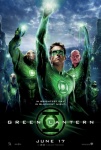 After the first two superhero movies of the summer earned positive ratings from over 80% of the critics, it's not surprising that the third spandex saga of the season might catch a little critical flak. And after all the turmoil, accidents, premature reviews, shutdowns and then a drastic retooling is it any wonder that Spider-Man: Turn Off the Dark didn't wow the critics in its new incarnation? The question is, are these productions doomed to failure? Will there be, as Warner Bros. fervently hopes, a second trip Oa?
Judging from the early notices for the
Green Lantern
, which at this time has earned only a 29% positive rating on review aggregator Rotten Tomatoes with 10 negative and only 4 laudatory reviews, that voyage to Oa might be in doubt. Warner Bros. delayed screening the movie for critics so there are still plenty of reviews still to be counted and the
Green Lantern's
rating may change, but traditionally there is also something of a "herd mentality" with movie critics, especially when it comes to summer blockbusters. What makes the
Green Lantern's
situation particularly precarious is that the film really has to be a very big hit in order to pay off its cost, which is reportedly well north of $200 million even without counting the studio's aggressive marketing campaign (see "
Warners Doubles Down on Green Lantern
").
However it is that marketing campaign with its plethora of TV spots that should insure a solid first weekend opening for Martin Campbell's Green Lantern. The problem could be sustaining that debut over the coming weeks. Bad reviews might dampen a film's prospects, but they are hardly a guarantee of failure. 2011's number one movie so far, The Hangover Part II, earned a rating of just 35% positive, and historically bad reviews have had little effect on the way major "event" movies open.
The
Green Lantern
should easily win the box office battle this weekend. The film has a built-in fan base—DC's
Green Lantern
comics are consistent Top Ten performers on ICv2's monthly list of the
Top 300 Comics
. Campbell's
Green Lantern
movie is also the type of effects-heavy spectacle that does well in the increasingly important international market, an advantage that Marvel's nationally-identified
Captain America: The First Avenger
movie may not share. Take the example of
Pirates of the Caribbean: On Stranger Tides
, which earned a measly 33% positive critical rating, and is currently grossing 3 times as much outside of North America as it brings in here. The latest
Pirates
epic has amassed nearly a billion dollars at the worldwide box office, and a similar performance would make
Green Lantern
solidly profitable. ven if mainstream audiences in the U.S. don't cotton to the
Green Lantern's
outer space adventure, there remains the possibility that the film's cosmic spectacle will strike a chord in other cultures.
It will take a few weeks to ascertain the fate of Warner Bros. Green Lantern franchise and probably longer to render a final judgment on the success of the Spider-Man musical, which will have to fashion a very long run indeed to justify the immense cost of mounting the most expensive Broadway musical in history. Stay tuned as this extraordinary summer for pop culture superheroes rolls on.

Update: By Thursday morning at 10am Central Time the number of reviews of Green Lantern on Rotten Tomatoes had grown to 45 with 33 negative and just 12 positive yielding a rating of 27%---and the gloating South Park creators of the Tony-winning Book of Mormon added their assessment of the Spider-Man musical calling it a "trainwreck."