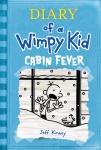 In 2006 unit sales of Juvenile/YA fiction and Adult Trade (both fiction and non-fiction) were almost identical at 474 million vs. 464 million. While the recession has hurt the adult category, which is estimated at around 411 million books for 2011, sales in the Juvenile/YA category have continued to grow and are projected at 484 million. The growth in the Juvenile/YA category is reflected in the additional amount of shelf space that those titles receive in the bookstore chains, in the fact that the largest announced print run for 2011 so far is for Jeff Kinney's
The Wimpy Kid: Cabin Fever
(see "
New Wimpy Kid Gets 6 Million First Printing
"), by Hollywood's numerous attempts to exploit the category (
Harry Potter, Twilight, Wimpy Kid, Percy Jackson, I Am Number Four, Hugo Cabret, The Hunger Games
, etc.), and by the fact that some of our most commercially-conscious authors including John Grisham, Candace Bushnell, and James Patterson are churning out YA titles to supplement their success in adult fiction.
In 2010 Kinney's
Wimpy Kid
became the category leader, displacing Stephenie Meyer's
Twilight,
thanks to landing seven of the top 10 hardcovers and selling 11.8 million copies in the U.S.(versus
Twilight's
8.5 million). Not bad for a self-described "failed newspaper cartoonist" who hit upon the ingenious concept of a "
Seinfeld
for middle-schoolers" presented in a quasi-graphic novel, illustrated-diary format. According to
The Hollywood Reporter
, Kinney's
Wimpy Kid
series, which has already spawned two live-action movies, has generated a half a billion dollars in revenue. In just four years Abrams has managed to sell 50 million
Wimpy Kid
volumes, a total that pales beside
Twilight's
(which led U.S. YA sales in 2008 and 2009) 100 million or category champ
Harry Potter's
worldwide total of 400 million plus, but then the
Wimpy Kid's
put-upon "everykid" Greg Heffley is just getting started.