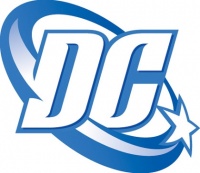 Based on its roadshow meetings with retailers, DC Comics has prepared a "Frequently Asked Questions" that covers the major topics raised by retailers at the meetings. In Part II the questions cover in more detail than ever the marketing of The New 52 both what DC is planning nationwide as well as what kind of coop is available on the store level, though the most new information is included in the most detailed discussion yet of DC's digital plans and how retailers can, if they wish, participate in the DC Digital Retailer Affiliate Program.
What concrete plans are there to promote this to the general public?

With the launch of this epic event, DC Entertainment is implementing a proportionally ambitious marketing plan to share this news with current fans, lapsed fans and non-fans (what we consider "fans-to-be").
You've seen part of this initiative at work with all the media coverage that has been generated since the announcement was made earlier this month. In addition, we're going to be implementing an aggressive paid advertising campaign and word-of-mouth program to ensure we're sharing the excitement we have over this news with the rest of the world.
Also our 75%-reimbursement co-op program will help retailers use new contemporary ways to market their stores and our books locally.
Related marketing content and promotional information will be packaged and highlighted in millions of Warner Home Video DVDs will be going out 4th quarter.
We have a lot of exciting plans in the works so you'll definitely be hearing from us leading up to September.
How is DC Entertainment going to market their September books for new readers?

DC Entertainment is going to position September as the best jumping on point to read monthly comics in a generation. With comics at the forefront of pop culture right now, we believe there are tens of thousands of consumers waiting for this moment.
Which advertising channels will we use to promote the September books?

Since we are seeking a multi-tiered, multi-faceted audience, we will be using a variety of marketing channels to spread our message. We have already seen the enormous publicity response to The New 52 and how that has driven consumer awareness; we anticipate that will continue through launch. On the advertising side, we will be using a mixture of television advertising (both targeted network placement and co-op), Facebook advertising and targeted Search Engine Buys to seek out specific stripes of consumers. Hugely important as well are our on-line efforts, as we use the growing strength of social networking to build a new fan base for our books. Each of these platforms allows us to focus on consumers with specific pop culture and reading preferences.
When will the logos for all of The New 52 be available for promotional use?

The logos will be posted to the
DC Entertainment retailer page on diamondcomics.com
on July 13th.
Will we be able to order extra copies of the promotional book for The New 52 that's going to arrive at retail on July 20th?

Retailers will receive copies of
DC Comics--The New 52! #1 Preview Book
on July 20 in quantities equal to five times orders at FOC on
Flashpoint
#1, providing you ordered at least five (5) copies of
Flashpoint
. These copies will be provided to retailers at no charge by DC Entertainment. (Retailers will be responsible for the cost of freight.) Additional copies will be available for reorder in limited quantities at a price of $.25 US net. These copies will only be available for reorder after the initial free allocation arrives in-stores on 7/20.
When will co-op materials for The New 52 be available?

The co-op materials will begin being posted to the DC Entertainment retailer page on diamondcomics.com on July 13th. The page will be updated as additional items are completed.
What type of co-op ads are DC Entertainment doing to support the launch of The New 52?

o Facebook
o Print
o Website / Banner
o Radio
o TV
o Movie Theatre
o Newsletter (print and digital)
o Large vinyl banners and standees (new and exclusive to Sept)
Will we be able to have a midnight sale for Justice League #1 and Flashpoint #5?

Yes, we'll offer a sale that begins at 12:01am (your local time) on 8/31. We'll be announcing further details on this soon. This will be open to all accounts currently receiving comics on Tuesday for Wednesday on-sale.
UK retailers please note: Due to the Monday, August 29 Summer Bank Holiday, the midnight sale option will not be available to UK retailers.
Digital


Why are you going to same-day digital if digital is just "dental floss"?
To recall the analogy, same-day digital is dental floss compared to a sheet of 8.5 x 11 paper representing brick-and-mortar (i.e. over 95% of our business now and in the foreseeable future). Our goal is to expand both the size of the paper and the floss.

We believe the excitement we build through our marketing and promotional campaign benefits greatly from having immediate access to our content from every kind of reader. This exposure will benefit the sheet of paper more than the dental floss, so to speak.

For decades, the industry has bemoaned the fact we are not striving to bring in new readers. We feel day and date will bring the level of online chatter and excitement about storylines and books to new highs and having same-day digital titles will allow every kind of fan to participate in that excitement. In the end, more readers of comics whether in print or digital benefits the entire industry.

What time will same-day digital releases go on sale? Will they be available to consumers before my store opens?
We are working with ComiXology to change our "go live" time each Wednesday to 2:00pm ET/11:00am PT. We expect to be able to make this adjustment prior to the 8/31 in-store date for Justice League #1 with ComiXology and the DC App. Apple sets their own release times for the iTunes stores, as does Sony for their PlayStation Network. We will attempt to have their release times in harmony with the ComiXology release times, but that may not be possible.
When comics are delayed due to snow and ice/road conditions, will the release of the same-day digital titles also be delayed? If not, will all of my purchases that week be returnable since DC Entertainment was unable to maintain the same day digital schedule?
If the delay is system-wide, for example if no comics were shipped out on the scheduled day from our printer to Diamond, we would attempt to delay the digital release to match. If the delay is regional, we would not have a way to delay digital releases for only one region of the country.

When comics have a scheduled delay due to holiday shipping delays, and DC Entertainment and/or Diamond announce that Thursday will be the in-store day, will the release of the same-day digital titles also be delayed?
Yes.


Will the $4.99 Justice Leaguepolybagged combo have the same cover as the standard edition or will it have a variant cover?
The cover on the polybagged Justice League will feature the same art as the standard edition, however it will have a different color scheme and a color burst calling out the digital code inside.

Is the $4.99 Justice Leaguepolybagged combo pack only for Justice League #1, or will this continue to be offered each month?
Each month.

Is DC Entertainment going to offer the polybagged digital combo option on any titles other than Justice League?
We are only rolling this out on Justice League for now.

Are the print and digital the same price?
Yes, for the first 4 weeks, a $2.99 print comic will be a $2.99 digital comic. After 4 weeks, the digital price will drop to $1.99. Following that pattern, for the first 4 weeks, a $3.99 print comic will be a $3.99 digital comic. After 4 weeks, the digital price will drop to $2.99.

DC Entertainment's Digital Retailer Affiliate Program


When will additional details of DC Entertainment's Digital Retailer Affiliate Program be available?
Additional details are expected to be rolled out on or around July 20th.

Many retailers accept pre-paid preorders two months in advance from our customers prior to Diamond's initial order due date, and we need to be able to make those transactions now to meet the needs of those preorder customers, not some indeterminate time between now and when Justice League #1 goes live on 8/31.

What steps has DC Entertainment taken to help us bridge this cash-flow problem and consumer budgeting problem?
While we are not currently set up to offer digital pre-orders and/or digital subscriptions, ComiXology is working to be able to add this functionality.

Is ComiXology the only source for retailers to participate in DC Entertainment's Digital Retailer Affiliate Program?
Yes.

Does ComiXology have a beta version available for retailers to view?
ComiXology plans to have a demo of the beta version ready for view by July 20th at San Diego. Prior to that date, you can look at read.dccomics.com and comics.comixology.com for mirrors of the content and layout they will have.

How long will it take ComiXology to contact me after I apply at retailers.comixology.com?
ComiXology's goal is to respond to all retailer information requests by the next business day. By July 20th we expect ComiXology to begin emailing additional details to retailers who have signed up for the service.

Is ComiXology adequately staffed to handle this potential influx of affiliates?
They've partnered with ICv2.com to help roll out and support the affiliate program.

Will ComiXology be able to meet a deadline of 8/31 to have a dedicated DC Entertainment digital store running on my website?
Yes, that is their goal for accounts who sign up now.

When customers purchase a DC Entertainment digital comic through my website, does the customer pay me, ComiXology or DC Entertainment?
All purchases are processed and received by comiXology.

Who pays me the 30% of the cover price on a DC Entertainment digital purchase made through my website? DC Entertainment? ComiXology?
The payment will come from comiXology, however the extra percentage for operating a dedicated DC Entertainment digital comics site comes from DC Entertainment's margin.

When will I be paid my share of the digital sale? How often? How will I receive?
ComiXology is working towards monthly direct payments to retailers' accounts, after retailers meet a benchmark amount of sales. Details of the payment method are being worked out by comiXology.

If taxable in my area, am I collecting sales tax on the digital sale?
No, comiXology will be taking care of all sales-related concerns.

Is DC Entertainment participating in the Diamond Comics digital initiative?
No, not at this time.

Is there a way for retailers without websites to sell DC Entertainment digital comics?
Retailers will need a website in order to develop a dedicated DC Entertainment digital comics site.