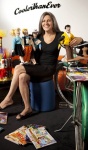 Archie Comics Publications has filed suit in the State of New York against Co-CEO Nancy Silberkleit accusing her of, among other things storming into a meeting in 2009 and pointing at the participants and yelling "Penis, penis, penis, penis." She supposedly repeated the "penis" outburst again in 2010 and followed it up by exclaiming, "My balls hurt." Archie Comics is seeking a court injunction that would keep Silberkleit away from the office and stop her from representing the company at the San Diego Comic-Con.
Silberkleit joined the Archie management team after the death of her husband Michael in 2008 (see "
Michael Silberkleit Dies at 76
"). She was named Co-CEO (with Jon Goldwater) in July of 2009. Archie Comics is the only Golden Age comics company to remain in the hands of the heirs of the original founding families. Archie's parent company MLJ Magazines was founded in 1939 by Maurice Coyne, Louis Silberkleit, and John L. Goldwater. The partners managed to get along through two generations, but this lawsuit could signal the end of an era at Archie.
According to
TMZ,
"Archie claims to it hired an outside firm to investigate the allegations-- and the company recommended Archie cut ties with Nancy asap."
Silberkleit
was quoted in 2010
complaining about the resistance she met from the entrenched old boy network when she joined the Archie Comics management team, so there may well be another side to the "penis taunting" incidents, which will undoubtedly come out if the suit goes to trial.
When queried by ICv2 about the lawsuit, a spokesperson for Archie Comics issued a terse, "We have no comment."