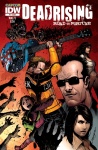 IDW Publishing has announced a new comic book miniseries based on the popular Capcom video game as well as new comic book series from the New York Times bestselling author of iZombie, Chris Roberson.
Dead Rising: Road to Fortune #1, which kicks off a 4-issue miniseries, will hit retail in October. The four-issue series will take place between the events in the original Dead Rising game and Dead Rising 2: Case Zero, which was released in February of 2011 and has sold 2.2 million copies worldwide. The IDW miniseries is being written by Tom Waltz (Silent Hill: Past Life) and features art by Kenneth Loh (Killing Machine).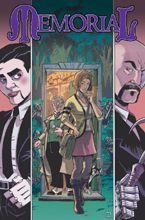 Chris Roberson's
Memorial
, which is described "as a cross between
Doctor W
ho and
Sandman
by way of Miyazaki," is a comic about memory and magic, mythology and mystery, which will debut in February of 2012 with art by Rich Ellis. The protagonist of
Memorial
is Em, a young woman who finds herself in Portland, Oregon without a memory. After rebuilding her life she "inherits" a magic shop that appears and disappears from one instant to the next. Em is drawn into an immense supernatural conflict, and the only things standing in the way of total oblivion are Em, her magic shop, and a talking cat.