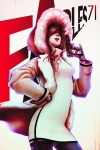 Comic-Con News—At the "Fables Panel" Bill Willingham announced Fairest, the next series to spin off from Fables. Willingham described the new Vertigo ongoing monthly comic as "almost like a series of miniseries" with each miniseries story arc devoted to a different beautiful fairy tale heroine. Willingham will write the first arc, which will feature Sleeping Beauty and superstar artist Phil Jeminez will provide the art.
In this new "Sleeping Beauty" saga, the heroine discovers some of the consequences of her early awakening from what should have been eternal slumber.
The second story arc, "Rapunzel in Japan" will be written by South African writer Lauren Beukes with art by Inaki Miranda, the artist who did Fables #99. Willingham was coy about other heroines who would match the "fairest in all the land" description, but Cinderella would appear to be a natural.